Are you at home in sweet company watching a movie on TV and your refrigerator is completely empty? Too tired to go out? From bad to worse, the pizzeria that makes home deliveries, and that you often contact, is closed, then?
The solution is called Just Eat. this is an app downloadable from App Store e Play Store that allows you to order food at home and that could be for you. We see how Just Eat works: food at home.
Just Eat allows you to order lunch and dinner at home by entering the delivery address and choosing the clubs or restaurants that have joined the program and offer discounts from 20% to 40%.

At the end of the download of Just Eat on your mobile device, through the geolocation you will be able to identify all the refreshment points that carry out home delivery. The list you see in the app can be filtered according to the type of cuisine or by directly entering the name of the restaurant you already know.
Like the TripAdvisor app, also in Just Eat it is possible to insert preferences and judgments on the food delivered. Next to the name of the restaurant you will see some stars which identify the judgment given by previous buyers. By clicking on it you will access the section Reviews to get a clearer idea of ​​the place in which to order food at home.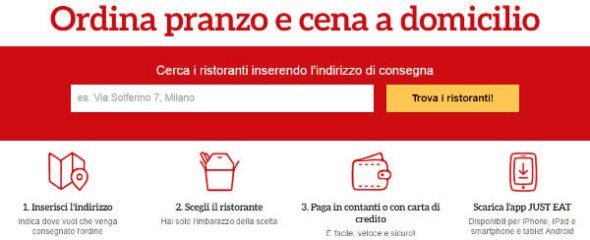 Among the payment methods, in addition to the credit card, for some restaurants it is also possible to pay with meal vouchers. The order must be placed by clicking on the symbol + next to every food or drink you see. Everything you choose will be added to the cart with the update of the cost to be incurred.
At the end of the choice you will have to enter your home data and confirm everything and then pay by credit card, Paypal or cash on delivery. The estimated delivery time will be provided to you at the end of the operation.
Once the transaction has been completed, the restaurant, which will carry out the home delivery, will send you an email via Just Eat to confirm the transaction, the taking charge of the order and the delivery times of the order.
In the event that the estimated delivery times are too high, you can decide to cancel the order and call the restaurant directly without having to incur any penalty.