How to obtain a customized laser marking on any type of material. Let's get to know the company together Glasses which designs and manufactures both systems for the laser marking that 'slaser engraving.
Do you need laser marking on aluminum or on products such as steel, plastic or other? You must know that to carry out customizations it is necessary to use tools for laser engraving or laser marking that allow you to engrave, permanently, on products, such as metals, plastics, films and paints and organic materials, to promote traceability, quality and greater legibility of the brand.
Affixing writings, logos or other is becoming more and more popular in all technological sectors that is why if you are looking for high resistance and long life, guaranteed traceability, efficiency and productivity, it is the case that you know Glasses. It is a global company specializing in the construction, sale and service of laser marking machines for nearly 30 years in over 50 countries.
How to obtain a customized laser marking on any type of material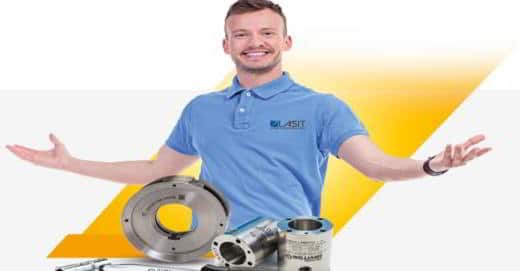 Lasit uses high quality and reliable components building its products directly on site. It offers free and no obligation marking tests on the customer's samples, in order to allow him the laser marking system that best suits his needs.
Lasit's application sectors are: Cutting tools, Automotive Components, Medical Instruments, Jewelery, Pumps, Electrical material, Metrology, Wood, Mandrels, Molds, Fabrics and Valves and labels. The elements that characterize its professionalism are:
Versatility: realizes by marking and engraving logos, drawings, datamatrix, writings, numbers, bar codes and much more.
High Definition: realizes various geometric shapes in detail and with the utmost precision.
Impalpable marking: creates an indelible marking with local heating of the material.
Traceability: The marking on metals is permanent and is resistant to heat, wear and acids.
Speed: quickly marks, even logos, codes or serial numbers, without having to change the tool on the machine.
Efficiency: consumables such as sprays or pastes have no cost, the same goes for their disposal.
Laser marking on plastic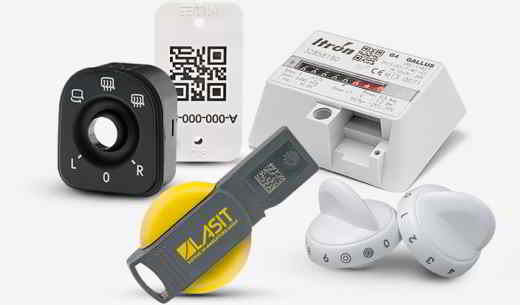 If you need to engrave or mark on polyamide, polyethylene, ABS or other plastic material, the processes implemented by Lasit are:
Foaming: in this process the laser performs a local melting on the piece. In the melt small gas bubbles will form to increase the volume, so the marked area will protrude from the surface.
Carbonization: through the laser the carbonization produces the darkening of the material subjected to marking. It usually applies to clear plastics and organic materials, such as woods and leather.
Toned image: this process is visible when the colored pigments and the carbon of the plastics are destroyed and evaporated with local heating. The carbon in the plastic oxidizes and produces CO2, which in turn causes a layer of foam. Depending on the composition, you can have lighter or darker discolorations.
Laser marking on metals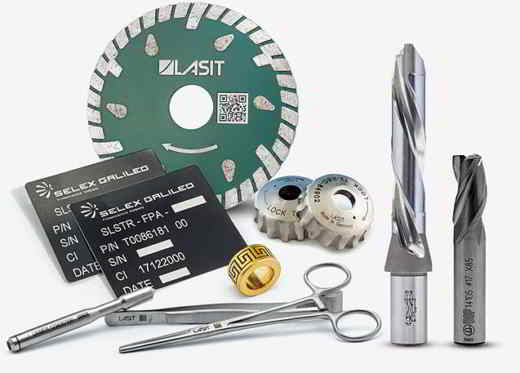 The laser marking process on metals, whether it is deep engraving, surface blackening or 3D engraving offers several advantages:
It guarantees durable and resistant workmanship.
It allows the traceability and identification of products.
It is a precise and clean method that does not require preventive or subsequent interventions.
The laser marking processes on metals are:
Annealing: this process occurs when the marking effects the oxidation of the surface of ferrous metals (such as steel and iron) and titanium through local heating of the material. The colors obtained depend on the temperature of the heated layer and usually manage to reach, on the surface of the metal, a depth between 20 and 30 micrometers.
Engraving: laser engraving is used on metals, plastics and ceramics. In practice, the laser beam penetrates the surface and removes it, to produce a discoloration in the engraving area, which the marking makes even more evident.
Deep marking: this process is a highly specialized procedure whose result is very close to mechanical engraving. Through the use of the laser the material is removed in layers to allow the creation of markings with a radius of a few millimeters.
Laser marking on organic materials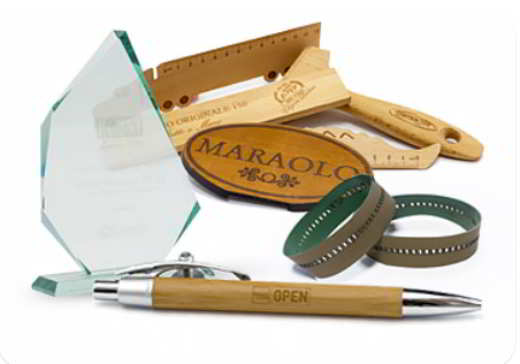 The engraving on glass, wood and leather becomes effective if done with the CO2 laser. This type of laser has an unusual wavelength and is generated by the stimulation of gaseous carbon dioxide.
The advantages of this technology, used to mark QR Codes, logos, barcodes and so on, are productivity and reliability. Among the engravings of organic materials we have:
Laser engraving on wood: for engraving on all types of wood, all laser engraving and cutting systems are valid. However, it must be considered that wood is divided into hard and soft woods. In the first case the laser engraving must be more powerful and the result obtained is darker, in the second case the engraving is faster and the result lighter. The laser CO2 it is definitely recommended for laser engravings on wood. The CO2 source recommended by LASIT is FlyCO2.
Laser engraving on glass: laser markings on glass occur only on the surface. Through a rotating axis and a good laser source it is possible to apply logos, texts and markings of photographs. Usually this marking is applied in gastronomy or furniture.
Laser engraving on leather: the laser engraving of designs or motifs on leather or leather takes place by burning the leather itself. The process ensures clean, sealed cuts without material fraying. This engraving mainly concerns fashion products: shoes, wallets, bags and so on.
Conclusions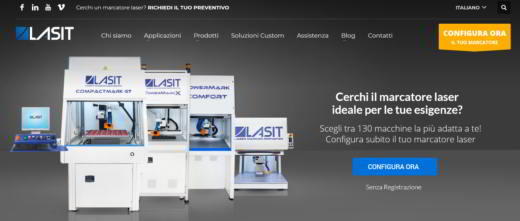 If you want to get a customized laser marking on any type of material Glasses offers professionalism and customer care. By visiting his website you can choose the marker that best suits your needs. Press on Configure your marker now and select the type of material to be marked by specifying how many pieces per day you want to mark, what marking area you need, how you prefer to work (whether standing or sitting) and what is the maximum height of the pieces to be machined. At the end the system will return the solution that best suits your needs for a 100% customized laser marking.