Hitachi is preparing to invade the market with its new models from 4.000 GB.
I DeskStar 5K4000 from 4 Terabytes have in fact just landed in Japan: 3,5 form factor, 6 Gbps SATA III interface and a full 32 Mb buffer.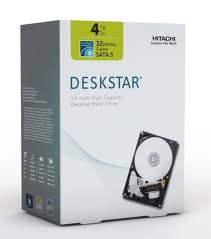 To safely reach the 4 Tb milestone, Hitachi has resorted to numerous new technologies, such as "theAdvance Format"Which provides sectors 8 times larger than the usual 512 bytes and allows to maximize the exploitation of the surface of the 4 plates of 1.000 GB each. Furthermore, thanks to the technology "CoolSpin", The new DeskStar 5K4000 are able to contain consumption by rotating the plates at 5.900 rpm.
Most likely, in a few months a more performing model will be placed on the market, from 7200 giri per minute.
In Japan, the 5K4000 has been spotted at a price hovering around 260 euro, while in the USA is announced at dollars 399,99. The European market price is still unknown and, specifically, for Spain, where it must also include the SIAE contribution, a tax that could even reach a quarter of the price of the hardware.