How to make transitions on TikTok is a question you could surely ask yourself especially if, after carefully following all our guides, you have noticed that many videos feature these transition effects you don't really know where they come from.
You should know, in fact, that transition effects are among those most appreciated by users all over the world and are functions of use that can significantly improve your videos and help you make them more viral.
We bet that at this point you are dying of curiosity to know more, right? If so, you should be familiar with the procedure by now. Take a seat in your most comfortable chair and continue reading our guide, in the end we assure you that everything will be extremely clear to you.
Practical guide to transitions on TikTok: What you need to know to save time if you've never done them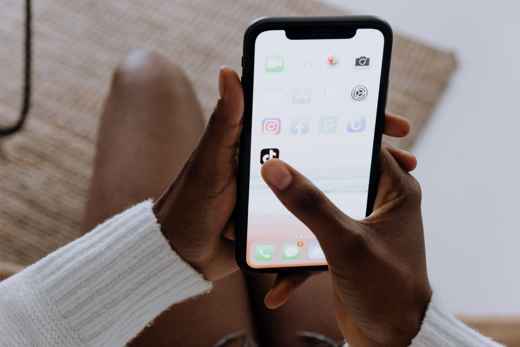 Even without receiving precise information, simply by observing the trending videos or browsing the extensive catalog, you will certainly have guessed how transitions are among the special graphic effects most used by users. But what are they really? We tell you right away.
What are the transitions on TikTok
Le transitionthe transitions if you prefer the term, they are none other than special effects applicable and actually applied to the content posted on TikTok in such a way that they can give life to funny optical illusions and definitely hilarious graphic tricks.
If you're wondering if transitions can only be applied to videos, let's tell you right away that the answer is no. Let i video both photoin fact, they can be transitioned.
How to transition to TikTok in photos
First of all, of course, you must make sure that the TikTok app is correctly installed on your device, if it is not you can download it for free both from Google Play and from the App Store with great ease, simply by typing the name on the search bar. up.
To start, start the app and enter your login credentials that will allow you to access your account.
How to make transitions on TikTok with MV
You will notice at this point the presence of a particular icon placed at the bottom with the characteristic appearance of a mathematical symbol, specifically a capacitor positive (+) lead, click and choose among the many features that offer you the possibility to perform a transition, in this case we choose the excellent one called MV.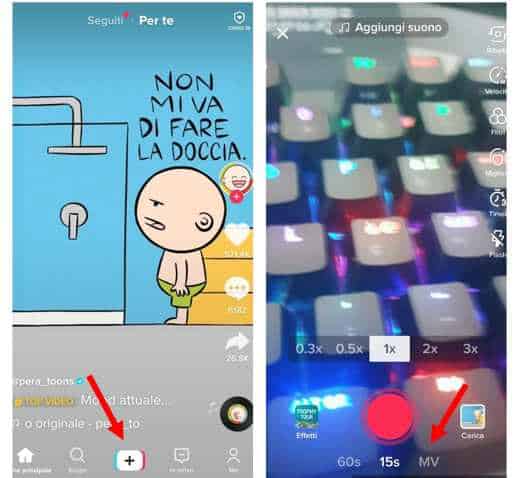 Then select MV (below the red circle, at the bottom) and freely choose from the various slideshows available the one that best suits your tastes or preferences. There are many effects you can choose from and the beauty is that, once you have chosen a slideshow, the procedure is not irreversible at all, you can click on the button Competition to preview it or cancel it to point to a different one.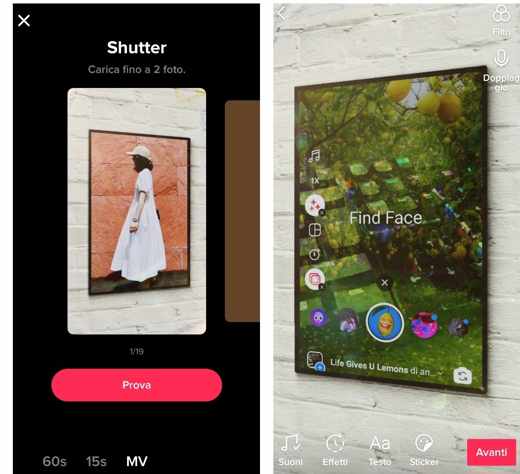 Were you able to find an effect that satisfies you? Have you finally made peace with your tough tastes? Very well, at this point then start uploading the photos of your interest as well. Confirm the effect you have opted for and finally click on Ok to definitively authorize the operation.
At this point you can also further modify the production obtained by tapping on filters (top right) or icon Effects, bottom left, to give an even more particular touch to the result obtained.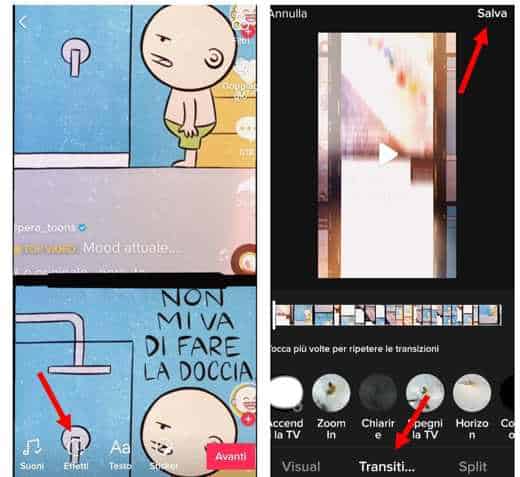 But let's go back to the transitions in question. By clicking on Effects, in the lower center, you will see the entry Transition to select one of the many options available, confirm the addition and finish everything by tapping on Save, top right.
By tapping the effect several times, you can repeat the transaction. Among those available, we have: Turn on the TV, Zoom In, Clarify, Turn off the TV, Horizon, Countdown, scroll, Vertical, Rotate, Slip e Circle.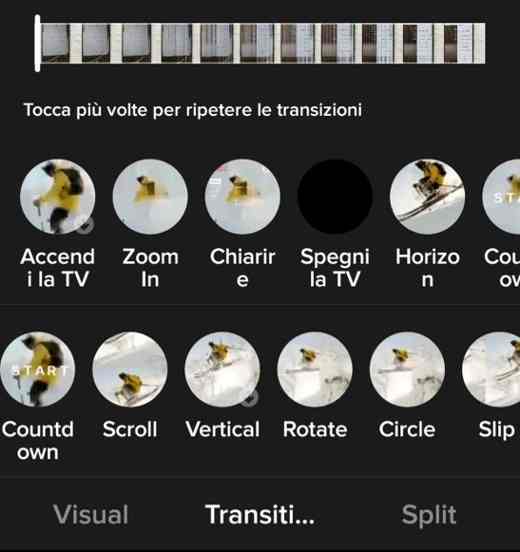 Now you can enjoy your little masterpiece and enjoy the transition effects applied, very simple right?
How do you say? Are you so proud of the result that you would like to immediately publish it so that everyone can see it? Just click on NEXT and then Public and it will be immediately available on your profile.
How to transition to TikTok with the Sequence
There is actually another way to find out how to make transitions on TIktok in relation to the photos. Do you want to meet him? We are here for this!
This alternative methodology examines a particular function of TikTok called Sequence. It has the undeniable advantage, unlike the previous one, of not requiring a maximum number of photos that can be uploaded.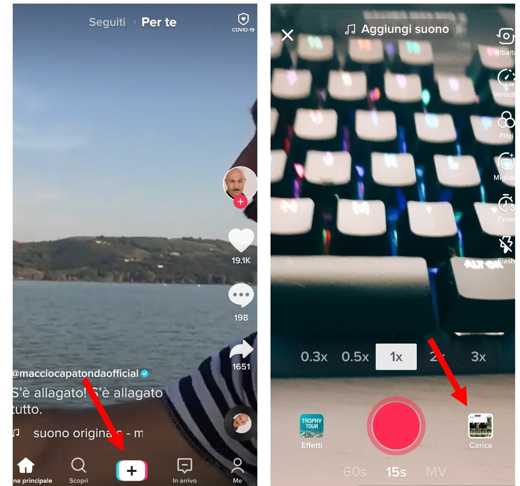 See the usual icon capacitor positive (+) lead low post? Click and icon Charge to upload all the photos you want to be the protagonists of your collage and your transition, continue by clicking on Effects at the bottom left.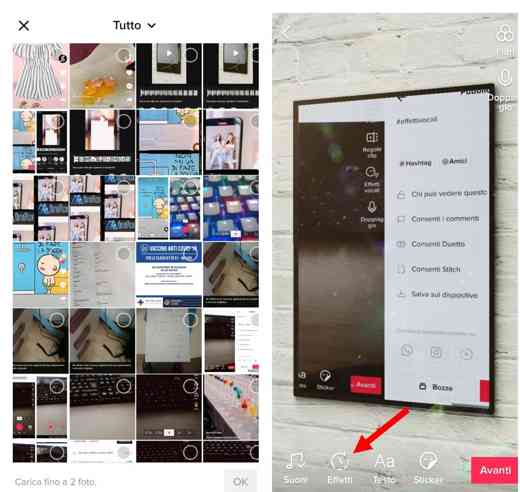 Select. then, Transitions (among the items in step) to apply the preferred transition. Confirm the changes made by pressing on Save, top right.
As usual, you will have the opportunity to examine your new production and if you want to publish it continue by clicking on NEXT and finally on Public.
Read also: How to make effects on TikTok
How to transition to TikTok in videos
Remember what we told you it's possible apply transitions on TikTok also in the video and in an absolutely simple and engaging way? The time has come to see how.
Once you have ascertained that the presence of the app on your device is discounted, access the service by entering your credentials and log in.
Always from the icon capacitor positive (+) lead placed at the bottom, after having tapped it, you can choose whether to base your content on a video to record on the spot or on one already present in the memory of the smartphone or tablet. In the first case, select the characteristic red record button, in the second select the item Charge to locate the file and upload it.
At this point, regardless of the method used, move to the tools menu and locate the item Effects from which you can have a wide selection of graphic options with which to adorn your video.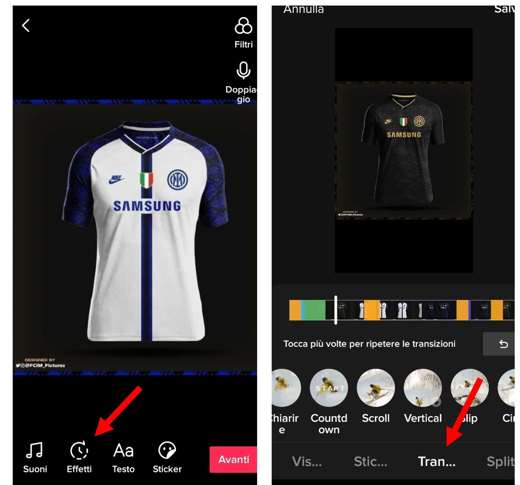 After tapping on the item Effects, locate and tap on the item Transition to view all the details in detail Transactions available that the platform TikTok makes you available. After choosing one, click on Save to save the project, and then on NEXT e Public to see it appear on your profile instantly.
Now that you have finally learned how to perform transition on TikTok you can indulge yourself and make all the funny videos or photos you want, always being able to count on the latest transitions of the moment.
If after having fun, however, you want to move on to more serious topics and always concerning the scope of the platform, we strongly recommend that you read our recent article: how to earn money on TikTok, in order to exploit it to 100% of its potential.
For more information, I invite you to visit YouTube by searching for the following keywords: "How to make transactions on TikTok"Or"How to do transition on Tik Tok".
Third party apps for making TikTok transitions
If you don't know, you can add transactions to your TikTok videos by taking advantage of third party apps. Among the best are:
BeeCut (Android, iOS).

Inshot (Android, iOS).

Magisto (Android, iOS).

Videoshop (Android, iOS).

Make sure you save the edited video to your phone's gallery or camera roll so that you can upload it to TikTok.
Read also: How to change the voice on TikTok
Why TikTok transitions are so important
How to make transitions on TikTok do not think it is a question that concerns only digital natives. Between the main users of this platform, or the influencers around the world, the reality of things is much more varied than it seems.
By now you are a faithful reader of our articles and you will certainly have understood that TikTok is not only a platform intended purely for playful use, but much more interesting aspects can also find space there.
Did you know that just a few days ago the news that TikTok will soon use a specific section of its platform to upload job resumes? And don't think that this is a quirk to wink at the so-called Generation Z, far from it.
The fact is that TikTok is currently themost downloaded app in the world and as such it can count on an enormous catchment area, so much so as to force completely different platforms, specifically intended for the research and publication of new works, to follow its innovative example.
So what can a particular transition applied to a particular video serve? Just imagine the effect that a perfect transition can have in advertising a business product or services performed by a particular company.
Therefore, yes, there is a playful purpose at the base, the desire to have fun and have fun together and maybe to create a trend that can amaze the world and go in trend the next day, but beyond that there is also much more.
Read also: How to make TikTok video change look