Hide photos on Android and iPhone it is definitely an action that we would like to take especially when our friends send us embarrassing photos that we forget to delete by distraction. The smartphone photo gallery is the app that collects all the photos we take but also all the images we receive via WhatsApp, Facebook Messenger and so on.
You need to know that there is a way to hide pictures on your mobile and safeguard the information that is private to you. So I recommend that you keep reading this guide if you want to find out how to hide android and iphone photo gallery, because I am sure that at the end of the reading you will be able to make the images on the mobile phone inaccessible.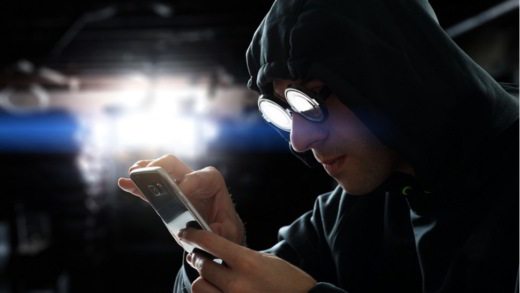 Below I will tell you which are the best Android and iOS apps for hiding photos and videos. If you have an Android smartphone you will need to install third-party apps, but if you have an iPhone you can take advantage of the default iOS Photos app. But no more chatter and good reading.
READ ALSO: How to hide photos received on WhatsApp
PRIVATE PHOTO VAULT

The apps to hide photos, from the Android gallery or from the iPhone camera roll, are different, the first one I want to tell you about is Private Photo Vault. This is a free app in which you can prevent the display of one or more images in the gallery or roll, but it allows you to do so by even putting them under lock and key, that is, after entering a special PIN.
The app Private Photo Vault proves useful not only for hide photos on Android and iPhone, but also to hide videos. In both cases it must be borne in mind that the contents you decide to protect with the app will be deleted from the gallery and by default will be accessible only and exclusively through Private Photo Vault. This behavior can be regulated on a case-by-case basis, but it is obvious that by allowing free access to the contents of the gallery, the use of the app will partially lose its meaning.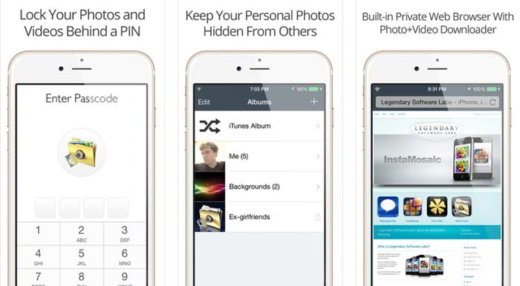 Private Photo Vault can be downloaded from both the Play Store and the App Store and once installed on your mobile device, all you have to do is start it and plug it in Start. Then go up Tax pass code and type in the PIN you want to use to protect the photos. Also set up the backup email and finish the setup procedure.
Then stop on the button + and create a new album. Access the album, click on +, choose to import the contents from the archive, select the images to protect and hide, and stop on end. Then indicate if you want to continue to delete or continue to keep the photos in the gallery or roll.
If you want to restore hidden photos or a hidden video, just tap the button Export and the protected photos in the app will return to their original location. With Private Photo Vault you can protect unlimited photos and videos. The photos will be stored on the mobile device and will not be uploaded to the Private Photo Vault servers.
KEEPSAFE
KeepSafe is compatible with Android and iOS and is one of the best free apps that can hide photos and videos. Its use is very simple, after downloading the app you have to register an account to have access to the free trial version for 30 days of Keepsafe Premium, where you can take advantage of several advanced features. After 30 days you can continue to use KeepSafe with basic functions or upgrade to the Premium version at a cost of $ 23,99.
The advantages of using KeepSafe Premium are: more space on the Private Cloud, Save Space to free up space on your phone, trash recovery, themes, intrusion alerts, fake PIN, secret door, album lock and no ads.
After creating the account on KeepSafe, you will need to create a PIN which will inhibit access to the app to those who do not know the combination. After confirming this, press the + button and select Import photos; then select the photos that interest you and stop on Import to upload them to KeepSafe's protected and hidden library.
READ ALSO: How to hide messages in images and videos
VAULTY
In addition to the password protected galleries, Vaulty allows you to edit photos, sort and filter files, and create multiple vaults with different passwords. This is a free app that not only hides photos, but videos as well. Like similar apps, Vaulty includes a "mugshot" feature, with which it takes a picture of anyone who tries to enter the wrong password.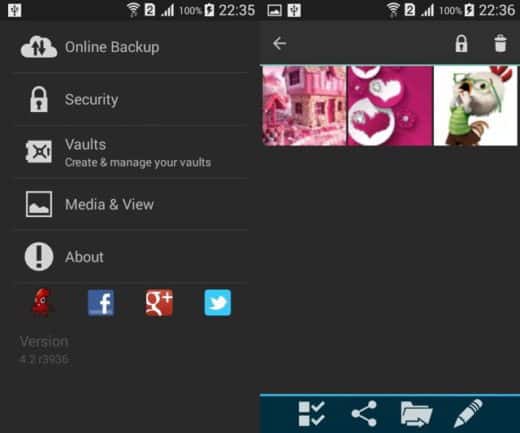 If you have a subscription with Vaulty and lose your phone, you can easily restore the vault and recover hidden photos. Subscription users automatically have their hidden photos and videos backed up online.
Vaulty is only available for Android devices.
PHOTO APP
If you have one iPhone and you want to hide photos from the camera roll, I recommend you try Photo app. This is the default iOS photos app which also includes the feature Hide Gallery. Keep in mind that the images will remain visible on the card Album but they will not appear in sections Anni, Moments e Collections.
To protect photos on iPhone you must first open the Photos app and tap on the photos you want to hide from the roll. Then press the arrow at the bottom left (the sharing) and select the item Hide from the menu that appears below. Confirm everything by pressing the button Hide Gallery.
If you want to restore hidden photos instead, go to the tab Album, then to the album Hidden and tap on the recovery image. If, on the other hand, you want to restore multiple images, all you have to do is select the photos you are interested in, press the share icon and, in the menu that appears, choose the item Show.
KYMS
If you are not satisfied with Photos, you can still try the app KYMS, compatible with all iOS mobile devices and downloadable on the App Store. When you start the application, a fully functional calculator appears. All you have to do is enter your 4-digit PIN number and equal sign to log in. In addition to hidden photos, you can store PDFs, Word documents, Excel spreadsheets, PowerPoint presentations, and text files.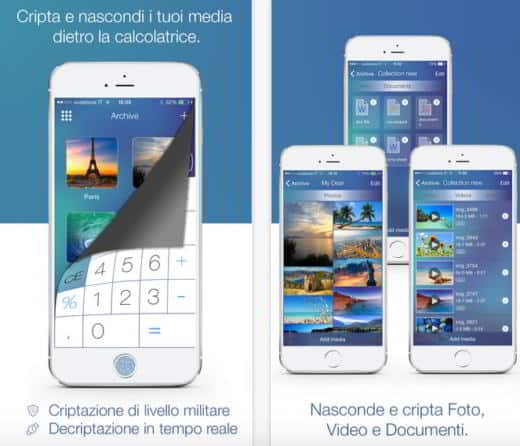 KYMS allows you to import multimedia content from your computer, camera roll, web and more. It also supports Wi-Fi, so you can easily sync your collections between devices.
ALSO READ: How to move photos and videos from Android to SD card