Have you encountered an error while downloading or updating WhatsApp? If you have stumbled upon one of the latest WhatsApp errors with code 3108 then it is the case that you read this article because I will show you what they are WhatsApp error codes and how to fix them (3108, 11, 403, 495, 504, 911, 92, 923, etc.)
WhatsApp is the most famous messaging app in the world and unfortunately, like all apps, it happens that during the update phase it generates boring and often blocking errors. In the next lines I will show you a list with the most common WhatsApp errors and what is the solution to apply to solve them.
Please note that for Android versions below 2.3, in case of errors during the update phase, it is not possible to solve the problem as WhatsApp does not support older Android versions.
How to fix WhatsApp error codes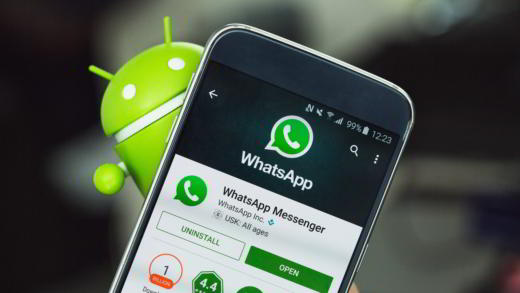 WhatsApp error code 11
Error 11 usually occurs on devices with older Android versions. The solution is to install an outdated version of WhatsApp which you can find on this page. Disable WhatsApp automatic updates and go to Google Play> Menu> Settings> Auto update app> Do not auto update apps.
WhatsApp error code 101, 498, 919

Error codes 101, 498, 919 occur when the mobile device memory is full. The solution is to free up space by deleting downloaded files, caches and moving apps installed on the SD card from the mobile memory. Try to have at least 1 GB of space for WhatsApp updates. Try downloading Clean Master or CCleaner.
WhatsApp error code 413, 481, 491, 492, 927 and 941
Error codes 413, 481, 491, 492, 927, and 941 occur when there is a problem with your Google account. To fix it you will need to remove it from your Android device. Then go in Settings> Google> Account Preferences> Google Account Deletion, if you own Android 7 Nougat, otherwise go to Settings> Accounts and sync, choose Google account and remove it. Restart your mobile device and re-add the Google account.
WhatsApp error code 403, 495, 504, 911, 92, 923
Error codes 403, 495, 504, 911, 92, 923 are errors concerning the space on the mobile device. Free up space and download the WhatsApp apk file from the official website.
WhatsApp error code 3108
This error appears to affect Windows Phone mobile devices (Lumia 930, 950, 1320). In practice it seems impossible to play WhatsApp videos. The problem seems to be due to some server-side malfunction of WhatsApp which has released updates in these days. Another problem also seems to exist in audio reception, where the arrow has the indicator pointing downwards instead of horizontal.
The only solution to the problem is to communicate the anomaly to WhatsApp support (Contact us within the App) describing the problem and including your WhatsApp version (Menu> Help> App Info), the version of the Windows Phone operating system (Phone settings), your phone number in international format (+39) and the screenshot of the error screen.
In the meantime, you could solve it by uninstalling the latest version of WhatsApp and downloading an older version from this page. At the end, block updates from Google Play, as I have already explained in the previous lines.
Also Read: Unable to Play Video with WhatsApp
WhatsApp download failed

The Download Failed error is always related to space issues, which you can fix by going to Google Play> Menu> Settings> Clear search history. If you do not have to solve it, install CCleaner to free the memory of the mobile device from unnecessary files.
WhatsApp your device is not compatible with this version

The error occurs when the mobile you own is no longer compatible with the new version of WhatsApp. Unfortunately it is not a fixable error unless you decide to change your smartphone.
WhatsApp the item is not available in your country

This is a particular error that you can solve by installing the apk from the official WhatsApp website.