How to duet on TikTok at first glance it may seem like a brand new feature made available by the platform, one of those innovations destined in a short time to end up in trend as an authentic killer feature, in reality things are not exactly like this.
In spite of what you may think, in fact, duet on TikTok it is one of the oldest functions present on the platform, one of the original ones which lately, however, is experiencing a second youth also thanks to the exponential increase of available videos.
How do you say? Are you curious about what it is and how it is possible to do it? Then, as always, trust us and in this article we will illustrate you clearly what is a TikTok duet, how to do it in the best way, and many other little tricks.
Are you ready? Let's start then.
Guide to the perfect duet on TikTok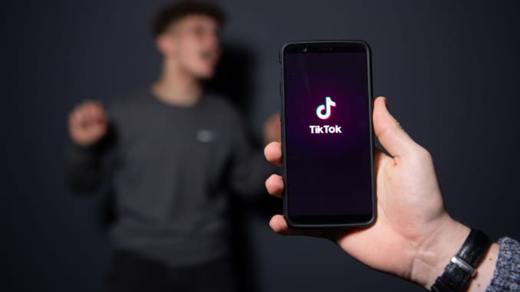 How to duet on TikTok in a simple and innovative way it was not just a question only a few years ago when the social network began to take its first steps and present itself to the general public.
Among the meager functionalities then present there was one that immediately attracted the attention of users, the duetto precisely.
You should know that just by exploiting this specific task, the first videos with protagonists from all over the world began to spread, virtually duet with their favorite stars.
Careful though, we're not telling you which function TikTok duet it can only be used to test your singing skills, in fact, over time, as well as the platform itself, it has been able to continuously renew itself up to now in which how to duet on TikTok provides numerous applications of use.
But now it's time to delve into the theme and finally find out what a duet on TikTok actually is.
Read also: How to live on TikTok
How to find duet videos on TikTok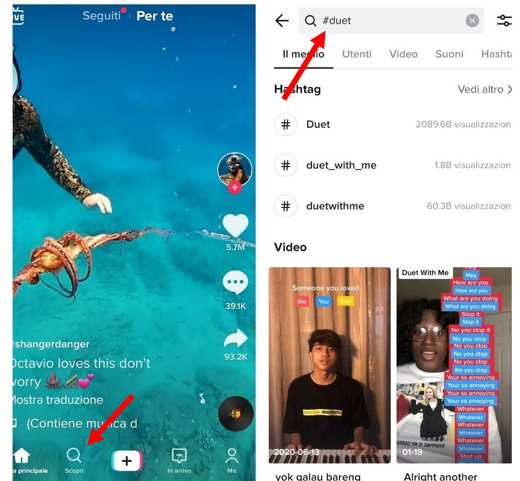 Of course, before you can actually try your hand at a duet video, you'll need to find one to inspire you and deliver an Oscar-worthy performance!
Where to find one? Very simple, straight from the Home of TikTok.
You will notice, in fact, immediately after logging in to the platform, that there are several videos present and available according to your preferences, you can easily choose the one you think is fun and start with the procedures that we will explain shortly.
The videos you have on the home page are not of your preference and you prefer to orient yourself on what are the trends and fashions of the moment? Just click on the button Discover (icon with the lens), at the bottom, and all the trends of the moment will be listed in an exhaustive and immediate way.
But if even through this step you have not been able to find something that satisfies you, do not despair, we still have an ace up our sleeve to play.
Go to the home page and through the search bar at the top type hashtags similar to #duet o #duethits or even #duetvideo to find one of the many themed videos on TikTok.
Search by scrolling through the sections: The best, users, Video, Sounds e Hashtag. We bet there will surely be one that inspires you or that you'd like to make your own version. So what are you still waiting for? Find the right video for you!
Read also: How to add hashtags on TikTok
How to make a duet on TikTok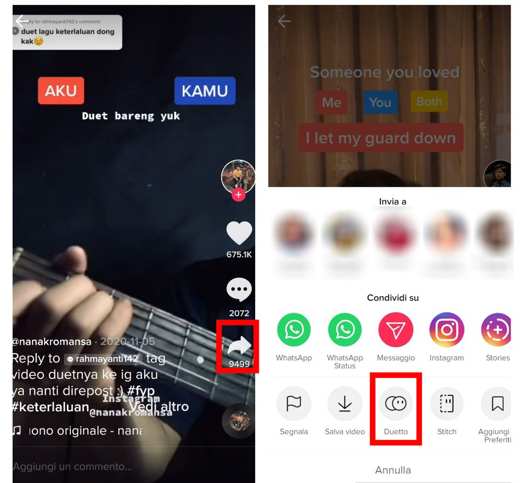 You've finally found the right video, great, now it's time to get serious and actually find out how to proceed.
Let's begin.
Open the video you are interested in and click on Share (arrow icon on the right), at this point you will see several options appear, including that one Duetto characterized by a graphic symbol consisting of two small circles.
If in some videos you do not notice the presence ofDuet option, do not worry, it is not a technical error or a malfunction of your account, simply the original author of the video has decided not to enable it and therefore not to give his consent.
If the chosen video, on the contrary, is provided with all the necessary qualifications, you can proceed to the next step.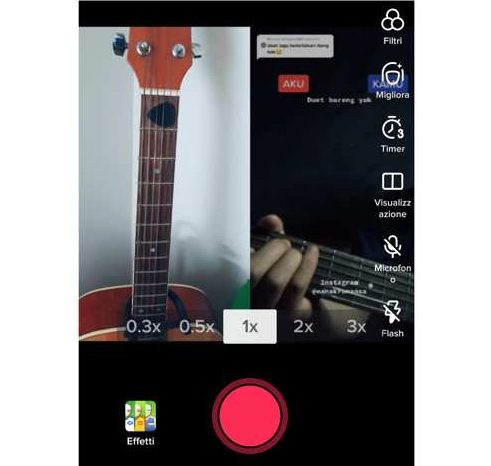 By clicking on Duetto you will notice how the screen is set up by means of split screen to a precise division, on the right you will have the original video, on the left it will be activates the recording function thanks to which you can film yourself, create your own part and thus complete a perfect duet.
As always happens on TikTok, once the video is recorded you will be able to review and edit it if you want through the application numerous filters and graphic effects until you feel satisfied with the result.
In fact, the following options are visible in the right sidebar:
limelight: You can flip the video recording in selfie mode and shoot yourself.
Speed: allows you to slow down or speed up video shooting: from 0.3x to 3x.
filters: You can set various effects like Portrait, Landscape, Food, Vibe and Manage for other variations.
Gets better: it is closely linked to the face of the person who is registering. Make changes to the Face with effects: Smooth, Tooth, Lipstick, Eyeshadow, etc ..
timer: Set the recording limit to 3s or 10s.
viewing: offers 3 other split screen modes.
Microphone: Activate the microphone for voice recording.
Flash: Activates the camera flash.

Now click on NEXT and you will be directed to the page that prepares the video for publication, even at this stage, however, you will be free to choose whether to confirm the decision by clicking on Public or, as happens with e-mails, click on the button Draft to keep your duet in a reserved area from which you can further modify it before the final publication and sharing on the network.
How to do duets on TikTok with audio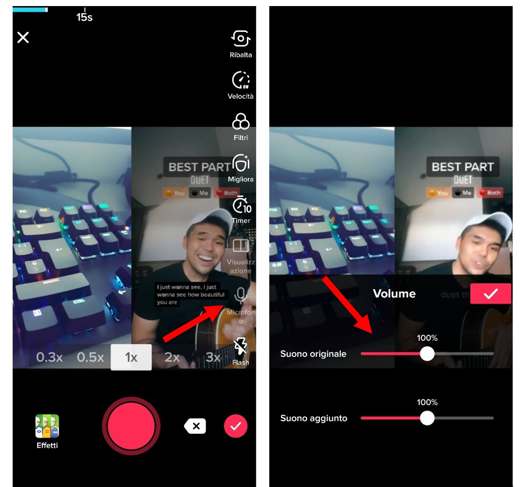 Start the video you are interested in, press the Sharing arrow and, in the following screen, choose the Duet option. Once in split screen, press, under the option viewing, on the Microphone item. That way, when you record your voice will also be heard.
After recording the video, go to Volume, icon on the right, and adjusts the volumes of Original sound e Sound added.
Duet on TikTok: what it is
A duet on TikTok is essentially a video that has two very specific realities as its protagonists, on the one hand there is you and on the other a star, another tiktoker, a varied multimedia content with which you can virtually interact.
Wait, don't rush to buy a new smartphone or create a new TikTok account, you don't need it at all. The fact that there are two protagonists does not mean that the entire duet cannot be played on the same device and even on the same video.
How is it possible? By resorting to the so-called split screen, or split screen thanks to which you can have two independent videos that run on the same movie.
Now that you know all about the duet, why not discover another very interesting feature such as the possibility of dubbing? Yes, you got it right, TikTok allows you to become an amateur voice actor too. Do not you believe it? Just read our article: How to dubbing on TikTok and you will see that you will discover some good ones.
How to allow reactions and duets
On TikTok there is the possibility to decide whether or not to give users the possibility to do duets with your videos and put reactions.
You can change the settings for all the contents of your profile or act on each video.
1. Access the settings of your profile tapping his Me (icon at the bottom right) in the TikTok Home. Pigia on menu Settings and Privacy, top right (three vertical dots), and tap up Privacy.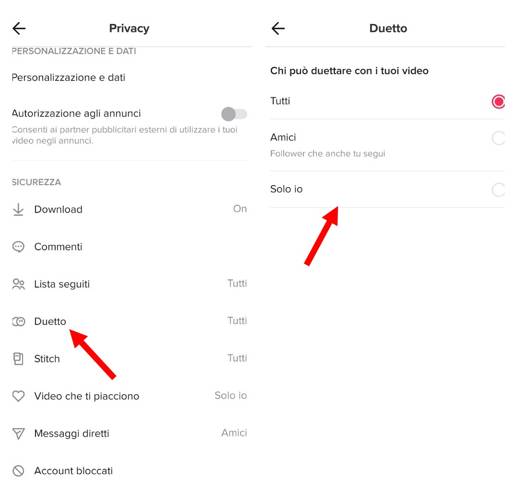 Scroll down the page until you find the item Duetto. After clicking on it, you can decide who can duet on your videos by choosing one of the following options:
Setting Solo io, the ability to Duet with your videos will be disabled.
2. For the videos you are uploading You can turn off the duet and reaction function by following these steps: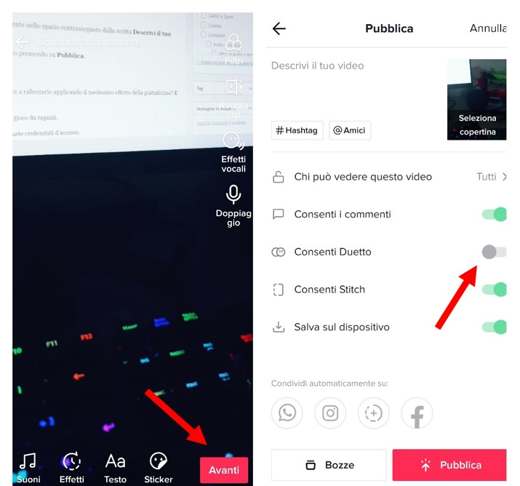 Press on NEXT the moment you are ready to post a video.
Turn the slider to OFF Allow Duet.
Press on the button Public.
TikTok Duets and Privacy: how are things?
Obviously a function that allows you to make videos in which, for example, you can add your personal reactions to a content of another tiktoker opens the way to interpretations and schools of thought that we would like to clarify exhaustively so that you can make a full use. aware of the duet.
How to make videos on TikTok is very much about the ability to influence and act directly on content belonging to third parties that could also end up among the main trends based on its success, therefore it is obvious that talking about privacy protection is at least necessary.
For example, a user might decide to intentionally limit the visibility of your videos and in this specific case, using one to perform a duet would be to be avoided because you would be damaging its undeniable privacy rights.
After all, there are millions and millions of videos on TikTok and more are posted daily, so why go complicated when there are so many alternatives?
The same goes of course also for the duets you decide to publish. In fact, at any time you can change visibility and sharing options applying specific restrictions also as regards the reactions of the other tiktokers or on the video itself preventing it from being used for a duet in the future.
To learn more and get more information you can visit the TikTok Security Center.