How to dubbing on TikTok, we can assure you, it is not a nice joke we want to play on you, but it is a real functionality expressly conceived and created by the platform and made available to users.
In fact, if you think about it, TikTok is a platform that can count on a practically constant video stream. So it would only be a matter of time before such a task was actually created.
You want to join the large group of excellent voice actors, albeit at an amateur level? If the answer is yes, all you have to do is just sit back and read on. We will explain in detail and clearly what you need to test your skills.
Ready? Let's start then.
Find voiceovers on TikTok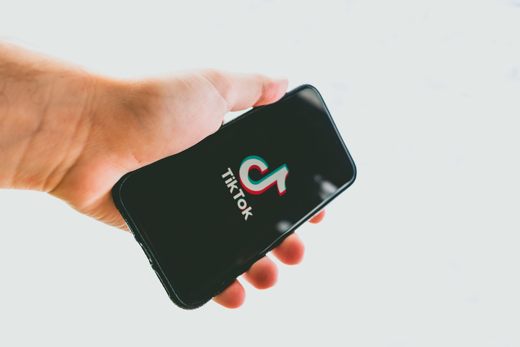 First start the app installed on your Android or iOS device, and log in to the service by entering your credentials to access your account, if not saved.
You will immediately notice how the Home immediately present you a large amount of videos from which you can be inspired and find the one on which you can actually make your dubbing.
If you want you can also take advantage of the functionality Discover, the lens icon at the bottom, through which you can find the trendiest multimedia files and discover the latest fashions of the moment.
If, however, you want to make your choice completely independently, after pressing the icon Discover, go to the Search engine at the top and type in specific terms such as Dubbing o Dubbing Movies, in this way all related videos will appear.
Once you've found the video of your preference, all you have to do is click on the disk icon located at the bottom right and then press the button Use Sound.
This last function, in fact, will allow you to take advantage of an editor integrated with the TikTok platform and that you can manage with great simplicity. By doing so you can prepare the multimedia file for your dubbing or lyp sync.
Read also: Best cheap streaming microphones
How to concretely dubbing on TikTok
The first step for do dubbing on TikTok it will obviously concern the uploading of the video file of your interest. You can perform this procedure by downloading a video directly from the internet or by uploading a multimedia file from the memory of your device, it is irrelevant.
Proceed to start the TikTok editor by clicking on the icon capacitor positive (+) lead post in home page and then on the button Charge (to the right of the circular registration button).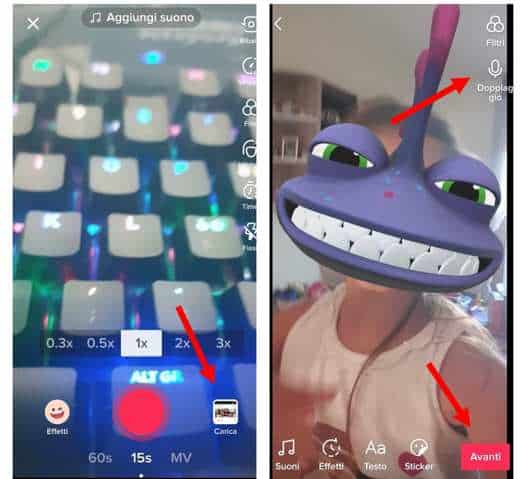 Locate the movie to upload, select it and complete the procedure, then continue by clicking on NEXT.
Click again on NEXT to confirm your choice and definitively authorize the upload. You will now notice the presence of the microphone icon with the writing Dubbing, on the right, click it and record your voice by pressing the usual record button.
If you want to completely delete any pre-existing audio track and replace it entirely with your own, you must deselect the item Keep original sound.
Finish your dubbing, then click on Save, up, and then up NEXT and then on Public.
You can also adorn your new video with additional special effects and / or various filters.
As we already told you, however, the dubbing not the only function on TikTok capable of playing with the voice, another is the beg sync. Let's see how to do it.
Lyp sync assumes that your lips have to adapt to an existing audio track. This is why it is first necessary to locate the audio file on which you intend to operate.
Once added on the TikTok editor via the button Use sound, you just have to click on the characteristic red register button to start one.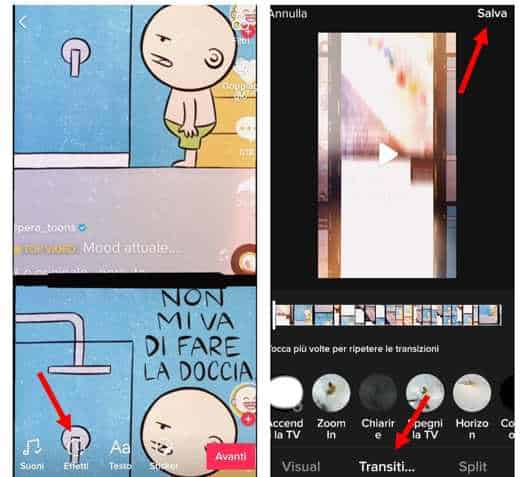 As usual, before publishing and sharing your new file, you can always take advantage of filters and effects for an even more surprising final result. If you have done a job to perfection, who knows if the next video to end up in the trends is not yours. Thanks to our guides and your creativity, we bet yes!
In this regard, you may be interested in our guide on: How to make effects on TikTok
5 tricks for always perfect dubbing
Now that you have found out how to dubbing on TikTok, we want to provide you with further clarification in this regard.
Dubbing generally requires the voice actor to use his own voice to replace that of one of the protagonists of a particular video or film. But you should know that TikTok in addition to this mode also presents another one called Lyp Sync.
Don't be scared by the name, it's something extremely simple. This term simply indicates the lip synchronization that occurs between the voice actor and an audio track already present in the background.
Here are some useful tricks.
1. Find the suitable video
The main aspect is certainly to find a video that can whet your inventiveness and inspire you to create a well-done dubbing that may even end up in trend.
There are millions of videos available for you to choose from. Do you want to offer your own interpretation of a famous movie scene? Want to become your favorite singer for just a moment and let your voice double those verses you've always heard with a shiver under your skin?
You can do it without any problem, unleash your creativity!
2. Find a suitable place
Imagine: you are about to try your hand at dubbing a scene from the famous film Gladiator. You are about to recite a line from the legendary Massimo Decimo Meridio, when suddenly the noise of a press in progress or a dishwasher extinguishes all your artistic ambitions in the bud.
In short, we certainly don't have to tell you to find a corner of the house that is as quiet as possible so that your dubbing is flawless for its entire duration, with all due respect to the various appliances.
3. Adapt your voice to the scene
How to dubbing on TikTok, even if at a purely amateur level, it still requires some basic rules, one of these concerns precisely theintonation and depth area of yours you.
If you have found a piece of a cardboard animated that you intend to duplicate faithfully, a low, deep and gloomy tone may not be the ideal choice. On the contrary, a scene from a horror film dubbed with a particularly cheerful tone does not help to identify with the atmosphere.
This is if you want to stick to a faithful dubbing of the original video. However, nothing prevents you intentionally from upsetting the canons of the scene and perhaps creating a creative dubbing that apparently does not reflect the atmosphere with an exhilarating result.
There are several voiceovers of the genre that have managed to end up among the main trends.
4. Pay attention to the synchronization
In case you decide to opt for a dubbing via functionality lyp sync, all you need to watch out for is to maintain adequate synchronization. In this way the voice and the movement of the lips can be more coincident and harmonized.
The greatest risk of asynchrony is to publish a video in which perhaps between the voice of a character in a given scene and the movement of your lips there is a delay that, even if of a few seconds, is certainly not beautiful. to see, but above all to listen!
So, don't get distracted, take a good look at the actor's pauses and the moments in which he is instead engaged in his dialogue and you will see that you will get a respectable result. Maybe you can even make a career in this industry.
5. Get creative with effects and filters
Did you know that many dubbed videos featured on TikTok are starting to be considered by different companies for what is known as product marketing, Or the sponsorship e advertising of certain services or products?
It often happens, in fact, that on the platform there are videos, albeit amateur ones, accompanied by a whole series of graphic effects or visual filters such as to make them real small short films that lend themselves very well, for example, to the promotion of tourist resorts or products for daily use.
Read also: How to change the voice on TikTok