Dictate on smartphone with voice recognition today it is possible. If you are a blogger and you need to continually write articles even when you are on vacation, you can avoid carrying a notebook but publish them by dictating what to write on your mobile phone.
How to dictate on the phone
If you are tired of typing or typing on the keyboard to create posts, then make yourself comfortable and read carefully why dictate on smartphone with voice recognition, whether you have Android or an iPhone, it's really simple. Also the voice dictation, also called voice-to-text, for smartphones and tablets, it is also ideal for professional use and facilitates interviews and meetings.
Are you ready? So relax, I am sure that by the end of reading this guide you will know not only to dictate voice messages but also to dictate punctuation.
How to dictate on Android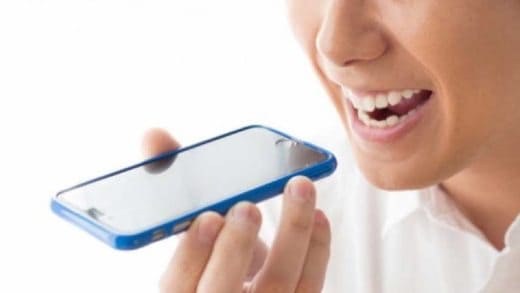 To help you publish an article e dictate on smartphone with voice recognition, start by downloading an editor like Notepad or Word. For the first app, if you have an Android smartphone you can easily download it from Google Play.
Notepad
Simple, fast and intuitive, Notepad is an easy to use app with a very basic design. After installing it on your mobile device, launch it and press the pen icon, in the top menu, to open a new document. In title enter the title of the article and in notes start writing the content. If you have Android and you want to dictate, look in the keyboard that appears when you start typing, the microphone for voice recognition. If it is not present, click on the button near the left of the space bar and hold it down to select the microphone.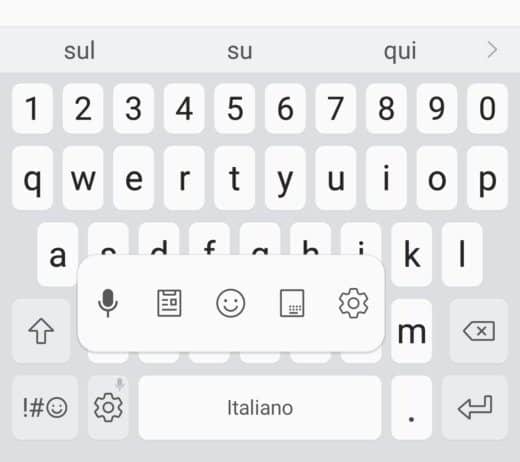 Start talking by bringing the phone close to your mouth. You will notice that in moments of pause the Google voice recognition will pause, to reactivate it just touch the microphone and resume dictating, or touch the microphone to pause it.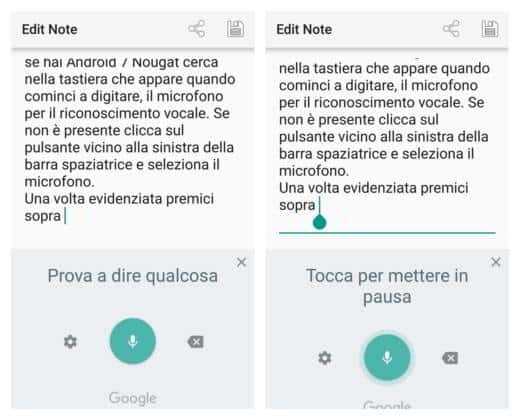 At the end by tapping on the share symbol you can share your article and send it to whoever you want.
Voice dictation works even without internet connection, just download the language pack. To do this go to Settings> General management> Language and input> Virtual keyboard (on Android 10 you find On-screen keyboard)> Google Voice typing and finally click on Offline speech recognition to verify the presence of the Spanish language; if it does not exist, you will have to download it by going to the item above.
For those who own smartphones with older Android versions, if the microphone is not present in the smartphone keyboard, you can activate it by going to Settings> Controls> Language and Input> Voice Control and tick Google typing. Doing so when you open the Android keyboard again, you will notice the ability to select the microphone for voice recognition.
How to dictate on iPhone
If you have an iPhone and want to dictate, when the keyboard appears, all you have to do is tap on the microphone icon. Find it to the left of the space bar.

On Apple mobile devices, it is Crab which provides speech recognition functionality. You can also dictate the punctuation and say: "Question mark"Or"comma" or again "point".
To start voice dictation on iPhone with Siri you need to: open the keyboard, choose the icon Globe, select the microphone symbol and start speaking and finish by pressing the key Done to see everything that has been written.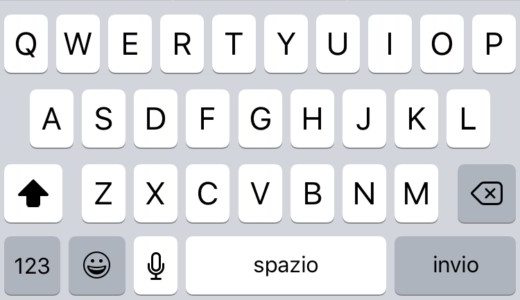 If voice dictation on iPhone or iPad is not activated you need to go to Isettings> General> Keyboard and activate Enable Dictation, also check that it is active Siri and Dictation in Settings> General> Restrictions e Hey Siri in Settings> General> Siri.
Attention to work, you need an internet connection for voice recognition.
Like on Android, even on iPhone it is not possible to delete a word, make corrections or anything else.
Other useful articles
How to convert text to MP3 audio
How to convert audio to text on PC