Here is a guide on how to change Instagram writing with the best free font generators.
Did you know that you can customize the text in your Instagram bio, captions and comments? Well the services and apps listed in this article are text character generators that you can easily copy and paste into Instagram Bio. This way you can make your IG profile popular and unique. Simply type any text into the input box of the online tools and apps indicated in the next few paragraphs, and they will generate hundreds of different text font variations.
You will discover fonts with tattoos, emojis, calligraphic fonts, cursive fonts, freehand fonts and much more.
How to change Instagram writing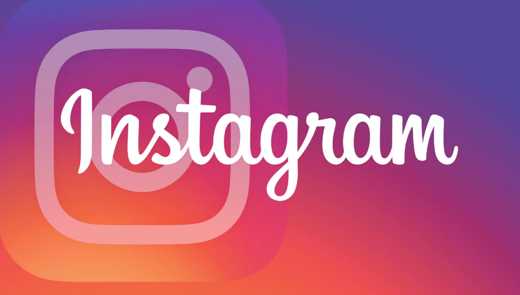 You must know that Instagram does not have an integrated function that allows you to change the font with which you create posts. However, it is possible to write within an app or online Instagram font generator and then paste the resulting font into your posts.
Read also: Phrases to put under Instagram posts
How to change writing in the Instagram Bio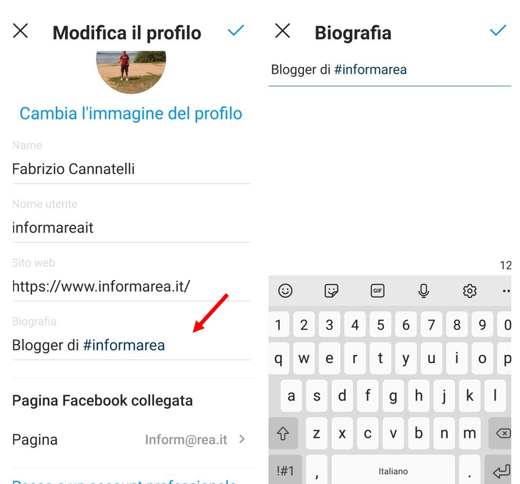 In case you want to edit your Instagram bio to have different fonts, copy the font obtained from the font app or font generator and open the Instagram app. Access your personal page by clicking on yours photo Profile, at the bottom right, then press the button Edit the profile and make a long tap in the text field of the Bio. Tap on Paste and confirm everything by pressing on the symbol of checkmark top right.
How to change fonts in Instagram posts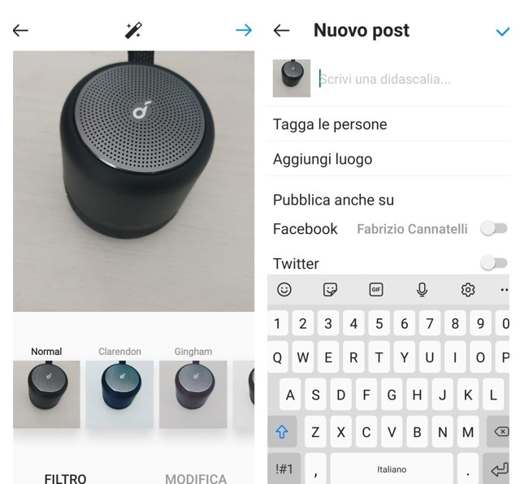 To change the writing of your posts, start Instagram and create a new post by pressing the button [+], which you find below. Select the image you want to publish and press the button NEXT.
Tap again on NEXT to start publishing and press the box for a long time: Write a caption ... Then press the button Paste to paste the lettering you customized with the font app or the online font generator. Complete it with the publication of the post.
Read also: What to write on Instagram as a biography
Best Instagram special character font apps
Here is a selection of apps with Instagram fonts useful for changing the writing of your stories, posts and bio.
1. Cool Fonts for Instagram Bio (Android, iOS)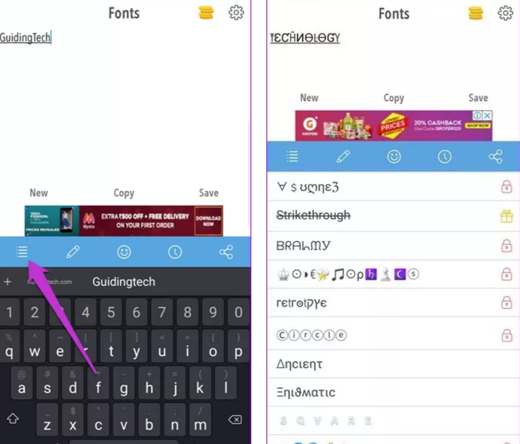 Fonts for Instagram (Android and iOS) is an app that will allow you to create more than 140 different fonts to allow you to create custom texts for Instagram. These are Unicode-based special characters and are supported by all major platforms: Android, iOS and Windows. You can use them by having beautiful styles of text, numbers and decorations available. After copying the text you can quickly paste it on any social networking app and website.
2. Adobe Spark Post (Android, iOS)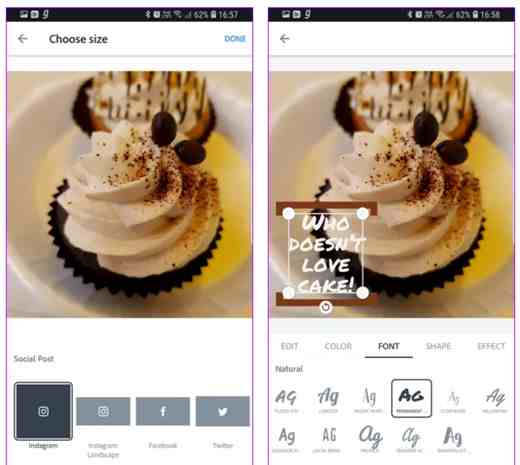 When it comes to enhancing social media images, Adobe Spark Post is one of the best apps for android and ios. It offers a variety of features that can transform an image from good to fabulous with just a few taps, but it also packs a lot of typefaces and styles.
So all you have to do is open a post or choose one from the hundreds of free stock photos. Once done, tap Character and the wonderful world of font types and styles will open up for you.
Of course, you can try some funky fonts like Mountain e Storybook. You can further modify them based on the shape and size.
After creating your template, all you have to do is save and add the resulting image to your Instagram story or post.
3. Canva (Android, iOS)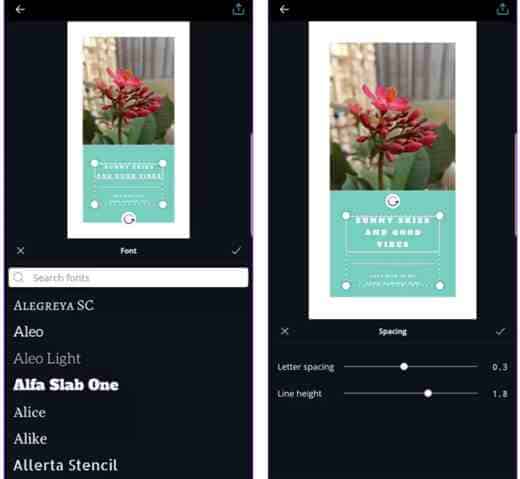 Another great app is canva, available for both iOS that for Android. The huge number of font styles is truly incredible. Once you've selected the correct background image, all you have to do is choose the font. You can search for your favorite font directly or choose one from the drop-down menu.
canva offers more solutions than Spark Post, in the sense that you can change the height and size of the font to your liking. After making the necessary selections and changes, save the image and share it on Instagram.
4. Pixlr (Android, iOS)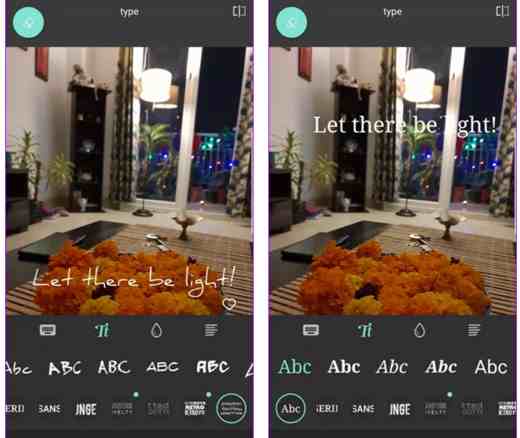 Although Pixlr being more of a photo editor, it has an interesting side. It houses a variety of fonts in different styles and effects. You can choose from retro designs to funky new age ones. You can also adjust the text opacity and color. Be sure to download all styles in advance to explore a variety of options.
The app is available for Android and iOS.
5. Text Font Generator (Android)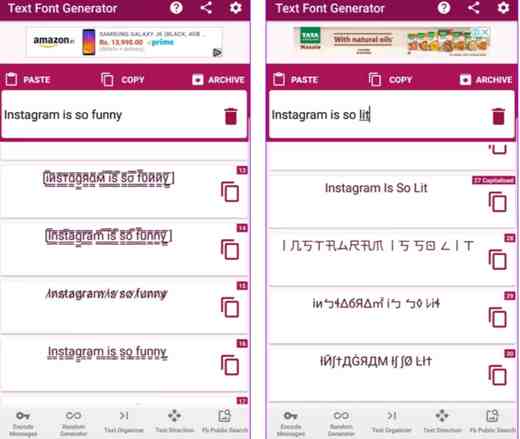 The app Text Font Generator it is very similar to the apps mentioned above and allows you to experiment with different designs and formats. All you have to do is enter a few words and the app will generate a variety of stylized text for you.
Its advantage is that you can see all the variations in a list. The number of characters is limited to 30.
Best Font generators to change Instagram writing
Now that you understand the process to change the font in the Instagram Bio, let's see together which are the best font generators for Instagram.
1. Instafonts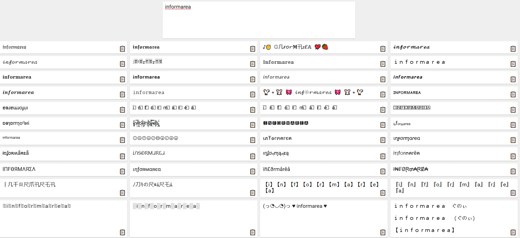 Instafonts is an easy-to-use font site with tons of font ed emoticons interesting. To change Instagram writing, you need to open it directly from the browser and type a phrase or word in the text box at the top. Then scroll through the proposed style fonts and copy (by clicking on the icon next to the proposed character) the one you think is most interesting and then paste it on Instagram. The site has around 90 fonts and various combinations to choose from.
2. Instagram Fonts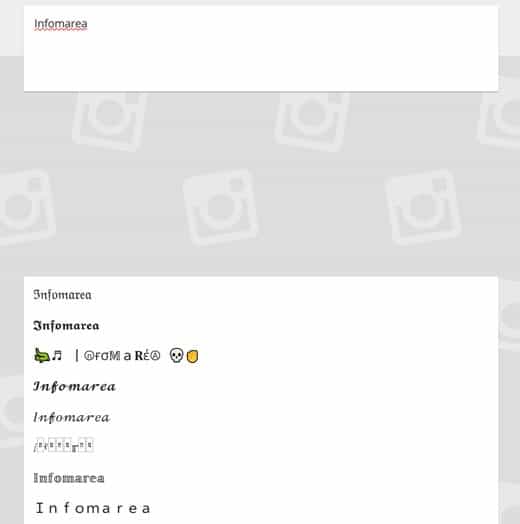 Instagram Fonts is the best Instagram font generator thanks to its clean and easy to use interface. To use it, simply type or paste the text into the text box you see at the top of the web page, then scroll down to see the phrase typed in a variety of text styles. In case you find the text font you like most, you can paste it in your bio, caption or comment on Instagram.
If you don't see anything you like, click on the "Load more fonts"Below and you will get more fonts for the typed word or phrase.
3. Meta Tags Font Generator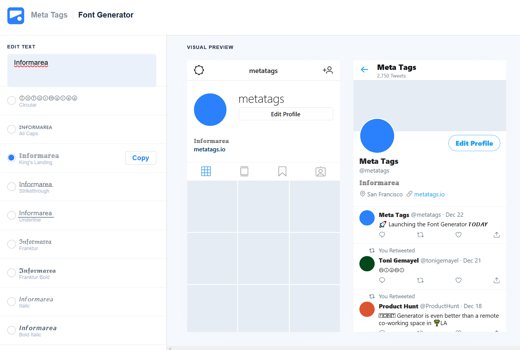 Meta Tags Font Generator is another of the best Instagram font generators since it allows you to preview what your new font will actually look like to apply to your bio. Once you have the font on Meta Tag, click on Copy and then paste everything on your social profile. There are also some Instagram font options, including little stars and more, to generate beautiful Instagram fonts.
4. FontsForInstagram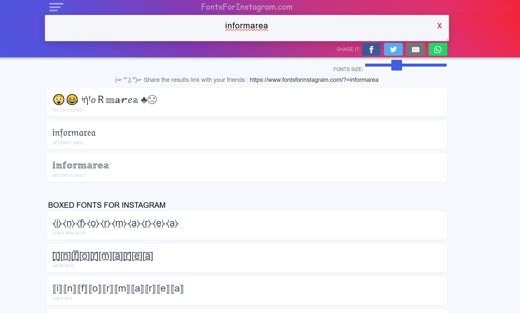 FontsForInstagram is a mobile friendly free Instagram font generator. It can be used on any mobile device and works similar to all the other generators described above. Just type or paste the text in the input section and wait for the automatic generation of the many different Instagram fonts. Then click on a text to automatically copy it to your system and place it where you want to paste it. By pressing on Load More… you will be able to display many other characters (+108).
The peculiarity of this service is the possibility of increase or decrease the font size making use of the option Fonts Size, at the top of the page. Furthermore, through the appropriate menu you can set other characters (symbolic, small, ugly, weird, joiner, box, etc.) and view the effect obtained on the typed text.
5. Fonts for Instagram by LingoJam

LingoJam Fonts for Instagram is another online tool similar to the others to change Instagram writing, the main difference here is a prettier and more intuitive interface: the new text appears to the right of the original text, rather than below it. The developers seem intent on improving it further, as they have made available a suggestion box Suggestions to improve this translator at the bottom of the page.
For those who want, there is also the possibility to create their own font. By pressing the button, at the bottom right, Design Your Own Font, you will be redirected to a page where you can use suggested characters or modify the rules yourself manually.
Other useful articles
Best Instagram hashtags
How to send Instagram temporary messages