The daily use of the smartphone certainly makes our life easier, the applications installed on the operating system facilitate our daily activities and allow us to have fun when we need them. Maybe you have more than one smartphone and only one phone number, which restricts you from using instant messaging applications such as WhatsApp e Zoom on other devices.
Among the most important applications to communicate with your friends there is certainly Telegram, a program that for years has allowed us to exchange photographs, videos and text with work colleagues and acquaintances. Fortunately, this application allows you, thanks to the latest updates, to be able to use it without a phone number, guaranteeing you most of the features.
Today we will delve deeper into like having Telegram without a phone number and on many other aspects to increase this potential. We will also suggest dedicated applications to use Telegram without a number so we recommend that you read the guide to the end.
Create a Telegram account without a phone number? You can!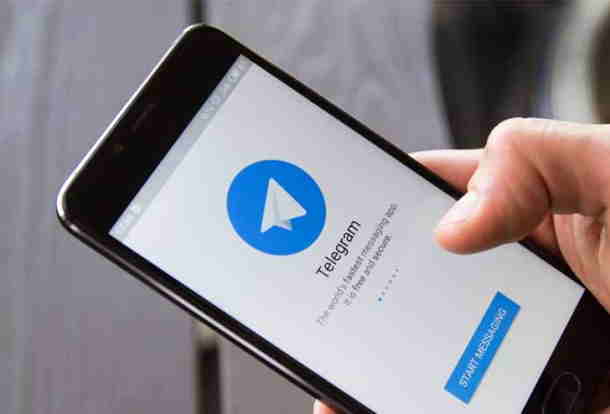 As we anticipated in the introduction, you can use Telegram even without a phone number, but not all that glitters is gold. You must know that in order for this to be possible it is essential to register on the platform through a telephone number, not necessarily the one you use every day, but in any case a real number.
In the next few lines we will analyze the methods you can use to get around this limitation. We can, in fact, sign up on Telegram even with an old SIM or with a completely new SIM.
Many think that use Telegram without a phone number limit communication with your friends. This is absolutely not true, indeed thanks to the application's features you can chat and send files to anyone you want without any problem. But now let's try to understand how to do it in practice without getting lost in chatter.
Read also: How to subscribe to Telegram
Temporary phone number for Telegram
So that you can use Telegram without a phone number you need to create a temporary number. The system is very simple, it consists in having the application send you the confirmation code after creating a dummy number from a third-party site.
First of all, open your favorite browser and connect to the Google search engine. Search in the main bar "Fake phone number"Or"Temporary number". Several websites will open for you to create temporary numbers. Choose the one you think is most appropriate and start the process of creating the temporary number.
We will need this activity to receive the verification code from Telegram, so you don't have to send it to your main number.
Once you have gone to the site to create a fictitious number, enter a 10-digit number in the main bar and check availability. If the number you want is not available, choose one of those proposed and use it during the Telegram registration to have the authorization code sent to you.
We are sure, however, that you are here to understand which are the safest sources to carry out this operation, do not worry in the following paragraphs you will find the most used solutions.
How to create a phone number for Telegram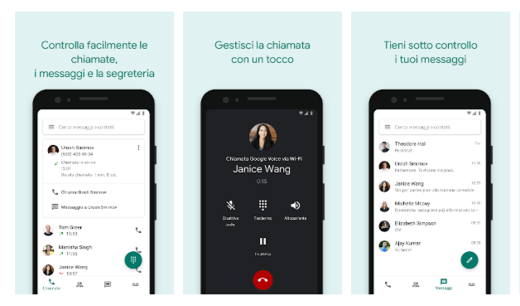 If the use of third-party websites is not really to your liking, you can adopt the more user-friendly method of Google: Google Voice. The famous global giant offers a function capable of generating a completely free virtual telephone number. Although it may seem strange we can safely register on Telegram using this feature, as well as take advantage of many others if you are a lover of calls and chats.
Google Voice it is available on both Android and iOS operating systems and is really simple to use, let's see how to do it.
First of all, download Google Voice from the App Store or the Play Store. Once the download and installation are finished you will need to log in with your Google account and register on Google Voice.
Once the application is open, you can choose a phone number to be used for registration on Telegram. Easy isn't it?
App to use Telegram without number
Here we are in the paragraph dedicated to the sources to create a fictitious phone number that we promised you. On the web and in the various online stores you will find an infinite number of applications capable of generating a temporary number, but not all of them are functional and guaranteed. Now we will list the ones we have tested and we believe are safe to rely on.
My Trash Mobile
Receive SMS Online
Reiceve SMS Online for Free
Free Online Phone
Receive SMS
Sbizzy
Moakt
Hushed (Android, iOS)
Text Free (Android, iOS)
But in addition to these sites just listed you will also find excellent allies in: Burner and TextNow.
We anticipate before opening the links that some of these are completely free, such as Text Free or Moakt, but most of them offer you a paid service with a cost that is certainly not negligible. Choose according to your needs and tastes, but to register Telegram you can safely rely on a free service.
Read also: How to use WhatsApp without SIM on Android
How to have anonymous Telegram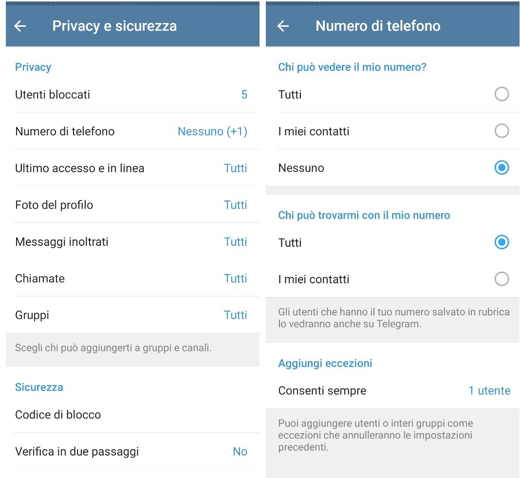 Now that you can finally use Telegram without a phone number, maybe you need to know too how to have Telegram in complete anonymity.
We premise that it is possible to do this by disabling the sharing of the telephone number and setting up communication directly with the nickname you chose at the time of registration. Telegram allows you to be visible to everyone even simply by showing the nickname instead of the telephone number.
In order for you to choose this feature you must follow this path: start Telegram, press the top left on the three horizontal dashes, if you have an Android system, and at the bottom right on the gear if you have an iOS system, and go to Settings. From here enter the section Privacy and security and subsequently on Number phone.
Here you will be presented with two options: My contacts e Nobody. The first will allow you to be anonymous only to your contacts, the second to all Telegram subscribers.
This process will make you anonymous, but you will still be active on the platform as if nothing had happened.
How to have two Telegram accounts without a number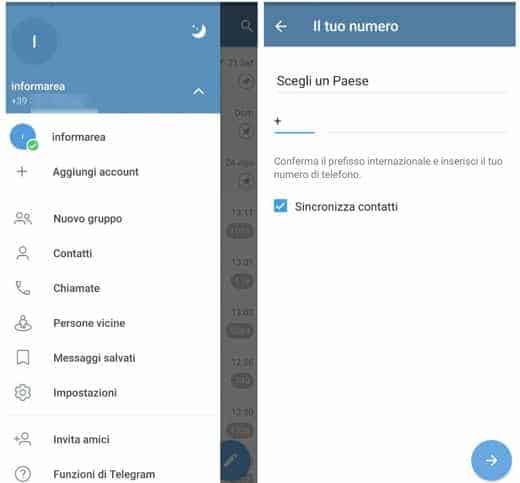 We want to go a little further and try to understand if Telegram can make us connect to two accounts at the same time without a phone number. Although in a particular way, such a mechanic is absolutely possible, but we need a third-party application. Let's see how to do it.
The reference application that you will find on the Store of your smartphone is GrooVeIP per Android.
Downloaded and installed on your mobile device, start it and wait a few seconds. Press on Get Started and register with the US prefix. The application in a few seconds will create the new phone number that you can enter on Telegram to start the new authenticity configuration.
Open Telegram and press the top left on the three horizontal lines if you have an Android and bottom right if you are on iPhone. You will see your profile picture and just below the phone number of the first account, press on the number and a new option will open: Add account. Choose a country, press next to capacitor positive (+) lead and enter the new number created on GrooVeIP.
You will now have two Telegram accounts without your real phone number.
You may also be interested in: How to see the chats archived on Telegram