Aging Instagram photos is super simple, all you have to do is use the app Faceapp for Android and iOS. Developed in Russia in 2017, the app offers a series of free filters, including that of getting old Insagram face and that of becoming young and very young.
After downloading and installing it on your mobile, open the app and go to NEXT for 3 times and then on Start. Grant access to your photos by pressing the button Allow and allow FaceApp to access photos, media and files stored on your device.
How to grow old on Instagram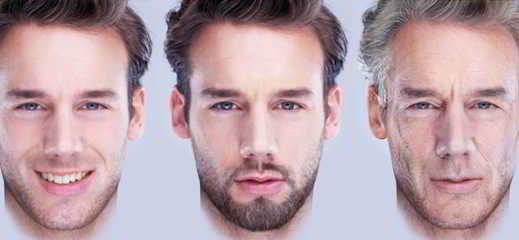 Once the permissions are completed, select theicona della macchina photography and take a selfie or upload a photo from your mobile gallery. Select the function Age, in the bottom menu, you will see a menu appear in which you can choose what type of effect to apply.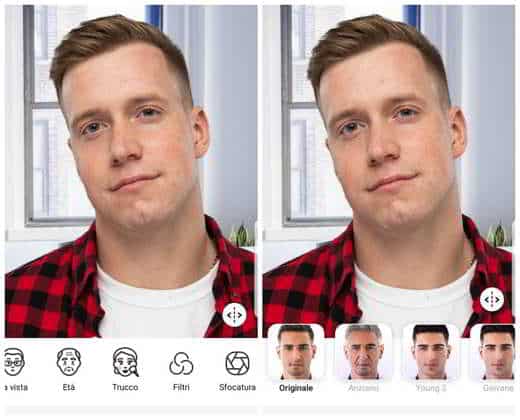 There are three options: two are intended to rejuvenate the person's face (Young e Young 2), the other, the old filter on Instagram, is the filter Elder. By clicking on it and waiting a few seconds, you will get the desired effect and that is to become old.
Press on Apply, at the bottom right, to confirm and download the photo obtained, press the icon of download for free (green arrow pointing down) to save it in Gallery of your phone.
The section Editor presents not only the filter Elder, but that too Impression, I smiled, Beard, Colors, Hairstyles, From sight, Make up and editing tools, such as Cut out, Adjustments, Background and so on.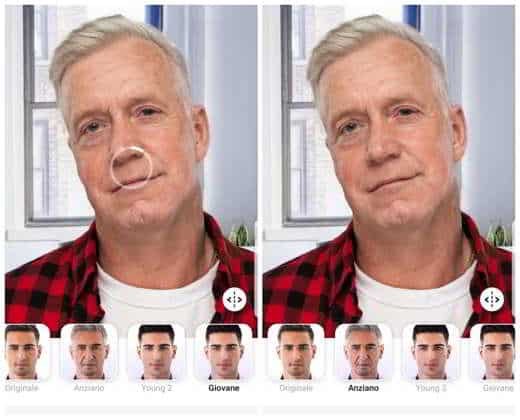 Over Editor, you have that too Fun with fun filters and layouts, to create collages, mirrors, duo and much more.
Using the aging app on Instagram, FaceApp, in free version, you can use a limited number of filters and effects. You can change hair color, mouth expression, gender but you can't delete the FaceApp logo. To do this you will need to download FaceApp Pro and pay a $ 3.99 monthly subscription and enjoy more filters, some even editable.
All this work is the result of aartificial intelligence able to analyze the features of the face by estimating the current age, the appearance of wrinkles and the evaluation of those already present to ensure a realistic effect of the photos.
After applying the aged effect filter, you will be amazed and there will be nothing left of it share the result on Instagram, as the Atalanta players have already done Papu Gomez, Ilicic e Andrea Petagna, in these days of summer retreat, but also Messi, Ronaldo and the VIPs: Fedez and Chiara Ferragni, Pio and Amedeo and many others.
How to share aged effect photos on Instagram
To send photos with filter from old Instagram, all you have to do is open the Instagram app on your phone and in the toolbar at the bottom, click on the icon [+]. Select the photo in the Gallery of your cell phone and then presses on NEXT. Choose an Instagram filter and press again on NEXT.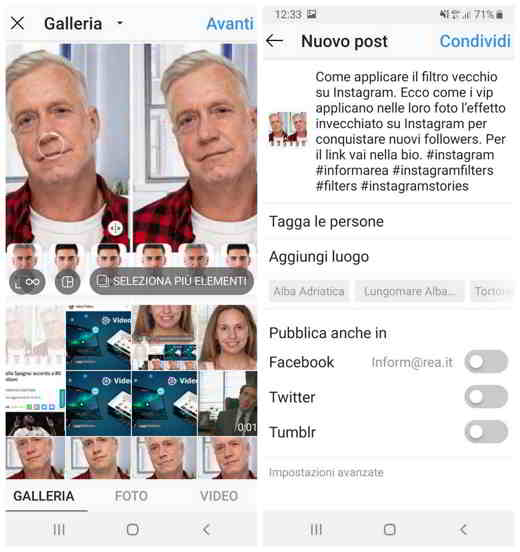 Enter a caption to put next to the photo and press on Share, top right, to post your photo on Instagram.
In addition to the caption, you can also to tag people adding your friends to the post (your photo will also appear on the profiles of friends you have tagged), and adding the where you took the photo.
Finally, you can choose sharing in others as well social proposti: Facebook, Twitter, Tumblr, Flickr.
Other useful articles