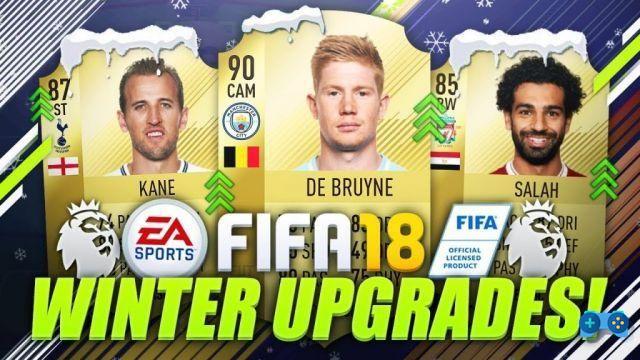 We are almost there now.
The transfer market is now over. Among the best players who have changed teams, we all have: Alexis Sanchez moved to Manchester United e Pierre-Emerick Aubameyang instead went toArsenal. As it should be, the transfers in question are also updated in FIFA 18. In addition to these there is another update that EA Sports releases via patch, namely i Winter Upgrades o Ratings Refresh.
But what are the Winter Upgrades?
Electronic Arts towards the middle of February, he selects some players who contradicted themselves in the first part of the season, updating their overall and statistics. It could also happen that some players receive a rating downgrade instead. Such improvement or deterioration will then lead these players to obtain a card FUT - Ultimate Team updated.
What happens to the other cards on the market when the upgrades are released?

Let's start with the fact that about 400 cards will be placed on the market. What repercussions will they have?
None on NIF cards. Cards not fit present in clubs and on the market will remain unchanged and therefore will maintain the valuation they already have. The new cards can therefore be obtained exclusively from packs or by purchasing them on the market.
Different speech instead for the IF cards. In fact, if a particular player receives a rating equal to or higher than his first version In Form, this will be updated automatically. The same goes for Ones to Watch or Players to Watch and Path to Glory.
In sitensi:
If the overall is 77 or 78 the IF version will rise to 82
If the overall is 79 or 80 the IF version will rise to 83
If the overall is 81 or 82 the IF version will rise to 84
If the overall is 83 the IF version will rise to 85
If the overall is 84 the IF version will rise to 86
If the overall is 85 the increase will be one point overall
In practical terms, let's consider a player who will definitely receive the upgrade: Ciro Immobile. Its new version should be 84, consequently, the first IF version will go from 84 to 86 and the second SIF version from 86 to 87.
Below is the list of players, divided by league, who will receive an improvement and a worsening of their statistics:
Premier League Upgrades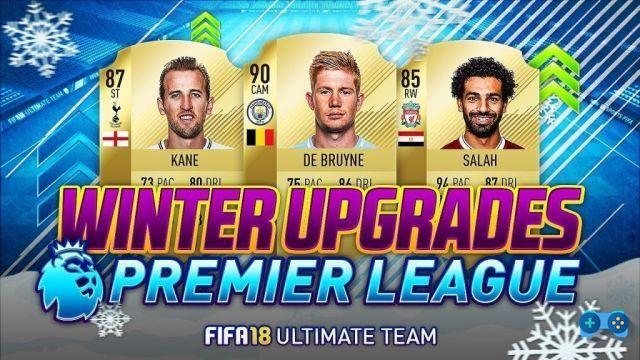 | Player name | Club | Current rating | Updated rating | Upgrade |
| --- | --- | --- | --- | --- |
| David De Gea | Manchester United | 90 | 91 | +1 |
| Eden Hazard | Chelsea | 90 | 91 | +1 |
| Kevin de bruyne | Manchester City | 89 | 91 | +2 |
| David Silva | Manchester City | 87 | 89 | +2 |
| Harry Kane | Tottenham Hotspur | 86 | 89 | +3 |
| Christian Eriksen | Tottenham Hotspur | 87 | 88 | +1 |
| N 'Golo Kante | Chelsea | 87 | 88 | +1 |
| Paul Pogba | Manchester United | 87 | 88 | +1 |
| Azpilicueta | Chelsea | 85 | 86 | +1 |
| Mohamed Salah | Liverpool | 83 | 86 | +3 |
| Morata | Chelsea | 84 | 85 | +1 |
| Nicolas Otamendi | Manchester City | 83 | 85 | +2 |
| Shkodran Mustafi | Arsenal | 84 | 85 | +1 |
| Ederson Moraes | Manchester City | 83 | 84 | +1 |
| Fernandinho | Manchester City | 82 | 84 | +2 |
| Heung Min Son | Tottenham Hotspur | 82 | 84 | +2 |
| Kyle Walker | Manchester City | 83 | 84 | +1 |
| Leroy sané | Manchester City | 82 | 84 | +2 |
| Nemanja Matić | Manchester United | 83 | 84 | +1 |
| Raheem Sterling | Manchester City | 82 | 83 | +1 |
| Riyad Mahrez | Leicester City | 83 | 84 | +1 |
| Roberto Firmino | Liverpool | 83 | 84 | +1 |
| Gabriel Jesus | Manchester City | 81 | 83 | +2 |
| Andreas Christensen | Chelsea | 81 | 82 | +1 |
| Marcos Alonso | Chelsea | 81 | 82 | +1 |
| Sead Kolašinac | Arsenal | 80 | 82 | +2 |
| Wilfried Zaha | Crystal Palace | 81 | 82 | +1 |
| Jesse Lingard | Manchester United | 78 | 81 | +3 |
| Marcus Rashford | Manchester United | 79 | 81 | +2 |
| Nacho Monreal | Arsenal | 80 | 81 | +1 |
| Phil Jones | Manchester United | 79 | 81 | +2 |
| Tom heaton | Burnley | 80 | 81 | +1 |
| Bem Davies | Tottenham Hotspur | 78 | 80 | +2 |
| Cenk Tosun | Everton | 78 | 80 | +2 |
| Danny Drinkwater | Chelsea | 79 | 80 | +1 |
| Emre Can | Liverpool | 79 | 80 | +1 |
| John Stones | Manchester City | 79 | 80 | +1 |
| Victor Moses | Chelsea | 79 | 80 | +1 |
| Abdoulaye Doucoure | Watford | 78 | 79 | +1 |
| Bem Mee | Burnley | 78 | 79 | +1 |
| Eric Maxim Choupo-Moting | Stoke City | 77 | 79 | +2 |
| Jordan Pickford | Everton | 77 | 79 | +2 |
| Kieran Trippier | Tottenham Hotspur | 78 | 79 | +1 |
| Steven Defour | Burnely | 78 | 79 | +1 |
| Aaron Mooy | Huddersfield Town | 77 | 78 | +1 |
| André Carrillo | Watford | 77 | 78 | +1 |
| Harry Maguire | Leicester City | 75 | 78 | +3 |
| Moussa Sissoko | Tottenham Hotspur | 77 | 78 | +1 |
| Onyinye Ndidi | Leicester City | 77 | 78 | +1 |
| Ashley Young | Manchester United | 75 | 77 | +2 |
| Nathan Aké | Bournemouth | 75 | 77 | +2 |
| Robbie Brady | Burnley | 76 | 77 | +1 |
| Callum Wilson | Bournemouth | 75 | 76 | +1 |
| Christian Atsu | Newcastle United | 75 | 76 | +1 |
| James Tarkowski | Burnley | 73 | 74 | +1 |
Premier League Downgrades
| Player name | Club | Current rating | Updated rating | Downgrade |
| --- | --- | --- | --- | --- |
| Zlatan Ibrahimovic | Manchester United | 88 | 86 | -2 |
| Cesc Fàbregas | Chelsea | 86 | 85 | -1 |
| David Luiz | Chelsea | 86 | 83 | -3 |
| Gary Cahill | Chelsea | 84 | 83 | -1 |
| Joel Matip | Liverpool | 83 | 82 | -1 |
| Morgan Schneiderlin | Everton | 83 | 82 | -1 |
| Yaya Toure | Manchester City | 83 | 82 | -1 |
| Islam Slimani | Leicester City | 82 | 81 | -1 |
| Santi Cazorla | Arsenal | 83 | 81 | -2 |
| Tiémoué Bakayoko | Chelsea | 82 | 81 | -1 |
| Claudio Bravo | Manchester City | 82 | 80 | -2 |
| Grzegorz Krychowiak | West Bromwich Albion | 81 | 80 | -1 |
| Javier Hernandez | West Ham United | 82 | 80 | -2 |
| Joe Hart | West Ham United | 82 | 80 | -2 |
| Marcos Rojo | Manchester United | 82 | 80 | -2 |
| Orestis Karnezis | Watford | 82 | 80 | -2 |
| Ashley Williams | Everton | 82 | 79 | -3 |
| Christian Benteke | Crystal Palace | 81 | 79 | -2 |
| Danny Rose | Tottenham Hotspur | 82 | 79 | -3 |
| James McCarthy | Everton | 80 | 79 | -1 |
| Matteo Darmian | Manchester United | 80 | 79 | -1 |
| Roque Mesa | Swansea City | 82 | 79 | -3 |
| Theo Walcott | Arsenal | 80 | 79 | -1 |
| Angelo Ogbonna | West Ham United | 80 | 78 | -2 |
| Erik Lamela | Tottenham Hotspur | 80 | 78 | -2 |
| Jonjo Shelvey | Newcastle United | 77 | 75 | -2 |
Serie A Upgrades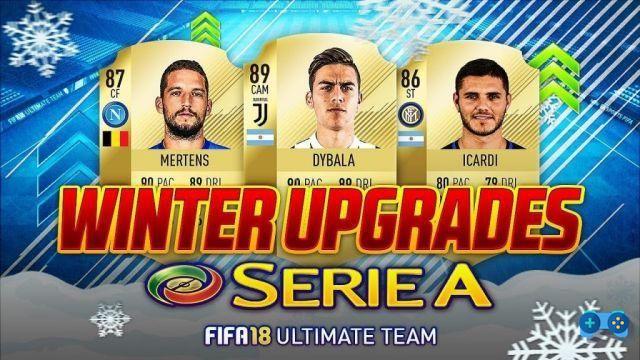 | Player name | Club | Current rating | Updated rating | Upgrade |
| --- | --- | --- | --- | --- |
| Paulo Dybala | Juventus | 88 | 89 | +1 |
| Samir Handanovič | Inter | 87 | 88 | +1 |
| Dries Mertens | NAPOLI | 86 | 87 | +1 |
| Lorenzo Insigne | NAPOLI | 85 | 87 | +2 |
| Miralem Pjanić | Juventus | 85 | 87 | +2 |
| Ciro Immobile | Latium | 82 | 84 | +2 |
| Ivan Perišić | Inter | 84 | 86 | +2 |
| Mauro Icardi | Inter | 84 | 86 | +2 |
| Medhi Benatia | Juventus | 84 | 85 | +1 |
| Douglas Costa | Juventus | 82 | 84 | +2 |
| Mattia Perin | Genoa | 83 | 84 | +1 |
| Sergej Milinković-Savić | Latium | 80 | 83 | +3 |
| Stefan from Vrij | Latium | 83 | 84 | +1 |
| Andrea Consigli | Sassuolo | 82 | 83 | +1 |
| Juan Cuadrado | Juventus | 82 | 83 | +1 |
| Raul Albiol | NAPOLI | 82 | 83 | +1 |
| Aleksandar Kolarov | Roma | 79 | 82 | +3 |
| Alisson | Roma | 80 | 81 | +1 |
| Allan | NAPOLI | 80 | 81 | +1 |
| Antonio Candreva | Inter | 80 | 81 | +1 |
| Daniele Rugani | Juventus | 80 | 81 | +1 |
| Diego Perotti | Roma | 80 | 81 | +1 |
| Josip Iličić | Atalanta | 80 | 81 | +1 |
| Luis Alberto | Latium | 77 | 81 | +4 |
| Salvatore Sirigu | Torino | 79 | 80 | +1 |
| Adem Ljajić | Torino | 79 | 80 | +1 |
| Elseid Hysaj | NAPOLI | 79 | 80 | +1 |
| Faouzi Ghoulam | NAPOLI | 79 | 80 | +1 |
| Lucas Leiva | Latium | 79 | 80 | +1 |
| Ştefan Radu | Latium | 79 | 80 | +1 |
| Matias Vecino | Inter | 78 | 79 | +1 |
| Milan Škriniar | Inter | 74 | 79 | +5 |
| Nicolas Nkoulou | Torino | 78 | 79 | +1 |
| Bastos | Latium | 77 | 78 | +1 |
| Mattia Caldara | Atalanta | 76 | 78 | +2 |
| Federico Chiesa | Fiorentina | 75 | 77 | +2 |
| Franck Yannick Kessié | AC Milan | 76 | 77 | +1 |
| Giovanni Simeone | Fiorentina | 76 | 77 | +1 |
| Lucas Torreira | Sampdoria | 75 | 77 | +2 |
| Thomas Strakosha | Latium | 74 | 77 | +3 |
| Andrea Poli | Nologna | 75 | 76 | +1 |
| Federico Di Francesco | Bologna | 73 | 76 | +3 |
| Karol Linetty | Sampdoria | 75 | 76 | +1 |
| Romulo | Greece Verona | 74 | 76 | +2 |
| Ali Adnan | Udinese | 73 | 75 | +2 |
Serie A Downgrades
| Player name | Club | Current rating | Updated rating | Downgrade |
| --- | --- | --- | --- | --- |
| Leonardo Bonucci | AC Milan | 88 | 86 | -2 |
| Miranda | Inter | 86 | 85 | -1 |
| Andrea Barzagli | Juventus | 85 | 84 | -1 |
| Claudio Marchisio | Juventus | 85 | 84 | -1 |
| João Mário | Inter | 83 | 82 | -1 |
| Kevin Strootman | Roma | 84 | 82 | -2 |
| Mateo musacchio | AC Milan | 83 | 81 | -2 |
| Francesco Acerbi | Sassuolo | 82 | 80 | -2 |
| Maxime gonalons | Roma | 80 | 79 | -1 |
| Lorenzo Tonelli | NAPOLI | 79 | 78 | -1 |
| Federico Marchetti | Latium | 80 | 77 | -3 |
| Mauricio | Latium | 79 | 77 | -2 |
| Bruno Gaspar | Fiorentina | 77 | 75 | -2 |
| Luca Cigarini | Cagliari | 76 | 75 | -1 |
| Mariano Izco | Crotone | 76 | 75 | -1 |
| Mattia Destro | Bologna | 76 | 75 | -1 |
| Simone scuffet | Udinese | 75 | 74 | -1 |
| Samuel Armenteros | Benevento | 74 | 73 | -1 |
| Riad bajić | Udinese | 75 | 72 | -3 |
LaLiga Santander Upgrades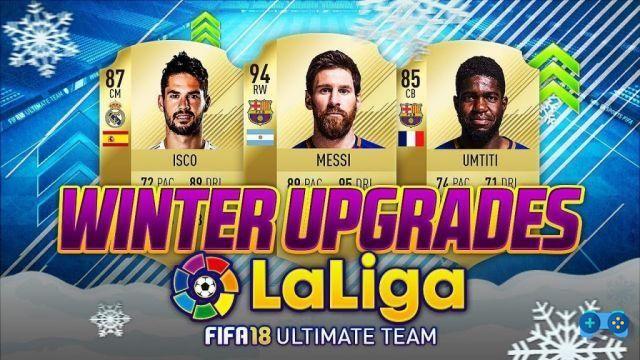 | Player name | Club | Current rating | Updated rating | Upgrade |
| --- | --- | --- | --- | --- |
| Isco | Real Madrid | 86 | 87 | +1 |
| Casemiro | Real Madrid | 85 | 86 | +1 |
| Jordi Alba | FC Barcelona | 85 | 86 | +1 |
| Marc-André ter Stegen | FC Barcelona | 85 | 86 | +1 |
| Iago Aspas | RC Celta de Vigo | 83 | 84 | +1 |
| Samuel Umtiti | FC Barcelona | 83 | 84 | +1 |
| Daniel Parejo | Valencia CF | 82 | 83 | +1 |
| Saúl Niguez | Atletico Madrid | 82 | 83 | +1 |
| Sergi Roberto | FC Barcelona | 81 | 83 | +2 |
| Willian jose | Real Sociedad | 82 | 83 | +1 |
| Daniel Wass | RC Celta de Vigo | 80 | 82 | +2 |
| Illarramendi | Real Sociedad | 81 | 82 | +1 |
| Andres Guardado | Real Betis Balompié | 80 | 81 | +1 |
| Samu Castillejo | Villarreal CF | 80 | 81 | +1 |
| Simone Zaza | Valencia CF | 80 | 81 | +1 |
| Angel Correa | Atletico Madrid | 79 | 80 | +1 |
| Escudero | Sevilla FC | 79 | 80 | +1 |
| Rodrigo | Valencia CF | 78 | 80 | +2 |
| Šime Vrsaljko | Atletico Madrid | 79 | 80 | +1 |
| Clement Lenglet | Sevilla FC | 78 | 79 | +1 |
| Gerard Moreno | RCD Espanyol | 78 | 79 | +1 |
| Gonçalo Guedes | Valencia CF | 74 | 79 | +5 |
| Pablo Fornals | Villarreal CF | 77 | 79 | +2 |
| Paulo Oliveira | SD Eibar | 78 | 79 | +1 |
| Pau López | RCD Espanyol | 77 | 79 | +2 |
| Gabriel | CD Leganés | 75 | 78 | +3 |
| Thomas Partey | Atletico Madrid | 77 | 78 | +1 |
| Amath Ndiaye Diedhiou | Getafe CF | 74 | 77 | +3 |
| Cristhian Stuani | Girona FC | 76 | 77 | +1 |
| Federico Cartabia | RC Deportivo de La Coruña | 76 | 77 | +1 |
| Gabriel Mercado | Sevilla FC | 76 | 77 | +1 |
| Geoffrey Kondogbia | Valencia CF | 76 | 77 | +1 |
| Herrerín | Athletic Club de Bilbao | 76 | 77 | +1 |
| Odriozola | Real Sociedad | 74 | 77 | +3 |
| Pione Sisto | RC Celta de Vigo | 74 | 77 | +3 |
| Rubén Pérez | CD Leganés | 75 | 77 | +2 |
| Enis Bardhi | Lift u | 74 | 75 | +1 |
| Alfonso Pedraza | Deportivo Alavés | 72 | 74 | +2 |
| Pablo Maffeo | Girona FC | 71 | 74 | +3 |
LaLiga Santander Downgrades
| Player name | Club | Current rating | Updated rating | Downgrade |
| --- | --- | --- | --- | --- |
| Gareth Bale | Real Madrid CF | 89 | 88 | -1 |
| Diego Costa | Atletico Madrid | 86 | 85 | -1 |
| Karim Benzema | Real Madrid CF | 86 | 85 | -1 |
| Bruno | Villarreal CF | 84 | 83 | -1 |
| Juanfran | Atletico Madrid | 83 | 82 | -1 |
| Nicolás Gaitán | Atletico Madrid | 83 | 82 | -1 |
| Iturraspe | Athletic Club de Bilbao | 81 | 80 | -1 |
| Goose | Lift u | 80 | 79 | -1 |
| Roberto Soriano | Villarreal CF | 80 | 79 | -1 |
| Coke | Lift u | 80 | 78 | -2 |
| Keko | Málaga CF | 79 | 78 | -1 |
| Denis Cheryshev | Villarreal CF | 79 | 77 | -2 |
| Michael Krohn-Dehli | Sevilla FC | 79 | 77 | -2 |
| Mosquera | RC Deportivo de La Coruña | 78 | 77 | -1 |
| Mauricio Lemos | UD Las Palmas | 77 | 75 | -2 |
| Aythami Artiles | UD Las Palmas | 76 | 75 | -1 |
Bundesliga Upgrades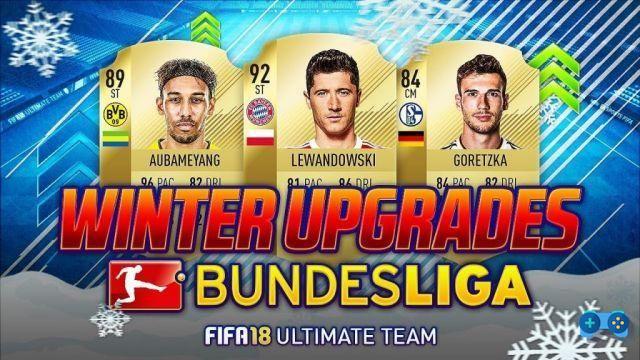 | Player name | Club | Current rating | Updated rating | Upgrade |
| --- | --- | --- | --- | --- |
| Mats Hummels | FC Bayern Munich | 88 | 89 | +1 |
| Joshua Kimmich | FC Bayern Munich | 81 | 84 | +3 |
| Leon Goretzka | FC Schalke 04 | 82 | 84 | +2 |
| Naby Keita | RB Leipzig | 83 | 84 | +1 |
| Naldo | FC Schalke 04 | 82 | 84 | +2 |
| Lars bender | Bayer 04 Leverkusen | 82 | 83 | +1 |
| Lukáš Hrádecký | Eintracht Frankfurt | 81 | 83 | +2 |
| Oliver Baumann | TSG 1899 Hoffenheim | 82 | 83 | +1 |
| Runes Almenning Jarstein | Hertha Berlin | 82 | 83 | +1 |
| Timo Werner | RB Leipzig | 82 | 83 | +1 |
| Kingsley Coman | FC Bayern Munich | 79 | 82 | +3 |
| Leon Bailey | Bayer 04 Leverkusen | 76 | 82 | +6 |
| Thorgan Hazard | Borussia Mönchengladbach | 80 | 82 | +2 |
| Marcel Sabitzer | RB Leipzig | 78 | 81 | +3 |
| Matija Nastasić | FC Schalke 04 | 80 | 81 | +1 |
| Charles Aránguiz | Bayer 04 Leverkusen | 77 | 80 | +3 |
| Christian Pulisic | Borussia Dortmund | 78 | 80 | +2 |
| Christoph Kramer | Borussia Mönchengladbach | 79 | 80 | +1 |
| Daniel Caligiuri | FC Schalke 04 | 78 | 80 | +2 |
| Matthias Ginter | Borussia Mönchengladbach | 78 | 80 | +2 |
| Mark uth | TSG 1899 Hoffenheim | 77 | 80 | +3 |
| Salif Sané | Hannover 96 | 79 | 80 | +1 |
| Yevhen Konoplyanka | FC Schalke 04 | 79 | 80 | +1 |
| Yunus Malli | VfL Wolfsburg | 79 | 80 | +1 |
| Guido Burgstaller | FC Schalke 04 | 78 | 79 | +1 |
| Koen Casteels | VfL Wolfsburg | 78 | 79 | +1 |
| Péter Gulácsi | RB Leipzig | 76 | 79 | +3 |
| Alfreð Finnbogason | FC Augsburg | 76 | 78 | +2 |
| Jean-Philippe Gbamin | 1. FSV Mainz 05 | 75 | 78 | +3 |
| Marcel Halstenberg | RB Leipzig | 75 | 78 | +3 |
| Caiuby | FC Augsburg | 75 | 77 | +2 |
| Niclas Füllkrug | Hannover 96 | 73 | 77 | +4 |
| Philipp Max | FC Augsburg | 74 | 77 | +3 |
| Steven Zuber | TSG 1899 Hoffenheim | 75 | 77 | +2 |
| Sven Ulreich | FC Bayern Munich | 76 | 77 | +1 |
| Alexander Schwolow | Sport-Club Freiburg | 75 | 76 | +1 |
| Daniel ginczek | VfB Stuttgart | 75 | 76 | +1 |
| Pirmin Schwegler | Hannover 96 | 75 | 76 | +1 |
Bundesliga Downgrades
| Player name | Club | Current rating | Updated rating | Downgrade |
| --- | --- | --- | --- | --- |
| Arjen Robben | FC Bayern Munich | 88 | 87 | -1 |
| Franck Ribéry | FC Bayern Munich | 86 | 84 | -2 |
| Javi Martinez | FC Bayern Munich | 86 | 84 | -2 |
| Yann Sommer | Borussia Mönchengladbach | 83 | 82 | -1 |
| Karim Bellarabi | Bayer 04 Leverkusen | 82 | 81 | -1 |
| Roman Burki | Borussia Dortmund | 84 | 81 | -3 |
| Raffael | Borussia Mönchengladbach | 82 | 80 | -2 |
| Raphael Guerreiro | Borussia Dortmund | 81 | 80 | -1 |
| André Schürrle | Borussia Dortmund | 80 | 79 | -1 |
| End Bartels | SV Werder Bremen | 78 | 77 | -1 |
| Paul-Georges Ntep | VfL Wolfsburg | 79 | 77 | -2 |
| Sebastian langkamp | Hertha Berlin | 78 | 77 | -1 |
| Marco Höger | 1. FC Köln | 78 | 76 | -2 |
| Pablo De Blasis | 1. FSV Mainz 05 | 77 | 76 | -1 |
| Raúl Bobadilla | Borussia Mönchengladbach | 78 | 76 | -2 |
| Simon Terodde | 1. FC Köln | 77 | 76 | -1 |
| Alexander Meier | Eintracht Frankfurt | 77 | 75 | -2 |
| Mërgim Mavraj | Hamburger SV | 76 | 75 | -1 |
| Tobias Strobl | Borussia Mönchengladbach | 76 | 75 | -1 |
| Yūya Ōsako | 1. FC Köln | 77 | 75 | -2 |
| André Hahn | Hamburger SV | 76 | 74 | -2 |
| Matthias Lehmann | 1. FC Köln | 76 | 74 | -2 |
Ligue 1 Upgrades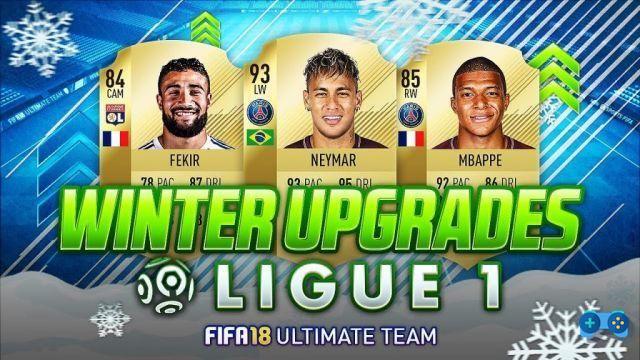 | Player name | Club | Current rating | Updated rating | Upgrade |
| --- | --- | --- | --- | --- |
| Edinson Cavani | Paris Saint-Germain | 87 | 88 | +1 |
| Anthony Lopes | Olympique Lyonnais | 83 | 85 | +2 |
| Fabinho | AS Monaco | 83 | 84 | +1 |
| Kylian Mbappé | Paris Saint-Germain | 83 | 84 | +1 |
| Marquinhos | Paris Saint-Germain | 83 | 84 | +1 |
| Nabil Fekir | Olympique Lyonnais | 82 | 84 | +2 |
| Thomas Lemar | AS Monaco | 83 | 84 | +1 |
| Florian Thauvin | Olympique de Marseille | 82 | 83 | +1 |
| Adrien Rabiot | Paris Saint-Germain | 80 | 82 | +2 |
| Malcom | FC Girondins de Bordeaux | 79 | 82 | +3 |
| Marcelo | Olympique Lyonnais | 79 | 81 | +2 |
| Alphonse Areola | Paris Saint-Germain | 79 | 80 | +1 |
| Benjamin André | Stade Rennais FC | 77 | 79 | +2 |
| Ciprian Tătăruşanu | FC Nantes | 77 | 79 | +2 |
| Carlos Diego | FC Nantes | 76 | 79 | +3 |
| Kenny Tete | Olympique Lyonnais | 77 | 79 | +2 |
| Mariano | Olympique Lyonnais | 76 | 79 | +3 |
| Baptiste Reynet | Dijon FCO | 77 | 78 | +1 |
| Karl Toko-Ekambi | Angers SCO | 76 | 78 | +2 |
| Presnel Kimpembe | Paris Saint-Germain | 76 | 78 | +2 |
| Yuri | Paris Saint-Germain | 77 | 78 | +1 |
| Allan Saint-Maximin | OGC Nice | 75 | 77 | +2 |
| Amavi | Olympique de Marseille | 74 | 77 | +3 |
| Leo Dubois | FC Nantes | 75 | 77 | +2 |
| Alexander djiku | Stade Caen | 74 | 76 | +2 |
| Ivan Santini | Stade Caen | 74 | 76 | +2 |
| Ronny Rodelin | Stade Caen | 73 | 76 | +3 |
| Thiago Mendes | LOSC Lille | 74 | 76 | +2 |
| Clinton Njie | Olympique de Marseille | 73 | 75 | +2 |
| Edgar Ié | LOSC Lille | 72 | 75 | +3 |
| Mathieu Dossevi | FC Metz | 74 | 75 | +1 |
| Houssem Aouar | Olympique Lyonnais | 67 | 74 | +7 |
| Kévin Monnet-Paquet | AS Saint-Étienne | 73 | 74 | +1 |
| Julio Tavares | Dijon FCO | 71 | 73 | +2 |
Ligue 1 Downgrades
| Player name | Club | Current rating | Updated rating | Downgrade |
| --- | --- | --- | --- | --- |
| Thiago Silva | Paris Saint-Germain | 88 | 87 | -1 |
| Danijel Subašić | AS Monaco | 85 | 84 | -1 |
| Stéphane Ruffier | AS Saint-Étienne | 85 | 84 | -1 |
| Dimitri Payet | Olympique de Marseille | 84 | 83 | -1 |
| Loïc Perrin | AS Saint-Étienne | 83 | 81 | -2 |
| Benoît Costil | FC Girondins de Bordeaux | 82 | 80 | -2 |
| Kevin Trapp | Paris Saint-Germain | 82 | 80 | -2 |
| Stevan jovetić | AS Monaco | 81 | 80 | -1 |
| Layvin Kurzawa | Paris Saint-Germain | 80 | 79 | -1 |
| Vincent Enyeama | LOSC Lille | 81 | 79 | -2 |
| Konstantinos Mitroglou | Olympique de Marseille | 81 | 78 | -3 |
| Mexer | Stade Rennais FC | 79 | 77 | -2 |
| Giannelli Imbula | Toulouse FC | 77 | 76 | -1 |
| Terence Kongolo | AS Monaco | 77 | 76 | -1 |
| Florentin Pogba | AS Saint-Étienne | 77 | 75 | -2 |
| Alexandre letellier | Angers SCO | 76 | 74 | -2 |
| Ismaël Traoré | Angers SCO | 76 | 74 | -2 |
| Valentin Vada | FC Girondins de Bordeaux | 75 | 73 | -2 |
| Mathieu Bodmer | Amiens SC | 75 | 72 | -3 |
| Afonso Figueiredo | Stade Rennais FC | 74 | 71 | -3 |
They might be interested in:
FIFA 18, tips and tricks on the FUT- Ultimate Team mode
FIFA 18 FUT - Ultimate Team, Shopping Guide for OTW - Ones to Watch
FIFA 18 - match guide and how to become the best in FUT
FIFA 18, guide to all the feints
FIFA 18 review
We hope our little guide has been helpful to you. For any information and / or doubt you can contact us:
editorial staff [at] Soultricks [point] it
Or find us on Facebook: https://www.facebook.com/Soultricks.com