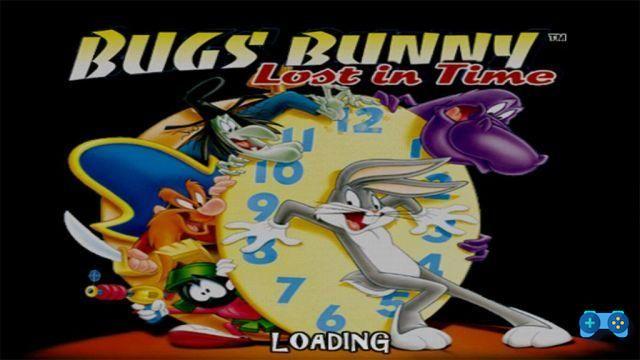 What's up my friend?
The overwhelming victory of the most famous rabbit in the world against the most famous bear and bird in the videogame world, took us on a journey through time within another journey through time (as Aldo Baglio said in Three men and one Gamba "a film within a film").
Bugs Bunny: Lost in Time is a platform game published by Infogrames and developed by the Canadian software house Behavior Interactive.
The game was released in Europe in 1999 on Windows PC and PlayStation. This title will see us take on the role of Bugs Bunny, as he meets the most famous characters of the Looney Tunes.

Once upon a time
The plot of Bugs Bunny: Lost in Time sees the usual crafty rabbit looking for a bit of rest, the goal is Pismo Beach. During his wanderings through the numerous underground tunnels, he takes a wrong turn and finds himself in a place called "Epocatore". Here the rabbit finds a bizarre machine and, mistaking it for a carrot juice dispenser, starts it, he immediately discovers that it is not what he thought, in fact he is catapulted "Nowhere", a place outside the logic of time.
Here, lucky Bugs meets Wizard Merlin, who explains to him how to get back to the starting point. The rabbit will have to travel through time and collect alarm clocks that will gradually allow him to open a passage and return to normalcy and his longed-for vacation.
gameplay
The objective of Bugs Bunny: Lost in Time is quite simple, you will have to guide the cheerful bunny through five different historical eras to collect alarm clocks and golden carrots.
As always, theory is one thing, practice is another, in fact Bugs will have to face levels full of obstacles, puzzles and games of skill. Our long-eared hero will also be able to interact with different elements within the various levels, he can kick them, throw them or collect them, while others, such as torches and baseball bats have a limited duration in time, once finished, you can find the object in question in the place of origin.
Carrots are good for vina (s) ta
Our beloved gray rabbit has 3 carrots at his disposal (as a life meter), when you are injured he loses half of them (in some cases even a whole one). Losing all the carrots means making Bugs die, in which case it will start from the beginning of the level or the last checkpoint, the latter are depicted with the emblematic hat of Merlin. It is possible to restore energy by stocking up on carrots, collecting the precious vegetable is also useful to get to the coveted golden carrot, obtainable only after taking 99 carrots.

Lepus Habilis
Dear Bugs could never accomplish this feat relying only on his strength, despite having accomplished several arduous feats in the past.
The skills that our gray rabbit will learn are 4, these skills can be learned by going to Merlin Wizard (present in 3 levels of the Medieval world). This mechanism will take you back to the old levels to complete them 100%, greatly increasing the longevity of the title.
The Skills are as follows:
Supersalto: can be activated with the phrase "holly holly ula hop" or even with certain plates bearing the icon of a spring. This skill, needless to say, allows you to reach the highest points;
Music: activated through the plates with the musical notes icon, it allows access to inaccessible areas by exploiting animals or blowing up pianos;
Fan: activated with the phrase "magicabula" or on the fan icon, it will allow our hero to remain suspended in the air for a certain period of time;
Opening the magic doors: by saying "open sesame" above the key icon, you can venture into various places previously inaccessible.
Characters
Bugs Bunny: Lost in Time obviously includes many of the Looney Tunes characters that brightened our days as children. Within the game we will come across:
Merlin Wizard: Sorcerer with enormous magical potential, whose original name (Merlin Munroe) parodies that of the legendary Marilyn Monroe;
Taddeo: We all know him as the hunter, even in this game he will hunt rabbits, but in another form;
Daffy Duck: Who doesn't know the squawking black duck. He is one of the most present characters in the game;
Yosemite Sam: This is the legendary gunslinger with a thick red mustache, also in this case we will find him far from his usual environment, who knows if the mustache will help him with his buoyancy;
Witch Hazel: Let's talk about the plump green-skinned witch, whose sole purpose is to make herself a nice rabbit stew, again she will try to boil poor Bugs;
Rocky & Mugsy: They are the two funniest gangsters ever, the tall and clumsy Mugsy accompanied by the small and determined Rocky. You will find them waiting for you in the level set in the 30s, still robbing banks;
Marvin the Martian: He is the alien with kind manners, but with destructive actions, always accompanied by his inevitable gun.
Layers
As already mentioned, the game takes place in five different historical periods, within each of them our rabbit will have to face some nice characters of the Looney Tunes. The levels are divided as follows:
Nowhere: It is the place where Bugs arrived by mistake, but the usual luck of the rabbit will lead him to meet Merlin and consequently the way to return to his world;
Stone Age: Prehistoric environment where among pterodactyls, scorpions and Duffy Duck, we will come across Elmer Taddeo Fudd and his hunting companions;
Middle Ages: This level is set in a castle, here our hero will face Duffy Duck and his incredible transfers up to the witch Hazel, possibly avoiding ending up in her cauldron;
The time of the pirates: Our Bugs will be on a typical treasure island, here in addition to pirates, crabs and sharks we will have to face the mustachioed Yosemite Sam;
30s: Typical American metropolis full of gangsters, corrupt cops and rats. Ideal place to face Rocky and Mugsy;
Dimension X: Space, final frontier, here our rabbit will face Robot, Martians and the small but dangerous alien Marvin;
Present: Unlockable only after finishing the story and having collected at least 120 alarms (out of 124). It consists of the final movie with a lot of credits.

Review
The game has received considerable acclaim from critics and gamers, so much so as to lead the developers to create a sequel: Bugs Bunny and Taz traveling through time, in this fun sequel our rabbit is accompanied by the irascible Tasmanian Devil Taz.