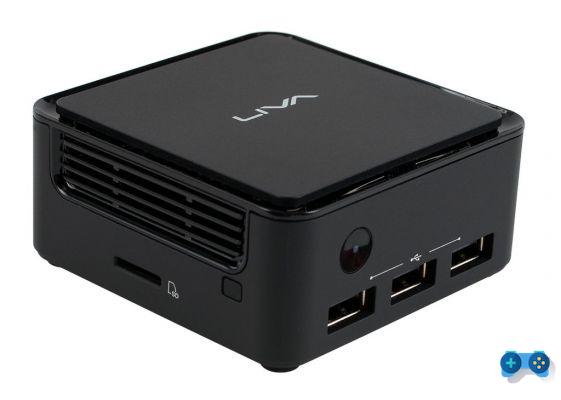 The Liva Q series by ECS, now on the market for several years, has a common denominator: to offer desktop solutions for the office and for the use of multimedia content, in the smallest possible space. In the past we had the opportunity to test the Liva SF110 an extremely small AMD barebone that wowed us. The Q1 series, however, in the various configurations released over the years, has always represented the one destined for the smallest desktop micro PCs produced by ECS, ideal for those situations in which, more than performance, it is necessary to minimize the "footprint ".
Among the most interesting applications of these micro PCs, or as ECS calls them "ultra tiny PC", in addition to those of web browsing and office applications, there are the creation of all in one systems for the use of multimedia content in schools, libraries , retail and digital signage systems, but also small home servers and nas.
Two different variants
The ECS Liva Q1 series this year is offered in two different variants, Liva Q1D e Liva Q1L which differ in equipped processors and connectivity.
As you can see in the table below, while the Q1D is available both with Apollo Lake Celeron N3350 processor (2C / 2T, 1.10GHz - 2.40GHz, HD Graphics 500, 6W TDP) and with the more performing Pentium N4200 (4C / 4T , 1.10GHz - 2.50GHz, HD Graphics 505, 6W TDP), Q1L is available only with the latter solution. Another difference between the two models lies in the connections: while the first is equipped with two video outputs, an HDMI 2.0 and a Display Port 1.2 and a single Gigabit Ethernet port, the Q1L is instead equipped with a single HDMI 2.0 video output and two gigabit ethernet ports.


VAT Q1L
LIVA Q1D
Processor
Intel Apollo Lake Pentium N4200 SOC

Intel Apollo Lake Pentium N4200 SOC
Intel Apollo Lake CeleronN3350 SOC
Memory
LPDDR4 2GB / 4GB
LPDDR4 2GB / 4GB
storage
eMMC 32GB / 64GB
1 x Micro SD Slot (Max.128GB)
eMMC 32GB / 64GB
1 x Micro SD Slot (Max.128GB)
Network
2 x Gigabit LAN
1 x Gigabit LAN
Video Output
1 x HDMI 2.0
1 x HDMI 2.0
1 x DisplayPort 1.2
wireless
802.11 ac / b / g / n
Bluetooth 4.1
802.11 ac / b / g / n
Bluetooth 4.1
USB
2 x USB 3.2 Gen1
1 2.0 x USB
2 x USB 3.2 Gen1
1 2.0 x USB
Sizei
74 x 74 x 34.6 mm
74 x 74 x 34.6 mm
OS (not included)
Windows 10 64bit
Windows 10 64bit
Power
Input: AC 100-240V
Output: DC 12V / 2A
Input: AC 100-240V
Output: DC 12V / 2A
The other features and the possibility of equipping the system with 2 or 4GB of LPDDR4 ram memory or with 32 or 64GB eMMC disk do not change.
Design and connectivity
The design of the two versions is extremely compact with its dimensions measuring just 74 x 74 x 34,6 mm. The Q1D subject of this test has a completely matte black color, with three USB ports, two USB 3.0 type A and one USB 3.1 type-C on the front.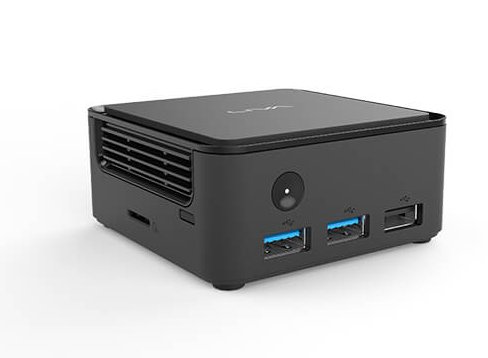 On the back there is the gigabit ethernet port, the two video outputs and the power connector, no larger than that of an old smarpthone. The power button is placed on the front, while on the left side there is a microSD reader and on the right the Kensington lock connector. There is no lack of connectivity options with the presence of a WiFi module 5 and Bluetooth 4.1.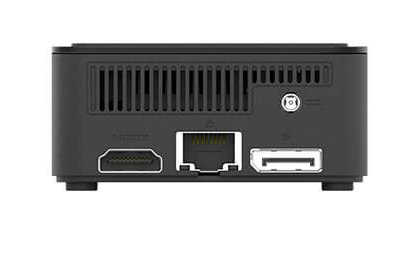 The device has a consumption of just 6W and this makes it suitable, as we said, for 24 / 24h online systems such as NAS and multimedia servers. The choice to continue to use the Intel Apollo Lake SoC, launched in 2016 and with quite a few years behind it, seems an anachronistic choice, but it makes this platform extremely cheap (as a PC of this type must be) and with sufficient performance to manage video streams even in 4k at 30 and 60fps (at least the version we tested).
Our unit in fact uses the most performing variant of the Intel Apollo Lake SoC, the Intel Pentium N4200, a quad-core with a clock frequency between 1,1-2,5 GHz (Single Core Burst, Multi-Core Burst max 2,4 GHz) accompanied by 4GB of LPDDR4 RAM at 2400mhz and 64GB of eMMC storage.
This processor, like its Braswell predecessor (and all its successors, sigh) use a 14nm FinFET manufacturing process (P1273). It was therefore necessary to equip the small computer with a fan that keeps the processor temperatures at bay, which under stress can even reach 70 degrees while in indle they remain at 55 degrees.
In any case, during use, the Q1D remains almost completely inaudible and when the fan begins to do its duty it does so in a never extremely noisy way.
The integrated GPU is an Intel HD Graphics 505 which offers support for 4K video playback at both 30Fps and 60fps, although as we shall see, not without some uncertainty.
The device arrives already preconfigured to use Windows 10, so to be operational you just need to connect the HDMI cable and the power supply
Performance and use cases
To evaluate the performance of the small Liva Q1D we used two benchmark suites: PassMark e PC Mark 10. Both provide a final score and the details of the individual operations, operating a series of both synthetic tasks, useful more for statistical purposes, and real case scenarios, much more useful for understanding how the machine will behave in the real world. Among these texts are web browsing tests, image resizing, spreadsheet operations, video playback in different resolutions, etc.
Below are the results with PC Mark 10, where our ECS Liva Q1D achieves a score of 1410
While below you will find the one totaled by our micro pc with Passmark.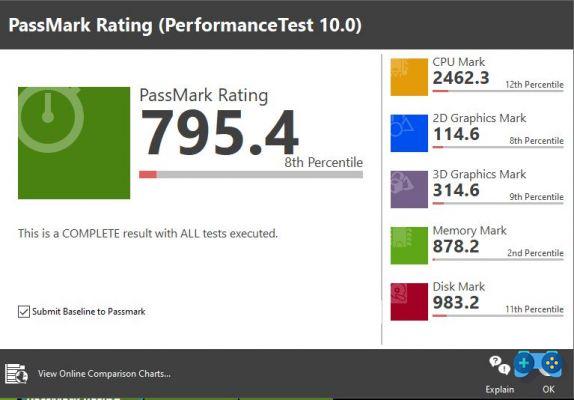 As for the use as a mere office machine, the small Liva Q1D behaves discreetly: the Word and Excel applications, as well as the free counterparts on the LibreOffice suite, run discreetly and without uncertainty, allowing you to perform the most common operations without problems. . Mail management is also discreet, until you are asked to manage thousands of mails, perhaps with heavy attachments and several mail accounts. In this case the performance degrades abruptly due to the extreme slowness of the eMMC disk (however, the 64GB cut is definitely underpowered for the machine's potential, if we consider that the installation of Windows 10 alone occupies about 16GB).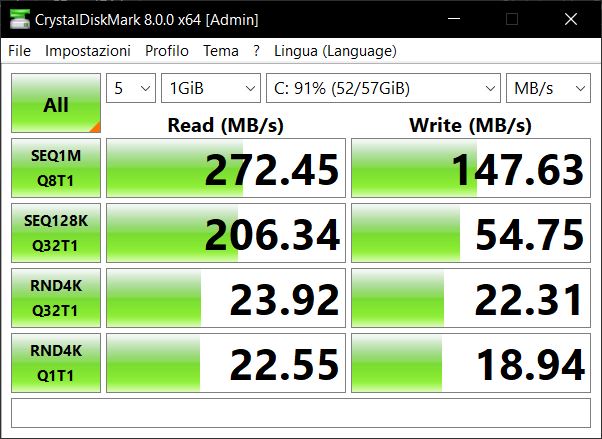 Multimedia performance
From the multimedia point of view, while on the 1080p and 1440p front, the small Intel HD505 GPU performs just fine, with 4k content at 30fps and 60fps the yield is only decent. The videos are played whether you use the H264 or Vp9 codec worthily only as long as that is the only application run. In fact, it is enough to move the cursor or keep an application in the background, or worse still try to search or send an email while watching the video, to experience lag, stutter and micro-slowdowns. These are elements that make it clear that the Apollo Lake SoC has now reached the end of its honored career.
We tested the performance of the ECS Liva Q1D also with streaming applications. Thanks to its small size, and the possibility of hiding it even on the back of a TV, the Liva Q1D in fact, seems perfect for those who intend to enjoy multimedia content but at the same time cannot be satisfied with an Amazon FireStick or the smart features now present. on every TV.
using Plex Mediaplayer for example, the performance is excellent for 1080p, while as observed with 4k videos played locally, with those in 4K there are several uncertainties.
After work
On the "gaming" side we immediately clarify that the 3D performance of the Intel HD 505 is really bad, and if for a moment you thought you could play something on the small PC natively, you would do well to definitely change your mind. However, this does not prevent us from evaluating two options: the emulation of old consoles and the game in streaming, through the increasingly frequent subscription services such as Stadia from Google and Geforce Now from NVIDIA.
First we tried to install an emulator like Dolphin, to evaluate to what extent the small Liva Q1D can be used as a retrogaming machine.
Performance is good with titles Gamecube e discreet with those Wii, proving that the little Liva can be used as a small emulation machine to use when you want to have some fun after office work.
Leaving the basic settings unchanged, and changing only the hardware acceleration from OpenGL to Direct3D 11 (highly recommended), we obtained an average of about 30fps in the more complex titles like Super Mario Galaxy and 50 on the simpler ones like Super Mario Bros Wii (we remind you that emulation is legally allowed only if you have the original copy of the title).
Streaming Machine
We then tried to use the ECS Liva Q1D as a client for streaming gaming, both locally and online. We first tried installing Steam to turn the little Liva into a Steam Link using Steam Remote Play. The yield is good, after all, the hardware that Steam provided with its Steam links was decidedly inferior to this, and we expected nothing less from the Liva Q1D. The same goes for using Stadia where we found no differences compared to the version that runs on our best performing machines both using Wifi and the gigabit ethernet port.
Conclusions and judgment
theECS Liva Q1D it is a very small and extremely versatile PC that can be useful in all those applications where more than performance is expected versatility. Thanks to the use of a rather tested Intel architecture, but now not the most recent and of Windows 10 it is perfect for web browsing, for MS Word and Excel and more generally for common office applications, as long as you get used to some jamming and that too much multitasking is required of him.
However, it does not disdain a basic multimedia use seasoned, from time to time, by some video game in streaming, local or network. If your goal is to create a very small retrogaming machine, then, we are sure that you will find bread for your teeth, as long as you accept some inevitable limitations due to the use of a platform that has now reached the end of its life.
ECS Liva Q1D is available at a price starting from 250 euros.