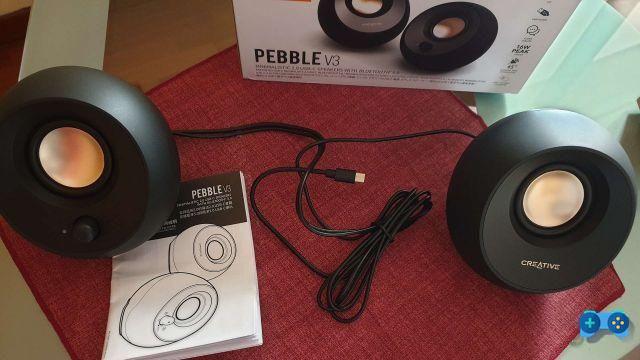 All-in-one speakers with powerful digital acoustic performance
Creative is preparing to present the latest addition to the series Pebble, Creative Pebble V3 it's the last one USB-C 2.0 plug-and-play speaker with improved 2,25-inch drivers, USB audio and a built-in Bluetooth button for wireless connectivity Bluetooth 5.0. In pursuit of audio excellence, the stylish desktop speakers also boast a new addition, audio processing Clear Dialog, to achieve better speech intelligibility and vocal clarity especially in movies but also in music. This new V3 version features the same "pointing up" structure at a 45 ° angle with a modern and minimalist design to suit any style of furniture.
Specifications:
Creative Pebble V3 model
Product size 123 x 120 x 118mm / 4,8 x 4,7 x 4,6in
Speaker power 2 x 4 W RMS
Signal to noise ratio 75 dB
Frequency response 100–17.000 Hz
Bluetooth version 5.0
A2DP Bluetooth Profile (Wireless Stereo Bluetooth)
Black Colour
Connectivity USB-C cable / 3,5mm analog stereo plug
USB-C cable for charging interface
2 x 2,25 "Full-range driver
Speakerphone n
Volume control Yes
Music Control No.
Contents of the sales package
2 x satellite speakers
USB-C to USB-A converter
Warranty sheet
Quick start Guide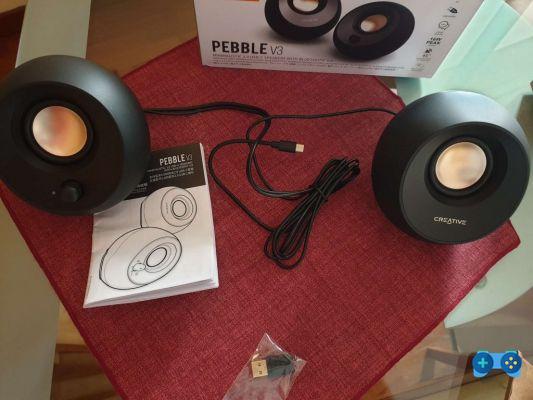 Modern and minimalist design with 45 ° raised drivers
Creative Pebble V3 is and always will be the perfect solution as a desktop audio companion. The updated 2.0 speakers adopt the original drivers raised by 45 ° to obtain a wide soundstage directed to our ears, positioning you in the ideal point you can experience an immersive listening experience in maximum comfort.
Who are the Pebble V3s for?
The Creative Pebble V3 are ideal for listening to audio from desktop PC (or notebook if you prefer) effective and reliable, rich and powerful, minimizing the dimensions that would be required by multi-channel Home Theater systems. Speakers 2.0 are intended for consumers looking for a plug-and-play solution, entry-level PC speakers powered via a single cable, without the need for a wall outlet. Easy to install and ready to use at any time. The user has the ability to enjoy rich and robust audio with Creative Pebble V2,25's custom 3-inch full-range drivers boasting 50% stronger power than the previous model (up to 16W) with better output sound and improved bass reproduction and above all at a rather affordable price (€ 37,99).
Multi-connectivity
Using a single USB-C type cable (also adaptable to USB through the USB-A adapter) to both power it and as an audio output source when connected to a PC, Creative Pebble V3 offers both USB and Bluetooth 5.0 audio for one seamless wireless streaming. Just press the Bluetooth button to access its function. The parring is immediate and will be confirmed by a nice sound. You can take advantage of the feature to brighten the environment with your favorite melodies or to listen to vocal notes or participants involved in a Skype call in a clear way (if you are interested in buying a full HD web cam, we recommend the Creative Live! Cam Sync 1080p, here our review). And it is precisely on speech that they give their best. In fact, it is possible to hear each speaking voice distinctly thanks to audio technology Clear Dialog.
"Hear every word with clear dialog audio processing"
The feature was designed to provide clear dialogues e understandable even while watching a movie or video without affecting the audio effects played in the background of the video source or having to turn up the volume unnecessarily just to hear better. Furthermore, the manufacturer has not eliminated the 3,5mm AUX jack but made its use irrelevant. The idea is to reduce the clutter from cables to a minimum and encourage the user to take full advantage of the functionalities, convenient and immediate, without wires. Using just the USB-C cable, the speakers are able to efficiently draw more power for louder, clearer digital audio without taking up additional desk space.
Overall performance
The product is well made, solid and stable on the surface. The cables are quite thick, but unfortunately a little too short, which allows for limited movement. The left one can be positioned slightly further from the screen but ultimately do not expect to be able to place the two satellites as if you had a stereo / Home Theater system in your hands. The audio quality, considering the small size, is really above average, difficult to find in an all-in-one solution. Perhaps too much directed towards the highs (really convincing), but i bassi as well as i average are reproduced well enough. Don't expect miracles, mind you, but two such small devices are capable of making your desk "shake" sufficiently.
All thanks to the subwoofers integrated in both speakers that have a decent power, which is verifiable both by listening to music, we tried them with the most disparate genres and net of some limitations, they reproduced some pretty good sounds (if you are looking for earphones to listen purely to music we refer you to the review of the Creative SXFI Trio) and both watching a film or ours favorite TV series. In the latter cases, they really surprised us. Thanks to un clean, clear and crystalline audio able to make you hear every beat and tone of the speaking character, distinctly.
Less indicated is the use of these speakers for gaming as they would not be able to give you that immersion that maybe a gamer is looking for. However, we have also tested them in game, with titles such as Crysis remastered, the gunshots, the explosions, the surrounding elements and the environmental effects, are reproduced fairly well (it must be said all too clearly), but they turn out to be a bit flat and lacking a certain body, the which is due to the small size of the two subwoofers. Much better goes with the music and speech, which, as we told you earlier, are clear and convincing. Anyway, if you are looking for a high-quality pair of headphones to play games, we refer you to the review of the headphones: Creative Gamer. Probably among the best gaming headphones currently on the market!
Final comment
The heist Creative Pebble V3 they are ideal for listening to audio from desktop PCs or notebooks in an effective and reliable, rich and powerful way, minimizing the overall dimensions that would be required by multi-channel home theater systems. Easy to install and ready to use at any time thanks to Plug and Play connectivity. In addition, they have bluetooth version 5.0, which can always be handy when you need to play some content from mobile. At such an affordable price, € 37,99, it's really a best buy not to be missed!