Here are the best Android alternative stores to download paid apps for free. A special guide on how to use all their features to the fullest.
Do you want to stock up on free apps and games from an alternative market to the Google Play Store? As you well know when you need an app on an Android device, the source to download it is the Play Store, but not everyone knows that there are other stores that offer users, totally free of charge, the same applications as the official store.
these Android alternative stores allow you to have some advantages, such as finding old apps that no longer exist, blocking annoying advertisements, obtaining privileges in in-app purchases and downloading lots of apps and games for free.
Read also: How to check if APK is a virus
Best Android alternative stores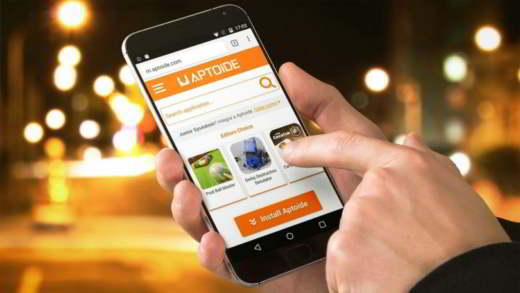 Below is a list of best Android alternative stores to download paid apps for free. The apps you download will have the extension APK, to download and install this file on your Android mobile device, you will need to activate the feature Unknown origins in Settings of your phone. If you don't know how, here is a very useful guide on How to activate Unknown Sources on Android.
Aptoide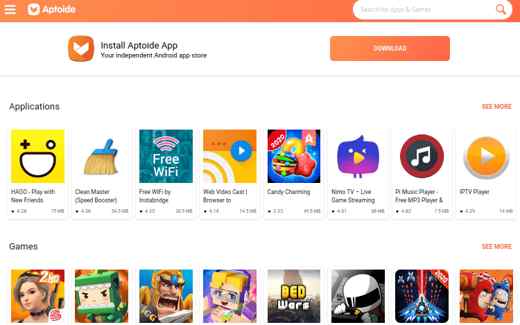 Aptoide is the best Android alternative store. It offers many more apps and games, and unlike the Google store you don't face restrictions in terms of geographic location and violation of Google Play Store policies.
In this open source Android store, with a well-designed user interface, you can choose over 700 apps to download as APK files. The store has been used by over 150 million users worldwide since its launch in 2009.
There are several versions of the Aptoid app available:
App Aptoide per smartphone e tablet.
Aptoide TV, an edition for smart TV and Android TV.
Aptoide VR and Aptoide Kids for children's devices.
In conclusion it is a safe and simple app store for Android that you can use as a great alternative to the Google Play Store.
For further information, I invite you to read: Aptoide guide and best repo
APK Mirror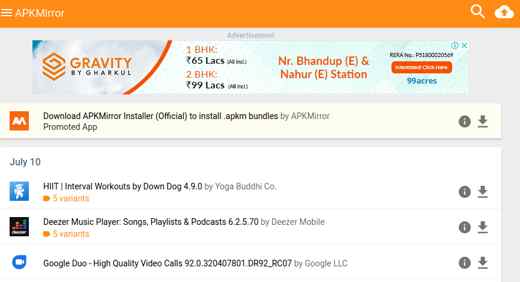 APKMirror is an Android market, another brilliant alternative to the Google Play Store for downloading free Android apps. This app store is especially popular as it allows you to download apps without geo-restrictions, so if you are looking for the best alternative to the Play Store for Android to download apps without geographical restrictions, APKMirror is the right store for you!
The apps available are malware-free and very safe. On the Home Page they are organized in chronological order and through a search bar you can immediately locate the app you need. The user interface of the Android market is really user friendly on desktop, less mobile side; that's why APK Mirror recently launched an Android app on Play Store so that users can easily install and manage downloaded APKs.
F-Droid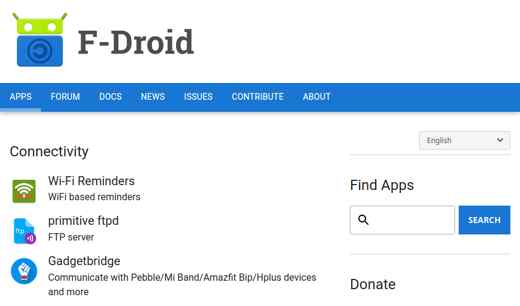 F-Droid is an open source free Android app store born from a re-adaptation of Aptoide. Create a real catalog of apps by periodically querying the repositories managed by the store's community.
The entire site is run by volunteers and is based on donations. So if you find an app that interests you, you could consider making a small donation to keep this Play Store alternative up and running.
In F-Droid you will also find the installable app available Aurora Store, which works as a proxy between the user and Google Play, in order to protect their privacy and tracking. Google Play Store is proprietary software that forces users to use a Google account in order to use it. With Aurora Store all users will be able to download apps from the Play Store without having to log in, without using Google Play Services and using all Android versions above 5.
To conclude, F-Droid is popular with Android developers as it allows easy access to all app codes. The latter have no reviews or ratings and are not always as stable as those on Google Play.
Amazon AppStore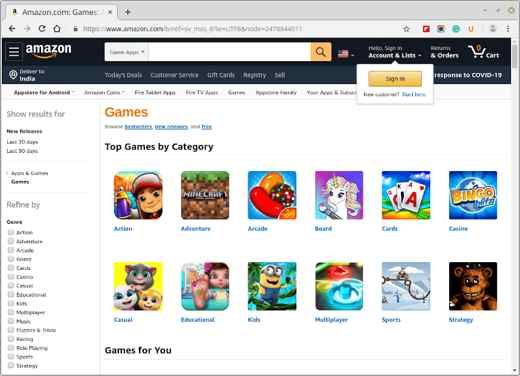 Amazon Appstore is one of the biggest competitors of the Google Play Store and is owned by the e-commerce giant: Amazon. These are apps signed by Amazon, some of which are exclusive to the store.
Amazon Appstore APK UI is very similar to Google Play Store, you can download paid apps and apps for free. The app store has more than 300 thousand varieties of APK apps for Android mobile devices. Every day a premium app is offered for free without paying a cent. The store also has a large collection of music, books and movies available at lower prices than the Play Store sets.
Overall, the Amazon Appstore offers a really cool experience for anyone looking for free Android apps that can be downloaded safely.
APKPure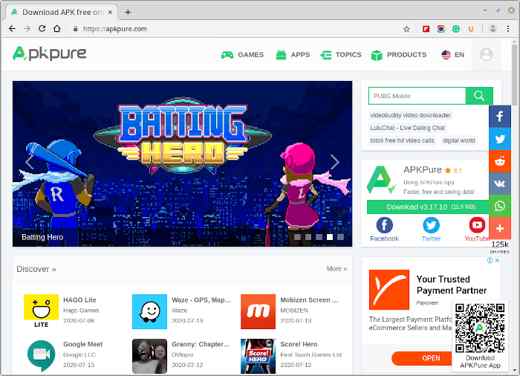 APKPure a free third party app store is where you can find popular apps like: Whatsapp, PUB Mobile, Facebook Messenger and Brawl Stars etc. This Android app store has a user-friendly user interface consisting of a very active search option to search for great apps, updated rankings and a section with the collection of the latest apps available.
APKPure hosts far more apps than the Google Play Store.
Other alternative Android stores
Getjar: it's a store that has been around for a long time and even older than the Play Store. It offers more than 800 apps for different mobile platforms, including Android, BlackBerry, Symbian and Windows Mobile.
SlideMe: another historical store that provides free and premium apps in various categories put online through a quality control process. It is used a lot by developers for various reasons.
AppBrain: It is also a free play store for tablets, perfect if you are looking for free premium apps. Through this site the developers offer free paid apps for a limited period of time, in exchange AppBrain advertises its own app. All apps come from Play Store.
Mobogenie- Shows the same apps that are on Google Play, but also offers videos, audio files and images. This store is able to analyze your preferences and make sensible suggestions with the backing of a globally accessible interface and without requiring any registration.
Galaxy Apps: The app store of Samsung it has been around for a long time, but users barely use it to download apps. However, this hasn't stopped Samsung from keeping its app store alive. The Galaxy Store is used to update pre-installed Samsung apps. However, it also offers apps, games, themes, and wallpapers.
Huawei AppGallery: is only available for Huawei mobile phones. If you are a fan of Huawei and are wondering how to download apps from Google Play after the US ban and company restrictions, this is the app store for you. Using Huawei App Gallery, you can install many apps without having to go to Google Play. However, you cannot install this app store on another brand's smartphone.