What is this great secret that our white-bearded old man holds?

(Arthur Christmas) "The son of Santa Claus" is a 2011 animated film directed by Sarah Smith and starring James McAvoy, Hugh Laurie, Jim Broadbent and Bill Nighy. The film, produced by Aardman Animations and Sony Pictures Animation, is shot with the use of computer graphics and will also be distributed in 3-D.
Plot:
Here is every infant's question about how Santa can bring gifts to the whole world in one night.The answer is a technologically advanced covert operation on the North Pole with an army of one million active elves, a giant supersonic sleigh. and a vast control center under the ice of the Pole. But it seems that even the most sophisticated technology has a negative side, in fact when the delivery of even one gift out of six hundred million is lost, Santa Claus and his son Steve consider it an acceptable margin for error. But not for Arthur Christmas, the eccentric youngest son. The little boy sets out on a crazy mission to deliver the last present on the other side of the globe two hours before the dawn of Christmas.
This fun feat brings Santa's family together and saves the future of Christmas itself.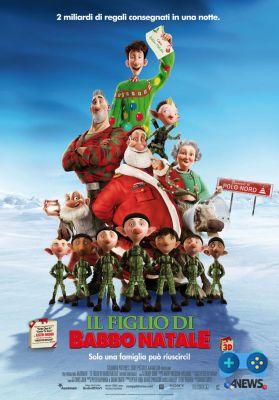 The film will be released in theaters on December 23 2011.