We have always had a strong interest in the brand Roccat and especially for Vulcan keyboards. After the excellent Elo 7.1 Air headphones (review here), the manufacturer gave us the opportunity to try one of the keyboards of the gaming line: the Vulcan TKL Pro. A keyboard with superb build quality and by Titan Optical bright keys. We tested the little Roccat for a few weeks and we can say that it has nothing to envy to the larger and more famous keyboards.
Technical specifications and dimensions:
ROCCAT Titan Switch Optical (1,4 mm actuation, linear)
Life cycle of 100 million presses
Compact size without keypad
Integrated configuration memory
ROCCAT Easy-Shift Technology [+]
0-bit ARM Cortex-M32 processor
1000Hz polling rate
ROCCAT Swarm software suite
Height: 3.40 cm
Width: 36.00 cm
Length: 13.33 cm
Weight: 660 g
System requirements: USB 2.0 (or higher), Internet connection
Operating system: Windows 10, Windows 7, Windows 8
The Vulcan TKL Pro is equipped with a processor 0-bit ARM Cortex-M32 and the manufacturer claims the keys can withstand nearly a hundred million movements (double the industry standard). The keyboard reacts at lightning speed with firmware that recognizes each press precisely, clearly and without delay.
Much of the success is due precisely to the aforementioned Titan optical keys, which were developed internally by Roccat. Optical gaming keyboards are even faster than typical mechanical keyboards, as they use beams of light to detect keystrokes instead of relying on moving parts. The downside is that they tend to be even louder than their mechanical counterparts, which makes these peripherals, if your PC is within earshot of other people, "anti-social".
Optical in response, mechanical to the touch
The Vulcan Pro TKL, however, is one of the quietest optical keyboards we've ever tested. It still emits a considerable CLACK each time a key is pressed, but there is a softness in the sound - almost as if it is being dampened - that prevents it from being too annoying. This is not to say that the keys themselves are mushy. Absolutely not. The keys are firm, precise and pleasant to type, and the responsive, linear movements are great for both work and play. Suffice it to say that the keyboard receives the command entered with a stroke of suns 1,4 mm. This engineering "gimmick" is used to translate the entered input faster by pressing the relevant button. In this way the pressed key has a long stroke comparable to that of a mechanical keyboard, but with much faster feedback due to the fact that the keys are optical.
We have to admit that it took some time to get used to the optical keys again, as the previous keyboard we were using was an entry level action, whose feedback and key release itself was diametrically different.
To this we must add that the keyboard layout is American, some keys differ, both visually, such as there is no DEL but DEL and both by typing them. In the latter case, just set the keyboard language in Spanish from the PC settings and go to memory. The enter key is different in conformation, much thinner and since it is a "ten key less" keyboard it does not have a numeric keypad.
Initially we struggled a bit to write, thanks to a different mindset, which inevitably tried to lead us to search for keys where there were no longer any and instead of pressing enter, we repeatedly pressed the key (ù). Either way, it didn't take long for our fingers to adjust to this jaw-dropping keyboard and we were back to our normal typing speed (and usual error level) in no time.
Without a number pad there is more room for maneuver
This writer is not a huge fan of keyboards without a keypad. But I have to be honest, the lack of it allows you to have more room for maneuver for the mouse and ultimately - typing the numbers that are placed under the F1, F2, F3 and so on - isn't that bad. The compact dimensions, the slightly knurled aluminum frame and the rounded corners give the Vulcan TKL Pro a very clean and seductive profile. It is beautifully built and its small size does not prevent it from being practical and functional.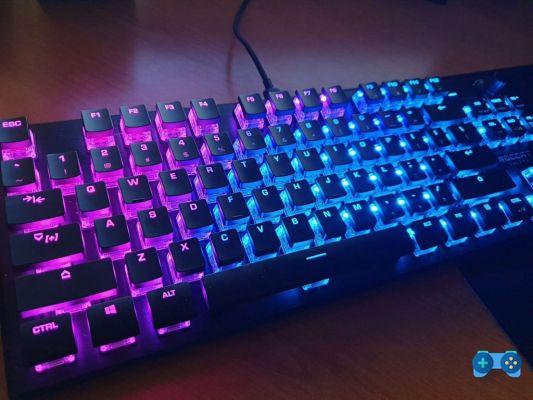 For example, when we hit the Caps Lock, the LEDs below the button turn white to let us know that it is enabled. Ditto for its Game Mode function, which blocks the Windows key, on Pg Down. We can also add a secondary function to almost any key on the keyboard by using the software Swarm by Roccat. Like the recordable macro commands, system shortcuts and multimedia keys (in case the predefined positions are not to our liking). We can also program them to open Windows applications and folders or use them to switch to one of the five available Vulcan Pro TKL profiles. The only keys we cannot program are the Fn button, Right Ctrl, the arrow keys and the Del, End and Page Down keys, as these already have specific Fn settings associated with them.. For the rest we are free to set the keyboard to our liking.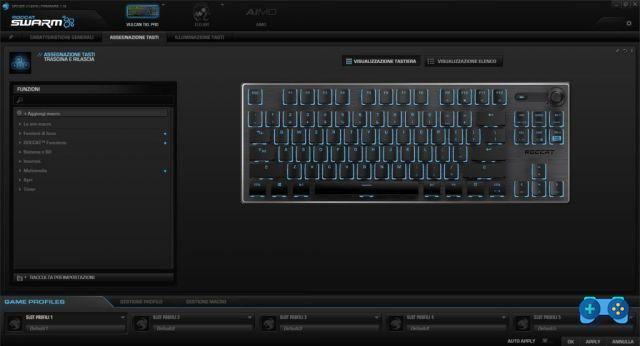 Led illumination
It also features RGB lighting, customizable, through which you can create ad hoc combinations and incredible lighting effects. The management is also conveniently reliable to the intelligent lighting system AIMO, the feature included in the Swarm software that automatically manages the keyboard lighting. There backlight is great, really understood, and allows you to identify each character in the dark without any problem.
Multimedia
In addition, it features a convenient button tactile - next to that F12 - that allows you to silence, by releasing a nice tick, the sounds of the system and a volume wheel, located at the top right. The wheel has delightful tactile feedback and its shape - slightly raised compared to the other keys - makes it easy to reach and to turn. The other multimedia commands are accessible through the combination of Fn with the keys ranging from F9 to F12.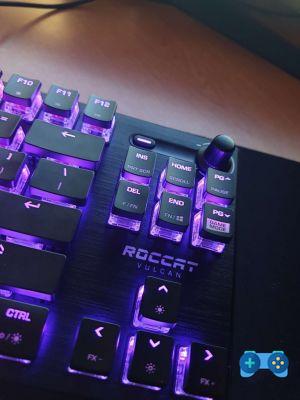 To tell the truth, we would have preferred the + and - signs to be positioned backwards. In fact, to raise the volume you have to rotate it upwards (therefore clockwise) but to the eye it seems almost counterintuitive to do so.
Furthermore, there is the possibility to set a nice sound every time the key is pressed. This will be played from the PC speakers. We can set different clicks, such as the typewriter or science fiction one. These are additions that do not add any functionality, designed exclusively to bring a smile to those who use the keyboard.
Final comment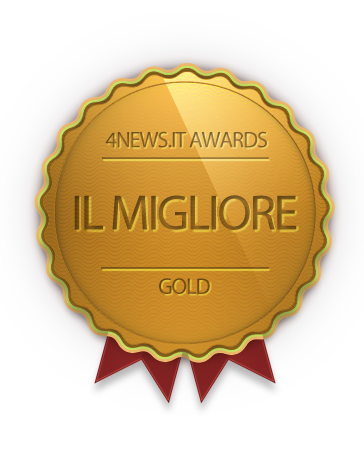 The only real sore point is the high price. Optical gaming keyboards are often more expensive than their mechanical counterparts due to the nature of their fancier keys. To take the Vulcan Pro TKL home you will have to fork out 159,99€, a significantly higher price than its other compact competitors. Is it worth it or not? It depends on you and how you are used to it. However, if what you are looking for is a top-notch compact keyboard, with excellent build quality, with fast keys, extra features and dedicated software, the Vulcan TKL Pro is just for you!