At the end of the year, the tablet could not be missing Surface, fielded by Microsoft to challenge the hegemony of Apple's iPad.
Born in two versions: for RT Windows (based on ARM chip) and for Windows 8 Pro (based on Intel Core 5), Surface features a full touch display of 10,6 inches in 16 format: 9, front and rear camera for video calls and a horizontal support that allows horizontal support.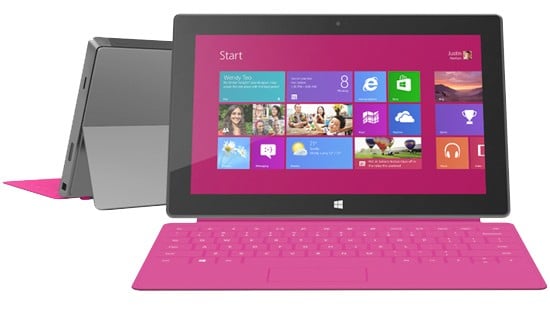 The Surface Tablet for Windows RT was born to be dedicated to the consumer market, while the one for Windows 8 Pro is aimed at more professional users who wants a tablet capable of achieving performance comparable to that of a laptop. This latest version not only has a Full HD panel but also a Nib with Palm Block useful for signing contracts, orders and documents.
The key feature of the Surface is in the two covers useful for protecting the device screen. The cover has a double function: to protect the display while on the move and to act as a keyboard when necessary, and it is available with physical keys and trackpads of 5mm thickness, called Type Cover (turns the tablet into an Ultrabook), and with 3mm thick virtual keyboard called Touch Cover.
The version of the Surface per Windows RT is available from 26 October with the release of Redmond's new operating system, Windows 8, and has these kinds of features:
Processor: Nvidia Tegra T30 (ARM).
Display 10,6-inch ClearType HD.
Resolution 1.280×720 pixel o 1.366×768 pixel.
Weight 676 gr.
Thickness 9,3 millimetres.
Connections micro SD, USB 2.0, micro HD Video.
Battery 31,5 Wh.
Software Windows RT Office Home & Student 2013.
Memory 32 / 64 GB.
Video camera 720p HD front and back.
Bluetooth 4.0.
Ram 2.0 GB.
Accessories Touch Cover, Type Cover, VaporMg Case & Stand.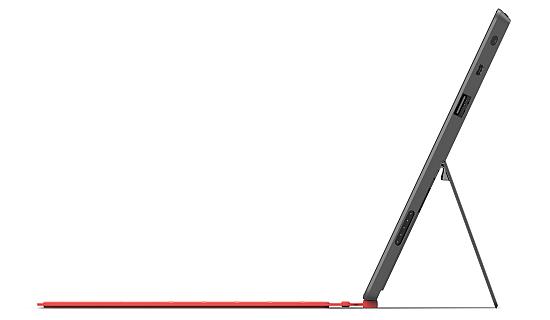 The version for Windows 8 Pro available three months after the release of Windows 8 has, however, these characteristics:
Processor Intel Core I5 (Ivy Bridge).
Display 10,6-inch ClearType HD.
Resolution 1920 × 1080 pixels.
Weight 903 gr.
Thickness 13,5 millimetres.
Battery 42 wh.
Connections: microSDXC, USB 3.0, Mini DisplayPort, Wi-Fi.
Software Windows 8.
Memory 64 / 128 GB.
Video camera nd
Bluetooth 4.0.
Ram nd
Accessories Touch Cover, Type Cover, VaporMg Case & Stand, Pennino con Palm Block.
Surface prices for Windows RT start from $ 499 to $ 699. Spain is currently not included in the first round of countries involved in the distribution, in France, however, the base price of a Suface is around 489 euros. While the prices of the Surface for Windows 8 are around 899 dollars and will be available starting from January 2013.