Do you have several files on your computer and you must necessarily send them to your friends or WhatsApp group? Don't worry, you need to know that WhatsApp is one of the most popular messaging software that you can use even without your smartphone, how? There is a web version that not only allows you to exchange messages from the comfort of your home but also to send files on your PC.
Using the web version of WhatsApp from a PC is easy, fast and a lot of fun, but most of all it's free.
Make yourself comfortable then and read carefully what I am about to tell you because in a short time you will find out how to send files on WhatsApp from PC.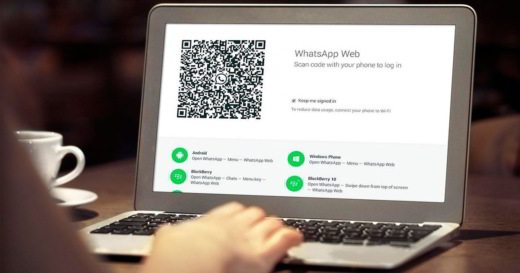 Send files on WhatsApp from PC it is very easy and does not require great computer experience, all you have to do is go to the site web.whatsapp.com, where the page will inform you of the simple basic operations to perform to activate the service on the smartphone according to the operating system in use. Remember that to use WhatsApp Web, your smartphone must be connected via Wifi.
The systems supported by WhatsApp web are iOS, Android and Windows Phone, in all cases it is simply a matter of entering the Settings or in Menu of WhatsApp on your phone and select WhatsApp Web.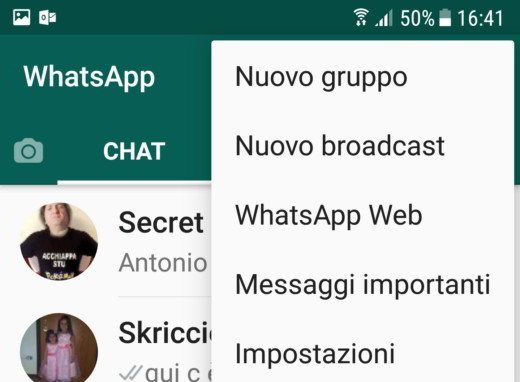 When you are in front of the screen Scan code, brings the phone in front of the computer monitor and focuses on the QR code, by doing so in a few moments you will see the WhatsApp command window appear with all your contacts on the left, and a warning will inform you of the need to keep the phone connected.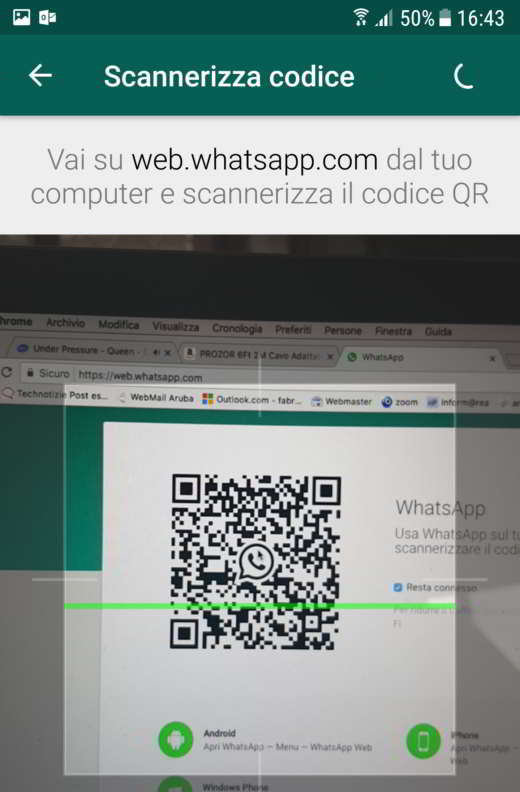 To start a new conversation simply click on one of the contacts or alternatively click on the icon New chat (top right) and choose the contact from the list. If a contact sends you an image you can open it with a click. In the new window click on the button Download at the top right and save the file on your PC. A click on a contact's name in the top center of the window will show information and options, including how to block them. The icon with the three dots in the column gives access to the options.
By opening a contact and clicking magnifying glass you will see the search options, type a word and press Submit to look for it in all conversations.
If, on the other hand, you want to send multiple files from your PC to a WhatsApp group or to a friend of yours, you must first of all click on the Attach icon (the paperclip at the top right) and choose which type of file to send between: Photos and Video, Camera, Document e Contact. For example, if you choose Document, WhatsApp Web will give you the possibility to search and select an Office type file (doc, ppt, xls, and so on) on your computer to send to your WhatsApp contact.

After selecting the file on your PC and clicking on apri, WhatsApp Web will give you the option to preview or listen to it, if it is an audio file. In the Preview screen, you can attach other files by pressing the button Add Media. At the end, press the green button with the arrow icon to send the file and wait for it to be uploaded.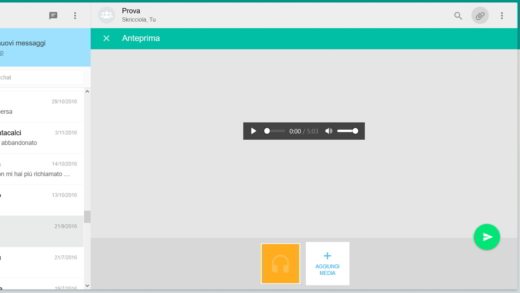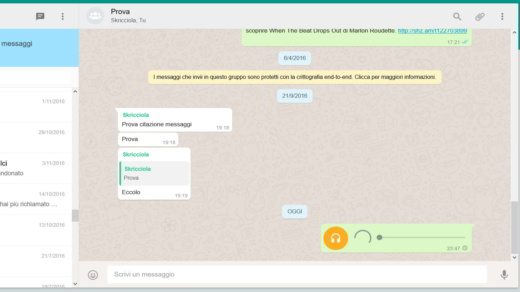 This solution will avoid sending files you have on your computer via email and then downloading them to your smartphone and sharing them with your contacts via WhatsApp. With Web WhatsApp you can at any time take and send files to a group or friend in a much faster time.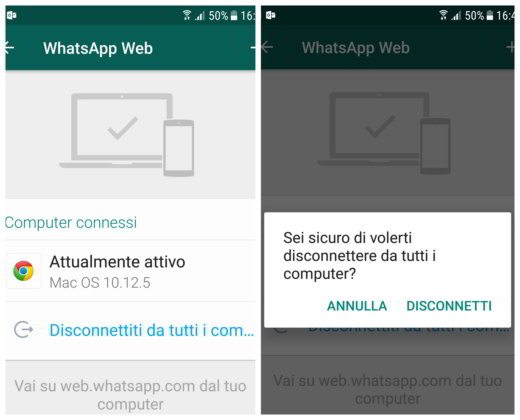 Once the operation is completed to disconnect from WhatsApp Web and return to use WhatsApp on your smartphone, you must click on the link on your mobile device Disconnect from all computers and confirm by clicking on Disconetti.
Other useful articles