If you don't belong to the very young generation, you may find it difficult to understand how to make funny videos on TikTok, the much talked about app that has revolutionized the concept of social networks, becoming in a very short time one of the most popular options for users. This platform, in fact, has a different language from other social networks, made up of music, challenges and choreography, which could make anyone over 25 feel out of place.
In reality, making a video on TikTok is not particularly difficult, just immerse yourself in the app with its skilful flow of videos with an almost hypnotic effect and become familiar with its "alphabet".
Do you want to know the full potential of TikTok and turn your clips viral? You wonder how to create a video on TikTok or how do the direct, the slow motion or musically draw? Well, below we reveal the secrets to creating amazing videos and increasing your following on the most popular social network of the moment.
Funny Videos on TikTok: The Ultimate Guide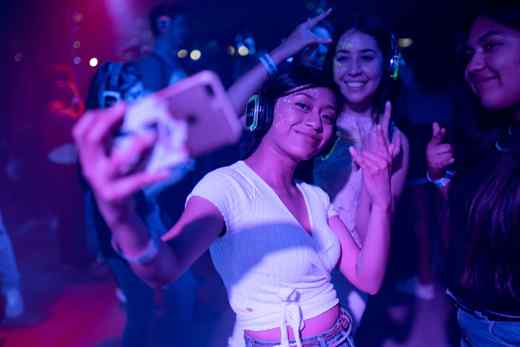 If you want to know how to make funny videos on TikTok and putting all your creativity into practice you are in the right place. In a little while, in fact, we will explain in detail all the secrets to create a movie on TikTok, the square for young people that focuses on fun and entertainment.
But let's go step by step. TikTok is the Chinese social network used for create short music clips of varying lengths (from 15 to 60 seconds) and possibly add filters ed effects details. Founded in China by ByteDance, which he already owned Musical.ly (a very similar app that was very successful in the Western world), TikTok has conquered teenagers all over the world in recent years by exceeding two billion downloads. In Spain it has around 9 million users.
At the base of the success of TikTok there is the desire for lightness: if Instagram favors vanity, the Chinese social network is the realm of pure "cazz..gio". It is in fact a powerful means for creating entertainment content much loved by the very young and to which the older ones feel a little stranger.
There is no teenager who hasn't used it. The audience is very precise and is made up largely of very young children between the ages of 13 and 24.
Whether you are an experienced or novice user, here is the practical guide to understand how TikTok works and why it is so different from the others we are used to.
Read also: How to add hashtags on TikTok
How to register on TikTok
To use the TikTok creator platform, you must first download the app to your smartphone. TikTok is available for both iOS on the App Store and Android on the Play Store and can be downloaded without paying anything. The icon is a white note on a black background.
After downloading the app, create a new account by choosing whether to use the phone or email or continue with Facebook, Google o Twitter.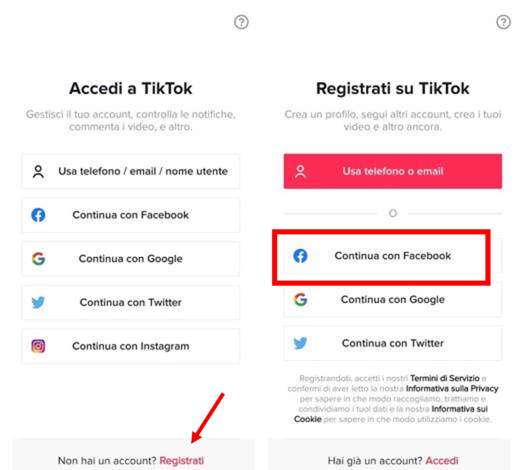 Once this is done, enter your date of birth, create the username and finally tap the button Sign Up.
By default, from 16 years down the profile is born private (it is visible only among friends), while everyone the other accounts are public, although users can change the initial setting.
Once the account has been created, the vertical scroll of the most disparate movies that follow one another without pause will immediately appear. Over time, however, the algorithm will make a selection similar to your tastes based on what you watch and for how long.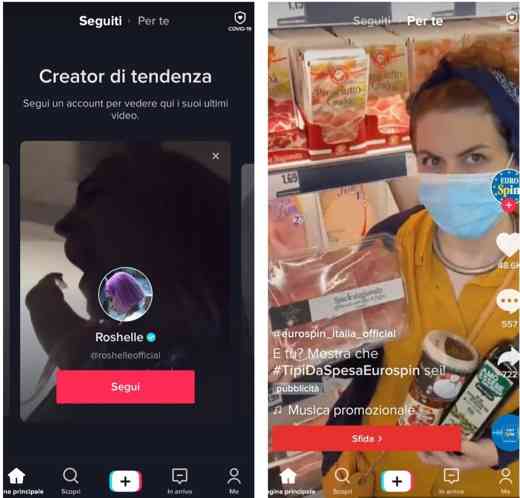 The section of the bulletin board where you land is called te, where you find a series of video Popular. Here the contents, guided by the algorithm, appear and follow each other even if you do not follow a person or a page. In the card followed instead find clips posted by people you follow and trending creators.
At this point, if you wish, you can upload your profile photo and add a short bio. Just press the button Me located at the bottom right and tap on Modification Profile. Now let's see without too many preambles how to make a perfect TikTok.
How to make a video on TikTok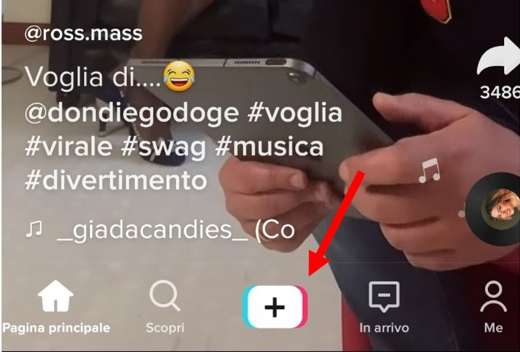 Once you open your account, you are ready to find out how to create funny videos on TikTok. Doing so is very simple: just tap the central button capacitor positive (+) lead at the bottom of the screen and allow the app to access the camera and microphone.
Permits granted, the video creation screen will open with buttons for customizing the content:
limelight: Switch between the rear and front cameras.
Speed: allows you to speed up or slow down the movie.
filters: Apply different types of color filters (portrait, landscape, food, vibe).
Gets better: proposes other beautification filters.
timer: starts the countdown to start recording without pressing the red button.
Flash: Turn the camera flash on or off.
To record your video, choose the length of the video (15 or 60 seconds) and then press on red button at the bottom of the screen. If, on the other hand, you have already recorded your video, all you have to do is click on Charge to import it from the gallery.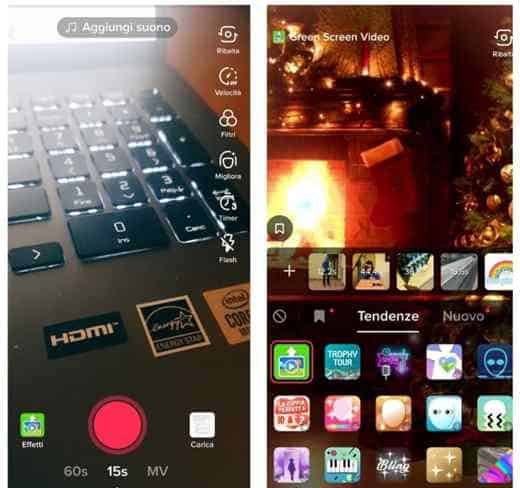 By tapping on Effects, located to the left of the red button, you can customize the video by applying a graphic effect: some effects are only available before recording while others after. At this point, click on Add sound to choose the track to be combined with the movie.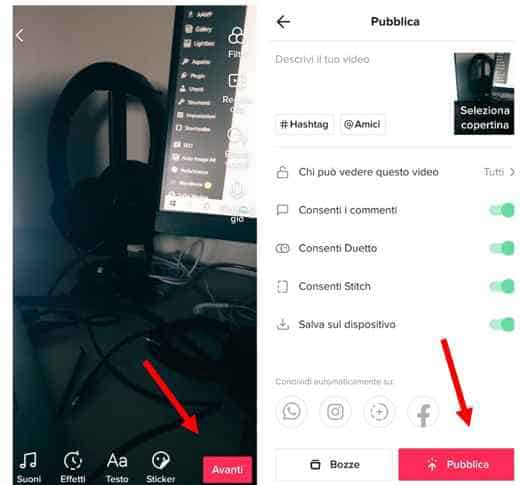 When you feel ready, tap on NEXT and then Public, not before adding a description and indicating who can see the video. If you don't want to publish it yet, save it in your drafts.
Do you want to know how to make funny videos on Tik Tok without holding the red button? Just tap on timer, i.e. on the clock icon, choose whether to start recording after 3 or 10 seconds and finally drag the slider to set the recording limit. Once this is done, click on Start shooting to start the countdown.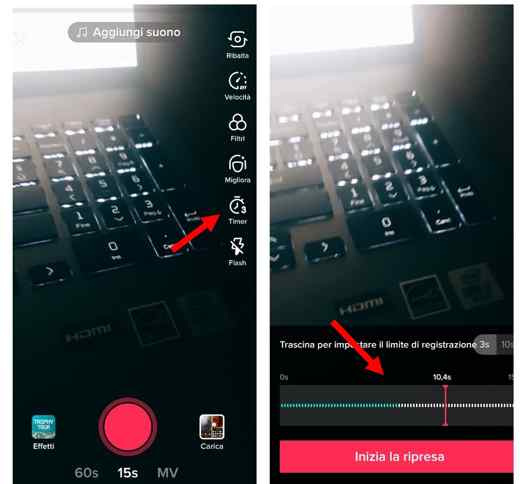 What video can you create on TikTok? Films include song choreography, lip sync of famous movie scenes, challenges and ballets. The most popular are those with which the app has risen to prominence, namely i lip sync (dubbing with the lip) of musical pieces but also of films and shows. While the audio flows you can let loose with your interpretations and let out your artistic vein.
You can also create video-reaction, i.e. videos in which you show your reaction to the most senseless videos of other users, or opt for the creation of a sequence of photos by tapping on MV (under the red button).
Read also: How to save video to TikTok without watermark
How to do live on TikTok
TikTok also allows you to run live, but to start one Live you must have more than 16 years and a sequel to at least 1.000 followers. Having said that, let's move on to describe step by step how to do Live on TikTok.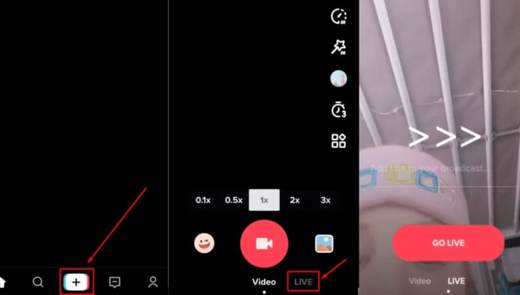 To proceed, open the application and press the icon depicting the symbol (+). Qthen tap on the option Live and give a captivating and persuasive title to your live, accompanied by a caption that describes the topic addressed.
At this point, press the button Go Live and wait for the countdown to finish before you start talking to the Tiktokers who will connect to the live stream.
How to do slow motion on tiktok
An effect widely used by Tiktokers is certainly it slow motion, which allows you to decrease the playback speed of movies. This feature is very simple to use and allows you to add theslow down effect to any previously recorded movie or record the video directly in slow motion, choosing between different speeds.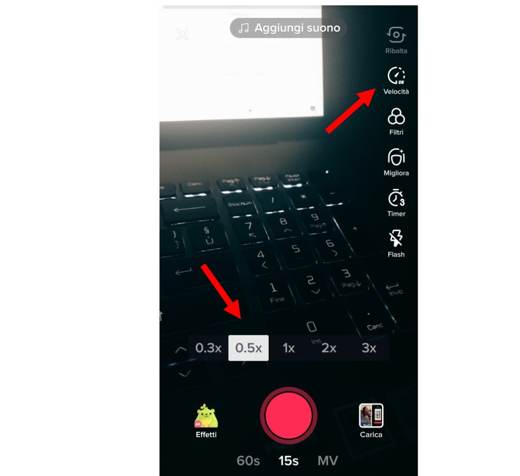 To create a slow motion video, press the button capacitor positive (+) lead to open the video creation screen. Then he presses on speed button and select a speed lower than 1x (0,3x, 0,5x). At this point, tap the red button and start recording your clip, which will automatically be created in versione slow motion.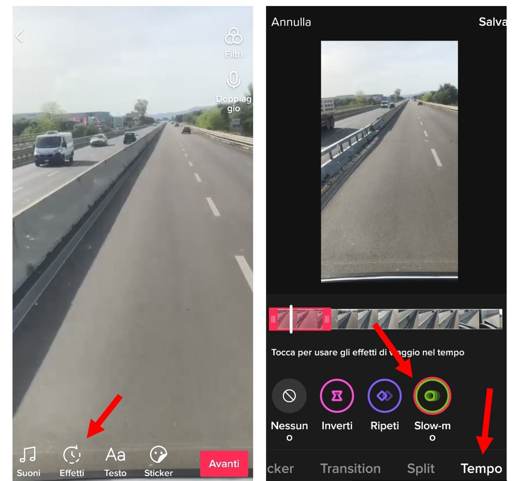 If, on the other hand, you want to add the slow motion effect to movies recorded or imported from other apps, after uploading the video, press Next Effects then tap on first Time and then Slow-mo. At the end press on Save, top right.

Come fare i musically draw
Finally, one of the effects most appreciated by young TikTok users is the musically draw, which allows you to apply drawings in motion. To add this effect you need to use some apps available on the Google Play Store and App Store. These apps are freemium, that is, they are free in their basic functions.
Among the best apps to make funny videos and apply the draw effect are listed FlipaClip (Android, iOS), KineMaster (Android, iOS) e Funimate (Android, iOS). Another free solution is VideoStar, however, available exclusively for iOS devices.
Read also: Best cheap streaming microphones