How to make Chrome read a web page. Here is a series of solutions that will help the Google browser to read you the web pages that interest you most.
Are you trying to make your computer read the tales you find on the Internet to your child? Do you want to avoid buying talking software or ebooks and find a cheaper but at the same time effective solution? Well, if you don't know there is the possibility to have your browser read the web pages you are visiting for you, without necessarily having to look at the text.
How to make Chrome read a web page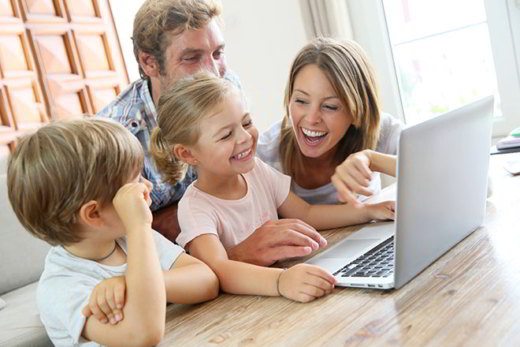 Through technology Text To Speech, today Chrome is able to read a text as if it were read by a human being. By leveraging Google TTS, the Mountain View company has managed to create a viable solution for its browser that allows you to make Chrome read a web page respecting punctuation and pauses.
The solution is called SpeakIt. It is a free extension of the Google Chrome browser that you can easily download from this page. After connecting, immediately press the green button Add, top right, to install the extension SpeakIt su Google Chrome.

At the end of the installation you will find, at the top right, a small speaker located in the Chrome menu bar. All you have to do is select the text of a web page and then press either directly on the small icon in the menu bar or right click and select SpeakIt to hear the text read aloud as if it were a real person. . To stop listening just click on SpeakIt to pause.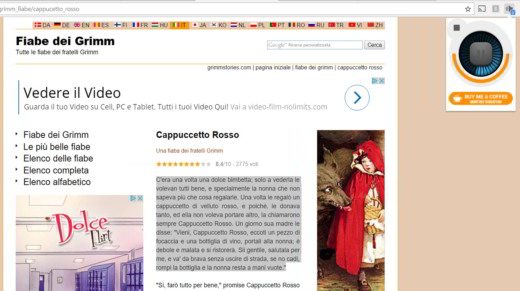 If the automatic language recognition with SpeakIt does not happen, you can always go to the options extension. Then from the Chrome menu go to Settings> Extensions> SpeakIt> Options or go to the speaker icon and right click to choose options. To the item Engine of change between text and speech select Google Spanish. Alternatively you can leave in the Change Engine Between Text and Speech the voice iSpeech and the menu Students' Testimonials choose European Spagnan Female (to hear a female voice) or European Spagnan Male (to hear a male voice).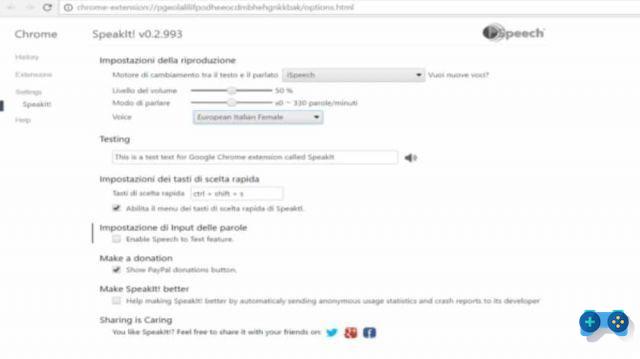 The other options concern the Volume level and the way of speaking, in the latter case you can slow down the speed.
As you see make Chrome read a web page it's pretty easy. Google managed to get a great result with the extension SpeakIt both because the Spanish voice is clear and understandable and because the sound of the voice does not crack at all.
What about Mozilla Firefox users? You can install the Intelligent Speaker - Text to Speech extension.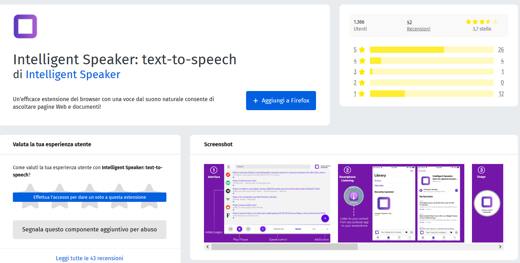 Pressing the Add to Firefox button will allow you to listen to emails, documents, blog posts, articles and news while you do more. This plugin will help you stay up to date even while you are traveling, walking or driving your car.