How Amazon Audible Works. A guide to the costs and benefits of Amazon's audiobook service.
You have surely heard of it and you have probably noticed the service as well Amazon Audible but if you still don't know the details audiobooks what they are, you must know that they represent a valid way to not give up reading, and it is especially useful for those who suffer from pathologies related to sight.
Audiobooks are gods audio recordings of books which can be listened to on CD or in formato Mp3, the reading of the text is carried out by a speaker but, at times, vocal synthesis systems are also used.
Audiobooks in MP3 format can usually be listened to on mobile devices, on a PC but also in the car stereo while driving. They are a great alternative for those who don't have much time to read, just download the audiobook and listen to it.
There are many free audiobooks available, as well as paid ones, if you don't want to spend money you can search the net for some resources for free but you must know that best audiobooks, novels, essays, classics and much more, are present above all in subscription services come Amazon Audible.
How Amazon Audible Works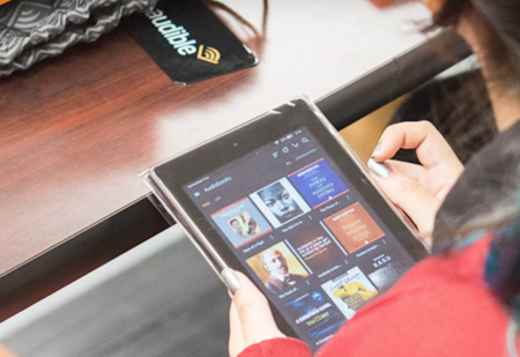 Amazon has decided to launch a new challenge by offering a service completely dedicated to audiobooks that offers thousands of titles that can be listened to from any device at any time of the day.
The choice is due to the growth of the audiobook market which in recent years has recorded interesting numbers, especially thanks to the arrival of new dedicated services and the many devices optimized for reading.
This sector is experiencing an important moment that is why the Jeff Bezos giant has decided to launch its Audible service with a wide audiobook catalog where you can find only books to listen to.
What is Audible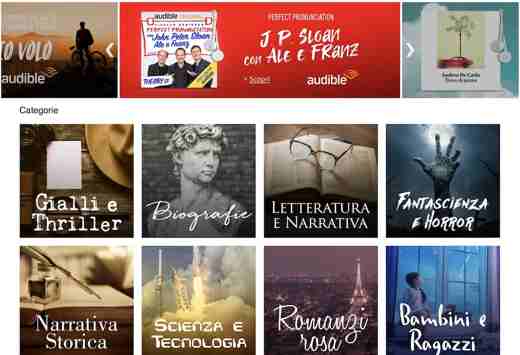 Ma how Amazon Audible works? Let's say first of all that it is an online platform completely dedicated to audiobooks, those who decide to subscribe to a abbonamento audible, can access over 50.000 audio books read by professional actors.
A service dedicated to those who love to read but who, for the short time available, do not want to give up reading a book or a bestseller that has just been released. With Audible Amazon it is possible to choose books of every category and genre, moreover, there is no shortage of exclusives, with Amazon audiobooks made specifically for the platform.
How to sign up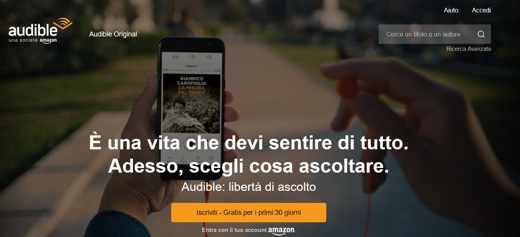 If you have decided to subscribe to the service Audible Amazon, you should know that one is available free trial which allows you to read the best titles for a limited time at no cost.
If you already own a Amazon account, you can register by following the instructions on this page, entering your data. After signing up for the free trial, the system automatically directs you to download the application with which you can listen to audiobooks.
If you plan to use your smartphone to listen to audiolibri Audible, you will have to type in your phone number, in a few steps the process will be completed and you can use your best headphones to start listening. Instead, if you don't have an Amazon account you will need to register and then log in to the service.
When you use Audible for the first time, the system does not charge any cost to try the service but you will still have to enter all the required information, including the credit card which will be used for any future charges.
How much
Unlike other Amazon services such as Prime Video and Amazon Music Unlimited, Audible is not included in the Amazon Prime subscription and you must therefore pay a certain amount monthly in order to access the audiobook catalog.
If this is your first time trying the service, you can take advantage of 30 days free, after which the cost ofmonthly subscription is 9,99 euros. Of course, you can unsubscribe from your account settings panel at any time.
If you are a customer Amazon Prime and you subscribe to Amazon Audible, you will have 90 days of free service.
How to use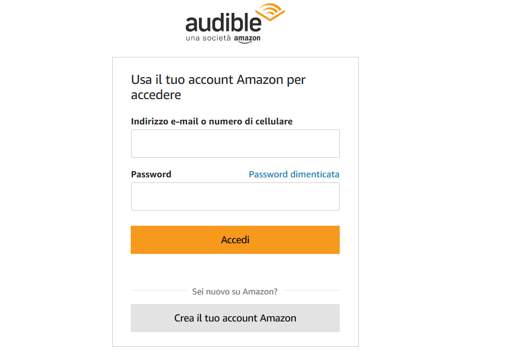 To use Audible and listen to Amazon audiobooks you must have a device available between smartphones, tablets and computers.
To start using the service you will need to download the application for free from Google Play Store if you have an Android device or fromApp Store moreover, if you have an iOS device, it is also available for devices with Windows 10, through Microsoft Store. Alternatively, it can be downloaded as well from the portale di Amazon.
The system requirements for its use are: Android updated to version 4.4 or higher, iOS 11 or higher, Windows updated to version 10 or higher.
After downloading and installing the application on your device, you will need to enter your Amazon account credentials and choose theAmazon audio of the book you want to hear.
- audiolibri Audible available are many, as mentioned at the beginning, you will find more than 50.000 titles including novels, bestsellers, science fiction books, thrillers, horror and exclusive texts made only for the platform.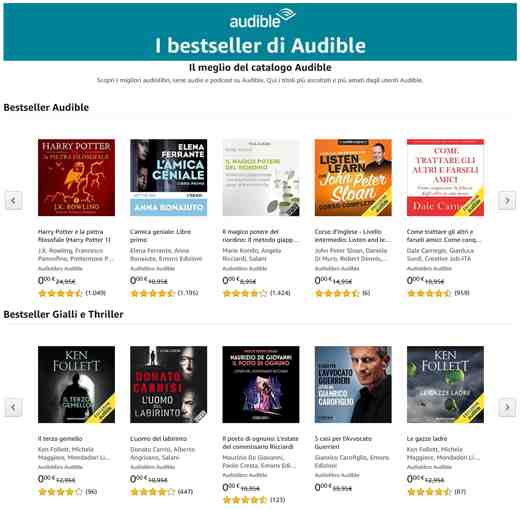 Using Amazon Audible is really simple and intuitive: after choosing the audiobook you want to listen to, you just have to tap on the cover and playback will start automatically.
The application offers several additional features such as the ability to add notes at a point in the audiobook, or increase the playback speed to reduce listening time.
A very useful function is the one that allows download the audiobook to your device and then play it offline, in this way you can use the service even when you are not connected to an internet network.
Going a little more into the detail of what has just been said, we see these and more functions available: when you use Amazon Audible, in the playback menu you will find several items: the button Play / Stop serves to start and stop playback; the arrows pointing to the right and left with the icon of the number 30, are used to move the playback forward or backward by 30 seconds according to where you are.
In the lower left corner of the screen is the speed function which allows you to play the selected audiobook at a speed ranging from normal up to 3,5 times faster.
Il pulsating Chapter lets you quickly navigate through the different sections of the audiobook so that you can immediately reach the one you are interested in; with the voice BookmarkInstead, you can create a quick access point that allows you to pick up where you left off.
Finally, a very useful feature is that Spleep Timer, which allows you to choose the maximum length of playback time, so you don't risk falling asleep suddenly and losing your reading.
How to cancel Audible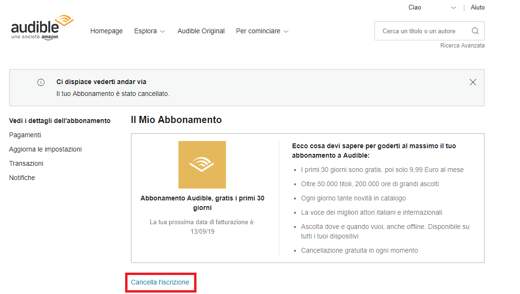 As already mentioned in the previous paragraphs, you can deactivate your Audible subscription at any time. Let's see how to unsubscribe from Audible both from PC and from smartphone / tablet.
From PC you have to:
Go to Audible.com
Go up Hello, Name! at the top right of the page or on Log in if you are not logged in.
click Account Details
click Unsubscribe
Select the reason for the cancellation
Select Cancel Subscription
Wait for the page to refresh and continue listening to Audible until the end of the subscription month.
From a mobile device you have to:
Log into Audible.com from your phone browser
Click on the menu on the left and log in with your Amazon credentials
Click again on the menu on the left and select Contact us
click Manage your Subscription and then Cancel the subscription
Click on the button Cancel the subscription
Select the reason for the cancellation
Select Cancel Subscription
Wait for the page to refresh and continue listening to Audible until the end of the subscription month.
Other useful articles