Best notebook cooling pads. Your laptop overheats easily and you don't know what to do anymore? Read the best cooling pads proposed in this article and you will find out how to fix.
When your laptop gets very hot especially on the bottom, right where the battery is, you can find a solution by purchasing a cooling pad or cooling base.
The cooling pad is one docking station (must be the same size as your laptop) equipped with very quiet fans that cool the PC from below. Prices vary between 25-30 euros, up to 80 euros and more.
Index
Best notebook cooling pads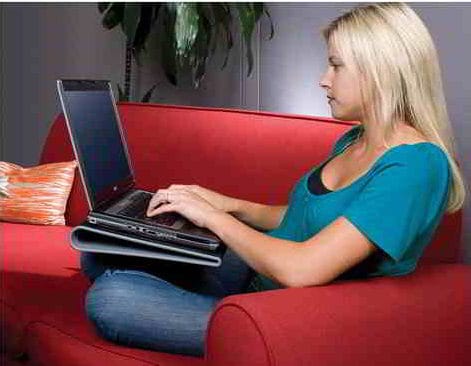 The cheaper models feed away USB, but they may require too many resources. The best solution is i models also equipped with power supply.
Alternatively, there are also sockets equipped with a USB adapter on the market, which allow you to connect any USB-rechargeable peripheral to the mains.
Here are the best laptop cooling bases available on the market. There are all kinds, cheap cooling pads and more expensive cooling pads, I hope you can find the pad that best suits your needs and pockets.
1. HAVIT cooling pad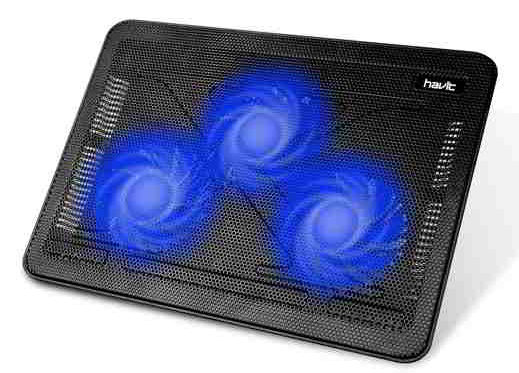 Best cooling pad on the market.
For
Compatible with 15,6 to 17 inch laptops
Ultra-thin and portable
Full 1 year manufacturer warranty
On / off switch
Cons
High beam LED lights do not have an independent power switch
Havit Slim ModelHV-F2056 cooling pad might be your best bet when you are gaming and need to keep your notebook cool. Hailed as the best laptop cooling pad, the unit features a seductive aesthetic enhanced by an ultra-thin design and three large 110mm fans highlighted by blue LED indicators.
Constructed of high quality multidirectional metal mesh, Havit Slim gives your laptop a stable, wear-resistant carrying surface even on the go, while the additional USB ports and power switch add convenient versatility.
Main features
The built-in dual USB hub allows you to connect multiple devices at the same time. Extremely quiet noise levels prevent the cooler from disturbing, while three 110mm fans provide strong, uninterrupted 65 CFM airflow. The laptop cooler doubles as an ergonomic stand with two adjustable height settings for better viewing and typing.
Buy on Amazon
2.TeckNet N5 cooling pad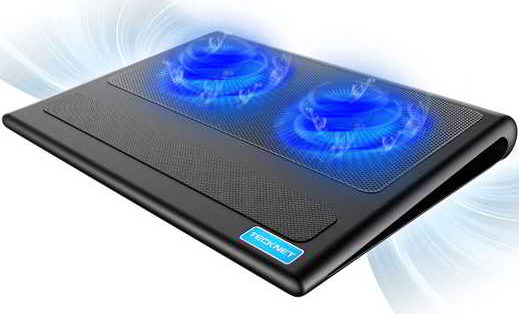 Best notebook cooling pad
For
Optimal airflow at barely audible levels.
Wire mesh surface for efficient cooling.
Rear LED indicator when the cooler is active.
Practical power switch.
Rubberized non-slip surface.
Cons
No on / off switch for LED lights.
The height is not adjustable.
Ideal for reckless gamers and casual users, SIGN N5 has been developed to provide a comfortable work surface that keeps you and your notebook cool. Working with your laptop on your lap has never been easier. A dual fan design ensures advanced heat dissipation. Double vents and a curved architecture allow you to use your laptop on both hard and soft surfaces.
You can even lay the cooling pad on a pillow or quilt without worrying about overheating. Lightweight and ergonomic, the N5 was also designed with portability in mind and is USB powered.
Main features
The metal mesh backing with non-slip base offers superior stability on all surfaces. Wide compatibility with laptops from 12 to 16 inches in size. Two 110mm fans and dual vents for optimal cooling performance. The angled design improves typing and viewing, reducing wrist tension. USB pass-through connector with two integrated ports for multi-device connection.
Buy on Amazon Buy on Amazon
3. TopMate Gaming Laptop Cooler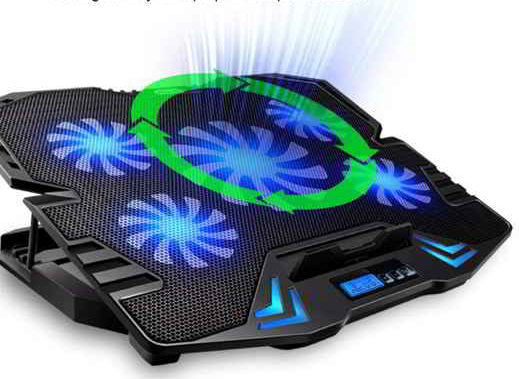 Miglior cooling pad gaming
For
Integrated dual USB port.
Intuitive control panel with LCD display.
Quiet fans, illuminated by blue LED lights.
Cons
The fans don't seem to run at 2.500 RPM as advertised.
The speeds are controlled by the power switch, which is quite painful.
Built with gaming enthusiasts in mind, TopMate Gaming Laptop Cooler it is one of the best notebook cooling pads with 12 to 15,6 inch screen diagonal. This exceptional laptop cooling system boasts multiple operating modes and six speeds. Five fans - a large central and four external fans - provide enough cooling power to keep even the most stressed systems within optimum parameters. All managed from an intuitive control panel with LCD display and touchpad buttons. Made of plastic and metal mesh, TopMate Gaming is sturdy and durable. Make sure you also have a great wireless gaming mouse and you'll be on top of your game!
Main features
The portable cooling pad creates a continuous airflow and is evenly dispersed, dissipating the heat generated by the CPU. Three operating modes and six speeds. Height adjustable angle to four different positions plus a flat option for storage and transport. The hinged flap prevents the laptop from sliding down.
Buy on Amazon
4. Thermaltake Massive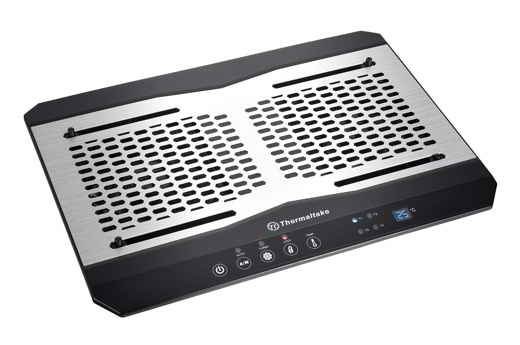 For
Intelligent multifunction control panel.
The Turbo function increases the speed from 1.000 to 1.300 rpm.
Compatible with laptop sizes from 10 to 17 inches.
3-year limited warranty for parts and labor.
Cons
The brushed aluminum surface is slippery.
Thermaltake Massive is a notebook cooling pad designed to attract the admiration of your colleagues or playmates, with its sleek design and sleek lines. Thin and light, this laptop cooling system incorporates ergonomic features and the first adjustable temperature sensor with thermal grip, which adjusts the fan speed based on various heat points to deliver maximum thermal performance. Comfortable viewing angle and hand position, digitally controlled functions and quiet operation make this unit a real must.
Main features
Automatic speed regulation and 120mm fans with dual temperature regulation. The adjustable temperature sensor monitors up to four different areas of the laptop. Attractive appearance enriched by a brushed aluminum panel. The hexagon-shaped mesh guarantees optimal air flow to promote cooling.
Buy on Amazon
5. Cooler Master NotePal X-Slim
For
2-stage pegs for easy angle change.
Integrated cable grooves.
1 year limited warranty for labor and parts.
Cons
Weak cooling power for gaming laptops.
Louder than similar models.
If you're into gaming, Cooler Master might be for you but while the brand excels at producing reliable desktop coolers, the NotePal X-Slim it is average. Built for laptops up to 17 inches, the X-Slim boasts a mesh surface and is equipped with a heavy-duty 160mm fan that spins at up to 1.500rpm. The ultra-thin profile makes the unit portable, while two height options allow you to use the mat on your lap or on a gaming desk.
Main features
Integrated USB pass-through connection. It supports various laptop sizes, including the popular 15-inch and 17-inch. Quiet operation and no indicator lights. Slim profile developed for portability. Superior air flow and heat dissipation thanks to a perforated metal mesh.
Buy on Amazon
6. Thermaltake Massive 14² notebook Cooler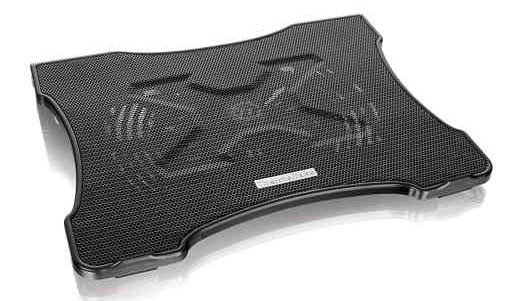 For
The 140mm fans reach speeds of up to 1.200rpm.
The dual USB port eliminates connection reduction
Light switch.
Three ergonomic height settings.
3-year limited manufacturer's warranty.
Cons
Bad design of the power jack.
Quite small for a 17-inch laptop.
Featuring a slim design and dual cooling performance, Thermaltake Massive 14² aim for simplicity. It doesn't boast an automatic speed adjustment like its sibling above, but it does come with larger fans and built-in lights. If LEDs that light up your laptop fan like a Christmas tree aren't your thing, Thermaltake has mercifully thought of equipping this unit with separate fans and LED switches. Ultimately, the user experience is defined by the ergonomic concept developed to provide an optimal viewing angle and comfortable hand positioning. Turn on the fan, lay back on the gaming chair and enjoy playing all night!
Main features
Superior cooling performance guaranteed by dual 140mm fans. Adjustable fan speed control and independent LED control switch. The hexagonal cooling mesh reduces wind resistance and provides uniform airflow over the entire surface. It supports laptop sizes from 10 to 17 inches. Dual laptop levers protect your device from slipping.
Buy on Amazon
7. Targus Chill Hub and Chill Mat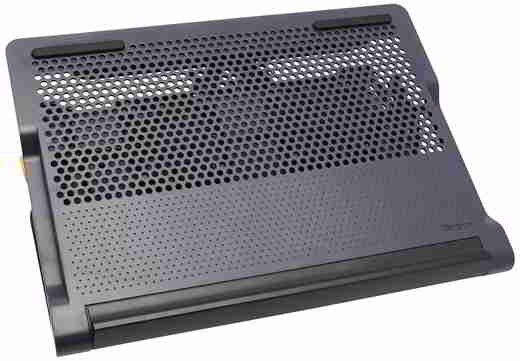 For
One year limited warranty.
Discreet fans with quiet operation.
Durable woven gabardine padding.
Rubber latches prevent the laptop from slipping.
USB powered.
Cons
The USB cable that is too long hangs from the side of the pad.
If you are looking for the best cooling pads for gaming or business notebooks, Targus Lap Chill Mat it was not made to keep your device cool but rather to keep it cool while it rests on your lap or other soft surface. The dual-fan construction helps disperse heat and slightly improves the functionality of your laptop, while the soft neoprene exterior offers unrivaled comfort.
A raised back improves ergonomics when used on a hard surface, while the slim and lightweight design ensures portability. Undoubtedly, Targus Lap Chill Mat is one of the best solutions to the most common laptop overheating problem.
Main features
The open sides and the ventilated grille ensure effective airflow even with the fans off. The dual fans extract the hot air and promote rapid heat dissipation, improving the functionality of the laptop. Perfect for notebooks up to 17 inches in size. The soft neoprene offers comfort even on bare skin.
Buy on Amazon
Best cooling pads on Amazon
Below are the best-selling cooling pads on Amazon updated in real time. If you haven't found anything you like about the selection of the best cooling pads available on the market, I hope you can find the best cooling pad reviewed by Amazon.