Here is a list of apps for Android and iOS to show you the best Instagram followers counter which will help you keep track of who follows you.
THEnative app on Instagram it doesn't provide easy ways to manage your followers and keep track of who's following and unfollowing you. Consequently, many developers have seen fit to create many apps to provide, through an easy-to-use interface, a management of your followers.
Many of these Instagram follower apps have similar names and capabilities. Some focus more on Instagram stats, while others provide details on followers in general.
Read also: How to increase followers and likes on Instagram
Best Instagram followers counter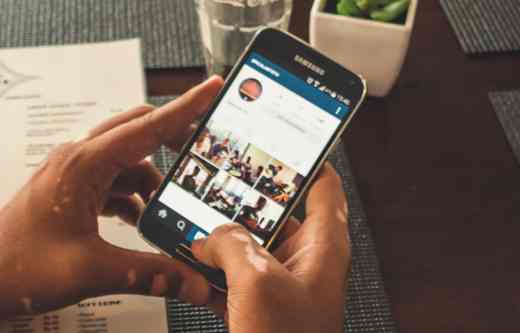 If you have a lot of followers and find it difficult to keep track of who is following you or who is no longer following you, here is a selection of Instagram follower count per Android e iOS. The apps mentioned below will help you to thoroughly analyze your Instagram profile to focus on those aspects that require improvements and maybe think about doing ad hoc marketing to win back old and new followers.
1. Follower Analyzer (Android)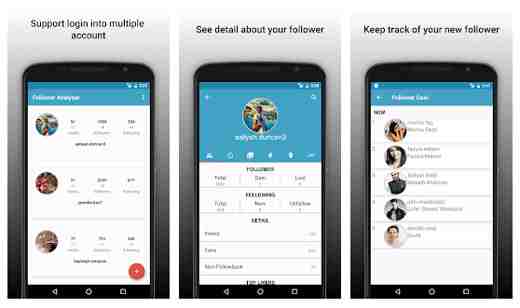 Follower Analyzer provides Instagram follower count with detailed analytics and statistics. With this Android app, you can see who has unfollowed you and who is no longer following you, monitor new followers, find mutual friends and view fans. You can see which followers don't like your posts or who commented on them and which followers have always liked and commented on them or even commented on your friends' posts. You can see your most liked and most commented statuses and the people who are often tagged in your posts. An optional premium purchase will allow for multiple account logins, an unlimited profile analyzer and ad removal.
2. InstaFollow (iOS)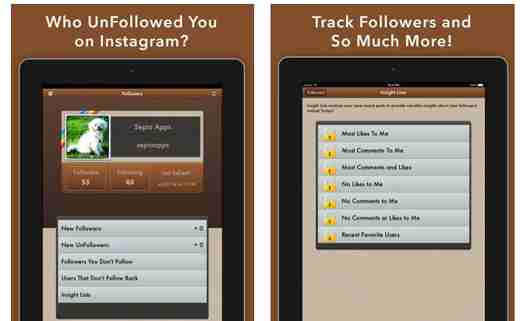 InstaFollow is the best Instagram followers counter for iOS mobile devices. Easy to use, it can provide useful information about all your followers. After downloading it you will be able to: track new followers and non-followers, keep track of followers you don't follow, track users you follow and who don't follow you, follow and unfollow users with a simple touch within the app . With this kind of data at your fingertips, you will be able to better understand who your followers are and how you can increase your popularity.
3. Followers Insights for Instagram (Android)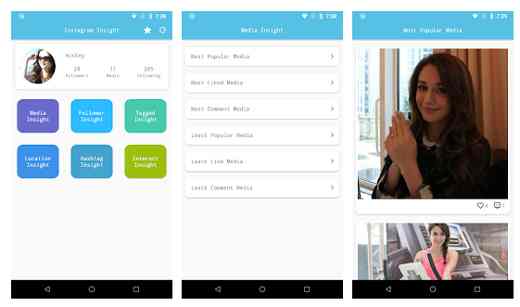 Followers Insights for Instagram is an Android app with many free features and minimally invasive advertising. Using this app you can: find out your popularity, the followers you have acquired and the ones you have lost, find out who blocked you, you can stop following the people who have unfollowed you, you can keep track of your most loyal followers, monitor more Instagram account, find out who tagged you, spammers and inactive users.
4. FollowMeter (Android)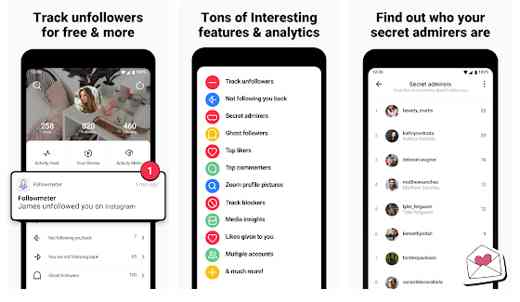 FollowMeter it's the easiest way to manage your Instagram account. This is an Android app whose powerful analytics allow you to access insights into your Instagram account, monitor your unfollowers, follower growth, story views and post performance. This app, in addition to alerting you when someone no longer follows you, keeps track of who blocked you, which posts got the best engagement and who viewed your stories but are not followers. All features offered are free, but a plus subscription is required for some.
5. Reports+ per Instagram (Android)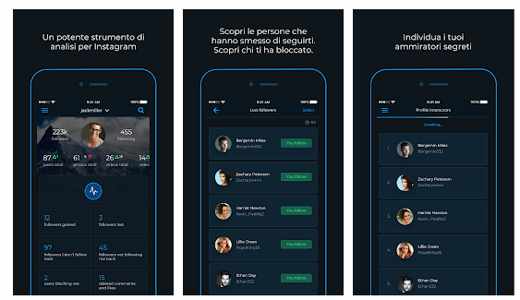 Reports + per Instagram for Android is a tool that can track your followers on Instagram giving you the ability to view who has unfollowed you, who has blocked you, the ranking of your best friends and much more. Key features include: optimizing and scheduling your posts, post performance tracking, who liked your posts, and interacting with your fans. For the latter option you will need to make purchases in the app.
6. Unfollowers for Instagram Lost (Android)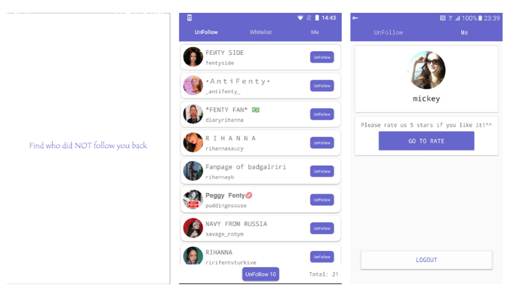 Unfollowers for Instagram Lost for Android will help you find lost followers and earning followers on your Instagram account. The app highlights the people you follow and who don't follow you. You can also set it to highlight people you may be following. To use it, log in using your Instagram username and password and use the app tracker.
Conclusion
By taking advantage of one of the Instagram follower counting apps you will be able to increase your success on the social media of photos and keep an eye on the progress of your performance. I recommend that you combine these mobile applications with the best tools for Instagram statistics, to have complete monitoring of the progress of your business or personal profile.
Other useful articles
How to put Instagram blank space in captions and biographies
Names for Instagram: Best Generators to Gain More Followers
Frequently asked questions and answers
The first thing to do is to go to https://counts.
live/instagram-seguidor-count and choose the social network you want to check.
This counter also works for Youtube, TikTok, etc.
Then enter either the username or the URL of the Instagram profile you want to check.
1 sept two thousand twenty-one
Once you have entered the profile of the user you are interested in, click on the Followed option.
Well, now consulting the people list you will be able to see the last names of the people that this profile has followed.
The names in such a case are sorted by default according to a time order.

Compilation of frequently asked questions that our users have sent us and that our experts have answered.