Small, quiet and powerful.
Although a few days ago NVIDIA presented the new GTX 970 and 980, flagship of the family of NVIDIA cards equipped with Maxwell processor, the first example to be equipped with this new architecture that promises favors in terms of price / consumption / performance ratio was the GTX 750 Ti. As always one of the first manufacturers to join the fray was Asus who, with the version GTX 750 Ti Strix OC has created perhaps one of the most silent and at the same time performing cards that we have ever reviewed. But before proceeding to the performance analysis of this card, as always, let's focus first of all on the design, which is increasingly important in modern installations.
The body is in typical Asus style with a lot of Strix logo imprinted on it and is equipped with two fans of heat dissipation, which, however, we could say to be almost superfluous. The reason for this statement derives from the fact that the fans are activated only when exceeding 65 ° Cotherwise they remain inactive. We too were amazed since we would have expected temperatures such as to have to call the firefighters to extinguish the fire, but no: all this thanks to the new Maxwell architecture of NVIDIA processors, which promises (and delivers on the promise) excellent performance at low temperatures and minimum consumption. In terms of consumption, in fact, the GTX 750 Ti in question barely requires 60W, thus allowing it to be mounted even in PC configurations with a power supply that is not exaggeratedly high in wattage and still obtaining decent performance. Among other features, we also have full support for the recent G-Sync technology.
Here are the technical specifications:
- GPU Base Clock: 1124 MHz
- GPU Boost Clock: 1202 MHz
- Memory Clock: 5400 MHz
- Memory Interface: 128-bit
- VRAM: 2GB GDDR5
- CUDA Core: 640
Another point in favor, as mentioned above, is the temperature: During the benchmark strictly set with graphics options at maximum, the VGA did not exceed 57 ° C in full load and, consequently, it did not require the help of fans to dissipate the heat. We can say that Maxwell works very well at this point. Finally, let's move on to the data of the benchmarking, who are gamers' best friends when it comes to buying a graphics card; below you will find our hardware configuration used for the tests:
- CPU: AMD FX-8350 4.0 GHz 8 Core Black Edition
- VGA: Asus NVIDIA GeForce GTX 750 Ti Strix OC Edition
- RAM: Corsair Vengeance 12 GB 1600 MHz
- MOBO: Asus M5A97 LE R2.0
As far as gaming is concerned, the GTX 750 Ti has given us a treat great performance although, however, they do not scream a miracle: we have tested four different titles, of which we will report the average frame rate. As mentioned earlier, each test was performed with le graphics settings set to Ultra, therefore lowering some parameters will surely get better results.
Bioshock Infinite - average 50 fps
Battlefield 4 - average 50 fps
Crysis 3 - average 35 fps
Watch_Dogs - average 30 fps
In terms of the actual benchmark, however, we have set the GTX 750 Ti compared to the GTX 660 always produced by Asus and we used Heaven 4.0. We announce that here i CUDA Core of both cards have shown which is the best in terms of power, as the difference is large and perhaps, for some, even unexpected.
As you can see for yourself from the graphs below, the GTX 750 Ti recorded one average of 20 fps against i 25 fps on average of the GTX 660. It may seem almost impossible, but the explanation lies in the 960 CUDA Core of the GTX 660 compared to 640 CUDA Core of the GTX 750 Ti, although obviously they are not the only factors to take into consideration. The VGA reviewed by us, however, always remains better for the reasons mentioned above and in any case excellent for its performance.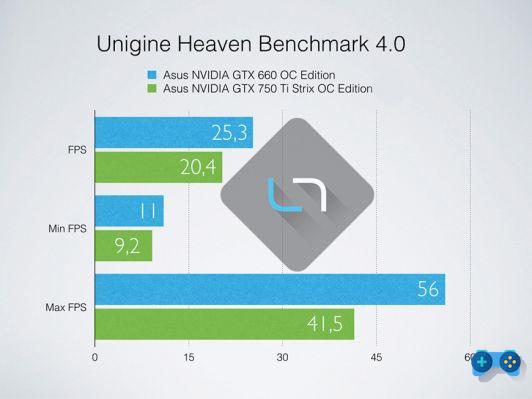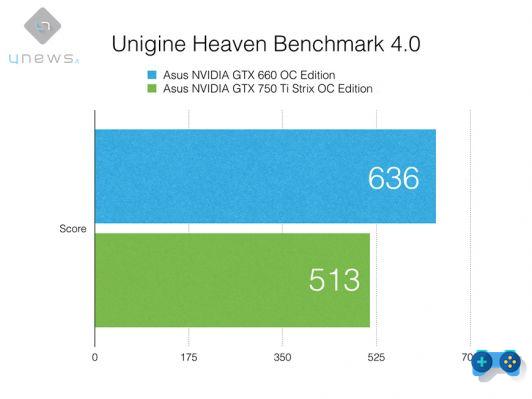 Final judgement
La GTX 750 Ti Strix OC Edition Asus has all the credentials to be a gaming graphics card without spending exaggerated sums, given that the price is around 150-180 €. In addition to being very forgiving regarding wattage, this VGA is able to offer excellent performance at low temperatures thanks to the new Maxwell architecture designed by NVIDIA. Adding the fact that it is completely silent up to 65 ° C, finally, we can say that the rapporto qualità / prezzo it is really great and deserves the purchase by those who do not want to spend a fortune to be able to play decently.