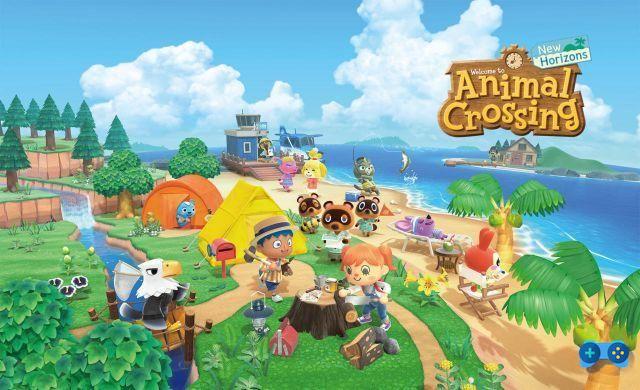 The latest addition to the Nintendo Switch line up is Animal Crossing: New Horizons, which marks the return of a beloved series around the world, absent since 2013.
The title is a life simulator which takes us to a small island together with other inhabitants, anthropomorphic animals. The big news of New Horizons is that it is now possible to take it with you to the island even your friends (or relatives)! In this guide we will try to explain everything you need to know regarding the multiplayer of the new chapter of Animal Crossing, both online and offline.
First of all, however, it is important to emphasize a limit not just: it can exist one island for Nintendo Switchno matter how many accounts there are on the console. The speech also applies if on a single Switch there are multiple accounts in possession of a copy of Animal Crossing: New Horizons. In any case, there will be only one island on a Switch. This means that even if you can have each a different character and play at different times, you will still have to live on the same common island. A limit, but also potentially more fun.
You can find our other guides on Animal Crossing: New Horizons below
Guide to get started
Egg hunt project list
Easter event guide
Guide to Money Trees
Guide to the shooting stars
Offline multiplayer
As already mentioned, they can live on an island up to 8 players; of these, up to 4 can play together - simultaneously - on a single Nintendo Switch.
To do this, a player must first begin his life on the island by going to sleep after the welcome party. Doing so will determine how Spokesman. At this point, any other account on the Switch can launch the game and join the existing island.
Of course, any player who settles in the city can have own home. When other players join your island, everyone will get the dedicated app on their NookPhone Call Isolano. Thanks to this you can call the other inhabitants of your island to come and play with you! All up to 4 players at the same time in the game. Who initiates the call is automatically the leader, while the others will be followers. Remember the camera it will not be in split screen and followers will therefore have to stay close to the leader.

In this game mode only the leader will have full access objects and can interact with buildings, shops and even trees and fruit around. However, followers can fish and catch insects, which will be saved in the basket at the Service Center to be recovered later. Luckily you can easily change the leader of the group at any time: just shake the joy-con or use the Call Isolano app.
If you will share the island with other players to help you grow and collect, remember that the first islander, the one who chose the name, will not be able to leave the match. He, the Spokesperson, can instead remove others from the island and continue playing alone.
Online Multiplayer
Online play stops on the second day of residency on the island, with the opening of Dodo Airlines. Cooperating via the internet you can play together up to 8 players at the same time, and you can do it either in local wireless or in a classic way through the network.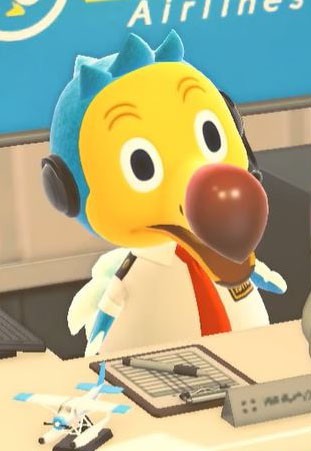 Wireless local
If your friends are close to you, each with its own Nintendo Switch and their copy of Animal Crossing: New Horizons, you can visit each other's islands playing locally wireless, no internet connection needed. To do this, we advise you to be very close to each other to avoid unpleasant sudden disconnections.
First of all, decide which island you want to visit. The spokesperson for this will have to go to Dodo Airlines and tell Dodobaldo that he wants to have visitors in the local game. Alternatively, the homeowner can also simply wait for the requests of others.
All the islanders who want to move to the chosen island will have to go to Dodo Airlines and say they want to travel and visit someone's islandAlways locally. At this point Dodobaldo will look for a local island that you can visit and your friend's name should appear. We advise you to do this procedure one player at a time because if you do it all at the same time, the flights may be canceled.
Online game
Multiplayer via the internet works in a way very similar to playing locally. To activate it, always go to Dodo Airlines and choose to visit someone via online play. Dodobaldo will search and find the island of a random friend, who must have chosen to will of visitors via the internet previously. You can then choose to join your friend.
Alternatively, you can also invite other unregistered players as friends using a Dodo Code disposable. In this case you will have to ask Dodobaldo to create a code and have your friend enter the same code to reach you.
We remind you however that to protect the owner's island during visits some tools are excluded, such as the ax or the shovel, unless these guests are marked as best friends through the app. This applies to both local and online matches.
How to add best friends
The only way to add players to your best friends list is by playing online. To have theapp dedicated to best friends you will have to ask Dodobaldo to Dodo Airlines for to visit someone from far away, or of receive visitors from far away. This will unlock this feature on your NookPhone.
To become best friends you need to be friends on the Nintendo Account, first of all. Then you have to have played together online on New Horizons at least once. At this point you can send a best friend request using the app dedicated on your NookPhone. Once the other player has accepted the request, the operation will be successful and you will be able to see each other in the list on the application and send you messages.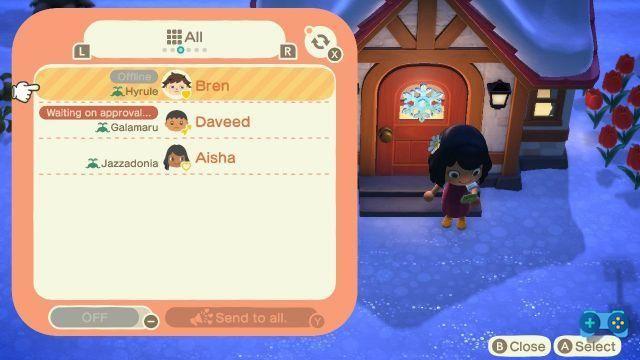 What changes playing with best friends?
In a way it can be said that real online gaming only happens between best friends. By playing together with anyone else, the hosted users will have many limitations, from the use of hatchet and shovel to gardening. Your best friends, on the other hand, will do whatever they want, apart from interacting with what is inside the Service Center. Furthermore everything they collect will remain with them, who will be able to retrieve it later on their own island.
Mobile app and multiplayer functionality
Finally, it is also worth dedicating a space to online features that can only be accessed through the Nintendo Switch Online app, on your smartphone in real life.
In the official Switch application you will find a section dedicated to Animal Crossing called NookLink, which you will need to configure on your console by following the instructions on your mobile phone. Through this software you can recover models from the old chapters of the series and use them in New Horizons. But what interests us is that it also offers the possibility to use the chat and send in game messages.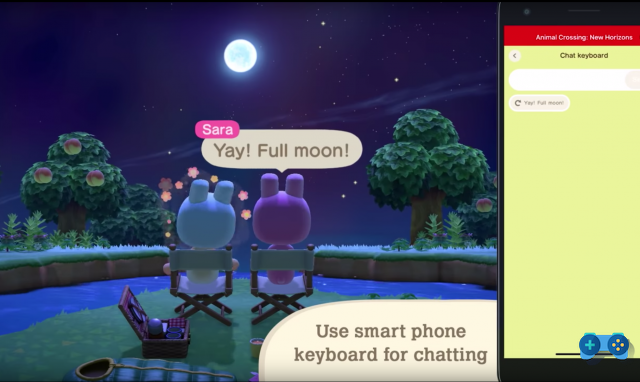 To do this, open NookLink and then go to chat. If you are connected you can text other players using the keyboard of your smartphone in real life. Cool, right?
Source: ign.com