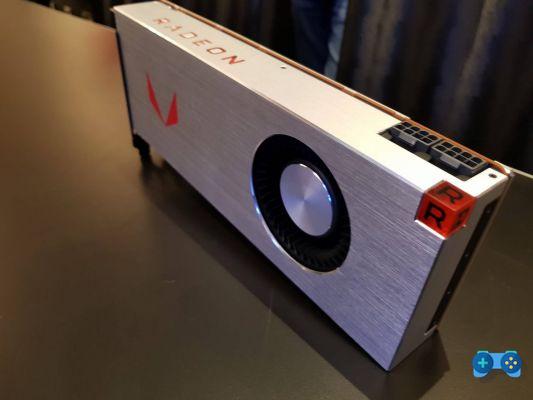 The RX Vega 64, officially presented yesterday, will compete with the Nvidia GTX 1080 according to the new benchmarks.
AMD showed with great fanfare yesterday the new family of Radeon graphics cards based on the Vega architecture.
Le Radeon RX Vega 56 and the Radeon RX Vega 64 (the latter available in two variants, with air and liquid cooling) will have a starting price from $ 399 for the Radeon RX Vega 56, up to $ 499 for the Vega 64 ($ 599 for the limited edition) and $ 699 for the liquid-cooled version.
Yesterday AMD also revealed a first benchmark of the card which was compared to Nvidia's GTX 1080 FE and the R9 FuryX in performance with some games based on Vulkan API and at a resolution of 1440p.
The RX Vega 64 was found to be 7fps faster in the average FPS and 10fps faster in the minimum framerate than the NVIDIA GTX1080 FE. 15fps in the average frame rate and 22fps in the minimum, however, the advantage of the new AMD solution over the FuryX.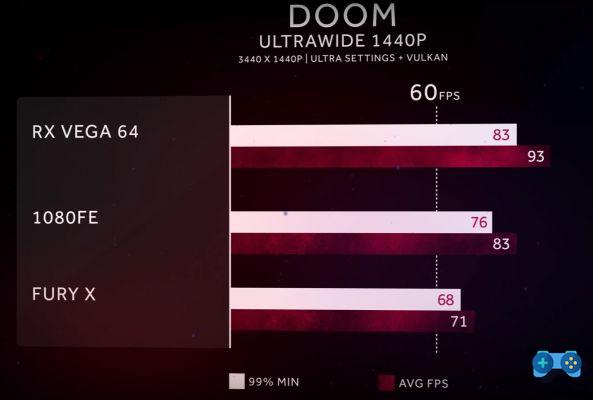 As for the other games tested, AMD declares (but has not yet shown official slides) that its card will have performance comparable to that of Nvidia GTX1080 in games such as Ashes of the Singularity, Battlefield 1, Deus Ex: Mankind Divided, Forza, Gears of War, Hitman, Sniper Elite 4 and Warhammer. In general, AMD has aimed to emphasize how its proposal is capable of delivering greater stability in the average framerate and above all better performance optimization in combination with Freesync monitors. This consideration appears functional to the arguments of AMD which aims to advertise its new card not as "the fastest card on the market", but as the most balanced and economical package, also in consideration of the significant price difference of the monitors. FreeSync * (* dynamic display frequency update technology - open source, but funded fundamentally by AMD - which aims to solve processor-to-monitor synchronization issues by eliminating the effects that make images appear skewed and shaky).
On closer inspection, in fact, although AMD's offer is not particularly convenient as regards the card alone, (NVIDIA with the custom versions, thanks to the considerable time advantage acquired in recent months, can offer generally more performing products at similar prices and will be able to afford a price-cut in a few weeks) becomes so when the purchase of a new monitor is also considered. The G-Sync monitors, sifting through the lists of the main retailers, have prices through 30% higher than the same monitors with FreeSync technology, which makes the combination of new card / new monitor particularly convenient.

AMD's strategy is clear: to offer 360 ° gaming technologies that allow users to create their own gaming platform, entirely AMD, with top-notch performance at an overall lower price than the Nvidia counterpart, although not the best ever. All in all, a strategy that can be shared.
To realize the new AMD strategy, we tried to create a machine entirely based on AMD technologies, balancing a budget not exceeding 1500 euros and performances that allow you to play at least in 1440p at at least 60fps with high or maxed details. An impossible challenge? Let's find out together
Amd Ryzen 5 1600 - Amazon price 203,58 euros
Ballistix Sport LT 8GB DDR4 2400 RAM - Amazon price 64,49
Asrock AB350M-HDV Motherboard - Amazon price 73,13
Corsair CX550M PSU - price on Amazon 71,98
Cooler Master Hyper 212 Evo heatsink - price on Amazon 34,99
Seagate Barracuda 1Tb HDD - price on Amazon 45,39
SanDisk Plus 120 gb SSD - price on Amazon 60 euros
Case cooler Master Master Box 5 - price on Amazon 44,29
Acer XG270HUA 27 ″ freesync monitor - price on Amazon 322 euros
AMD RX Vega 64 - estimated price of the Vega at full capacity 450 euros.
MasterKeys Combo gaming keyboard and mouse - price on Amazon 49 euros
Such a configuration should guarantee top-level performance up to a resolution of 1440p with a total price of around 1400,00 Euros, including monitor and keyboard and gaming mouse. For a Gsync monitor with the same characteristics we should have added at least another 200 euros.
Finally, a final consideration on these new Vega. The impact that these new cards are having on the market is certainly positive, however less disruptive than that obtained by AMD itself, at the expense of Intel, with the launch of Ryzen. In that case, Intel's monopoly, which lasted over a decade, had resulted in a substantial stagnation of the performance of new products and a corresponding increase in prices, probably unjustified. On the contrary, Nvidia, while never lowering the prices of its hardware, has always continued to innovate its range of products, offering products of the highest technology and extraordinary performance. Secondly, Nvidia is a veteran of the experience of Intel itself, and will hardly repeat the mistakes of Intel that was surprised by the launch of Ryzen with great fanfare, remaining substantially displaced by the very aggressive marketing of AMD.
What do you think? do you think our reasoning on AMD's strategy is correct?