10 programs for smart working from home. Here are some useful tools that will help you work from home in the best possible way.
Working from home can lead to distractions and lost productivity, even when you need to use and switch between multiple applications and software platforms. Fortunately, today there are several apps available for smart working whose purpose is to contribute to the improvement of productivity to ensure that individuals and teams can work efficiently and quickly.
The main features of the smart working programs for home work they focus on communications and project management, so that no matter where you are, you can stay in touch with the rest of your team and provide the latest updates and information everyone needs.
10 programs for smart working from home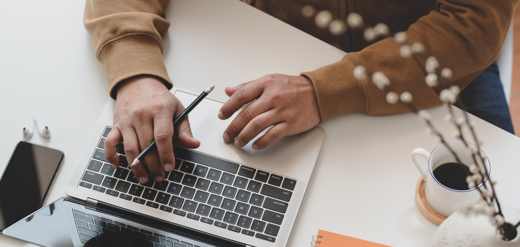 There are tools that are able to improve the productivity and efficiency of work from home, simplifying the most complex tasks. Here are the best applications for working online from home, to consider and install on your computer or mobile device.
1. Skype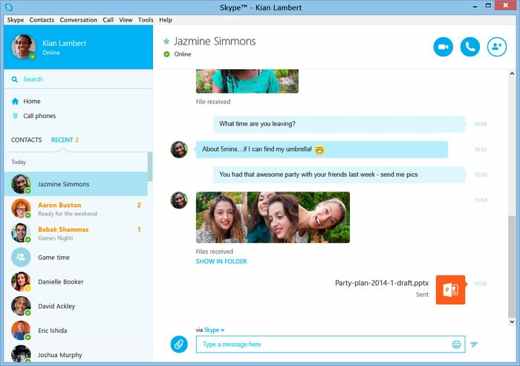 Best free video calling program.
Multi-platform support
It can be used in the web browser
Sottotitoli live
Limit of 50 participants
Skype is a very familiar name for Windows owners. This videochat tool by Microsoft it's often seen as little more than a way to keep in touch with friends and family, but if you don't know it supports them too group video calls for up to 50 people.
It can also be used in a browser, which is great for chatting with people without the app installed - in fact, you can simply invite them to join using their email address.
There is a screen sharing option and to make it easier to focus on who you are talking about, there is the option to automatically blur backgrounds. Other useful features include the subtitling live conversations and the possibility of record chats.
If you need to organize video conferences involving several people, Skype for Business it is a paid upgrade. For a low monthly cost per user, you get support for chats with up to 250 participants, Office integration, and more effective security options.
Read also: How to record our Skype conversations
2. Office 365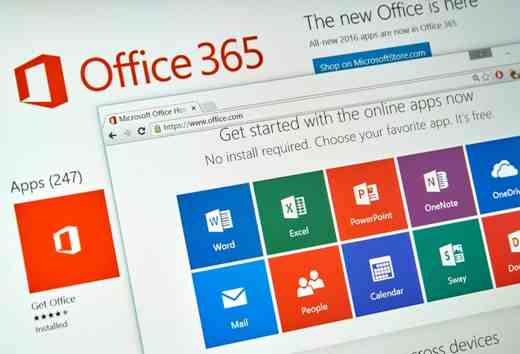 The best office productivity suite.
Market leader
Essential tools for the office
Cloud based
Microsoft Office is probably the platform that immediately comes to think of when it comes to office productivity suites, thanks also to its latest effort: Office 365 cloud based.
Office has become a true leader in the productivity market, thanks also to the many applications made available to workers and students. Word, Excel, PowerPoint e Outlook and which form the main programs of the platform. They are capable of covering all essential office activities: documents, spreadsheets, presentations and emails. Furthermore, OneDrive offers a solid online backup to protect your files.
Although alternatives to Microsoft Office exist, most competitors try to catch up with Microsoft rather than providing innovative new features, and MS Office still remains the office suite with the most complete range of features. And even if you use one of these alternatives, chances are you will work with document formats created specifically for MS Office and manage the data of customers and suppliers using the MS Office platform.
To use Office 365 from home, the company should provide you with a license and download the client to your PC.
3. G Suite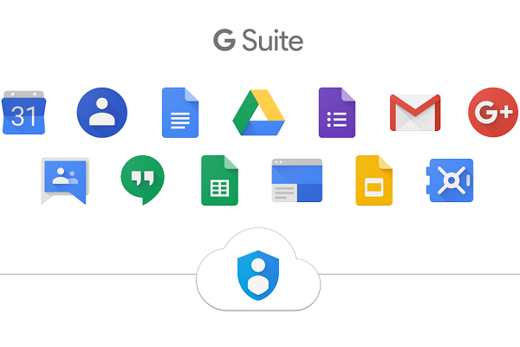 The best suite to produce even from a mobile device.
High level of security
Free cloud storage apps
Suitable for small businesses
The apps can't keep up with those of MS Office
It doesn't work offline
G Suite it is powered by the Google cloud. This package SaaS Comprehensive includes a range of productivity and collaboration tools. While Google's apps aren't as popular as those created by Microsoft, G Suite includes processing testi, accounting, presentation based on the cloud and so on. The security features are also stringent as G Suite uses the same cloud infrastructure as Google itself.
Unlike Office 1's 365 TB storage limitation, G Suite offers unlimited cloud storage for business plans and for agencies that include five or more users. This can be a significant benefit for large corporations, creative service agencies, or media organizations with large data storage needs. G Suite also offers seamless integration with its included conferencing applications free local calls via Google Hangouts e Google Voice.
With Google G Suite you can take advantage of tools such as: gmail, Google Drive, Google Docs, Sheets, Presentations e Hangouts. However, Microsoft applications are still much more popular in corporate environments where PCs are the most used element. While migrating to the cloud, some companies may not be willing to invest in training and support for Google apps. Plus, G Suite doesn't have comparable desktop apps you can use on your computer, which makes it harder to stay productive when you're offline.
This can be a significant drawback for some companies with frequent travel or meetings in areas with limited Internet access. While G Suite storage is best when there are more than five users under the Enterprise plan, individual users are limited to 30GB instead of the standard 1TB available from Office 365.
To work from home with G Suite, the company should provide you with a license which can be Business or Enterprise.
4. Bitrix24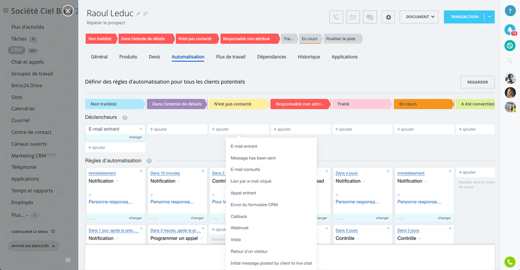 A sprawling suite with powerful business tools.
Wide range of tools
CRM capable with detailed reports
Generous free account
Bitrix24 offers a broad suite of powerful business tools: collaboration, instant messaging, telephony, project management, document management, scheduling, employee management, and more.
If you prefer to keep things simple, you can focus on excellent CRM (Customer Relationship Management), a system capable of improving your management process with customers. Contacts and communications are recorded, leads assigned to sales managers, emails sent, calls recorded, quotes and invoices issued. Detailed reports keep you up to date and access is convenient via the mobile app.
The free account offered by Bitrix24 supports 12 users and includes 5GB of storage, but if you need more, theaccount Plus offers more features for up to 6 users and provides 50GB of online storage for $ 48 per month for all users.
Overall, Bitrix24 presents a particularly powerful suite of tools useful for small businesses and start-ups to help them develop and grow through better productivity, all in one platform.
5. TeamViewer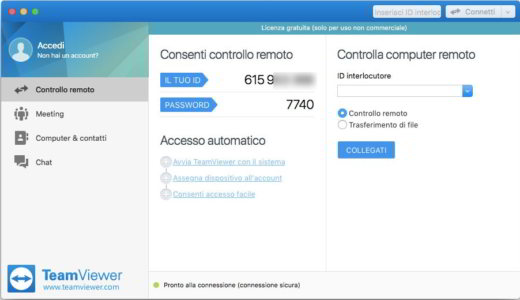 The best free remote connection app.
Powerful remote access features
Extraordinary collaboration ribs
Refined mobile apps
TeamViewer is an incredibly powerful tool for home use that allows you to access and use remote devices as if you were sitting in front of them.
You can hold web meetings with audio, video and text chat, a whiteboard, file sharing, and more. You can collaborate with up to 300 people simultaneously and meetings can also be recorded for reference at a later time.
It's not just about desktops. The latest version of TeamViewer allows screen sharing to devices iOS, something you won't get anywhere else and the app Android updated TeamViewer now has one-click access and has reduced data usage by 80%.
Whichever device you're using, the new single-window interface makes operations easier and more intuitive, and you can control your device, transfer files, and generally do whatever you want without the slightest hassle.
Also read the best 10 programs to connect to your PC remotely.
6. Evernote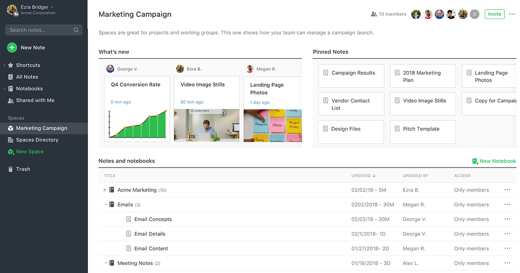 An indispensable tool for organizing thoughts and ideas
Huge variety of notes supported
Powerful synchronization features
Smart search tools
Whether it's a to-do list or a long essay Evernote intervenes by adding them to your workspace. You can take photos, screenshots, links, interesting pieces of a web article - anything that can help you with your current projects.
Each note can have a 'memo' attached, and the smart search tools sift through everything you've collected to find the details you need.
You can do all this with the free version of Evernote but there are some premium options as well. The Evernote business plan includes Spaces, for example, a way to organize notes into separate collections, each of which can be used by individual teams, while Space Directory allows you to keep track of what is happening across the company. With the Premium version at 6,99 euros per month you can organize everything while the more advanced one, called Business, allows you to bring your team together for the price of 13,99 euros per user per month.
7. Trello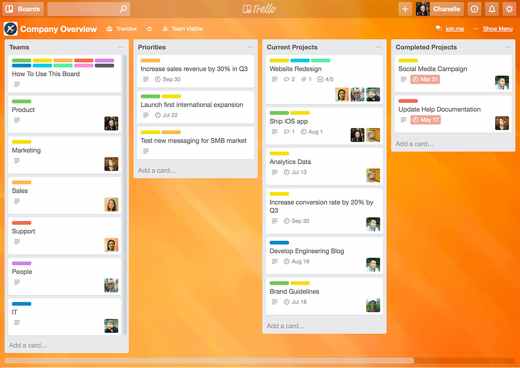 It covers everything from simple to-do lists to project management.
Easy to use
Integration with numerous third party services
Powerful collaboration tools
Trello is a smartly designed and popular service for managing, organizing and sharing everything from simple to-dos to core project management tasks.
Getting started is easy as with Trello you can drag and drop cards onto a board. Cards can represent individual activities, with priorities and deadlines attached. But they can also be more substantial checklists, with attached files and images, containing hyperlinks to point elsewhere.
There's a whole library of power-ups, custom tabs that allow you to integrate a number of third-party services into your workflow: Box, Evernote, GIPHY, GitHub, Hangouts, Join.me, Mailchimp, OneDrive, Salesforce, Slack, SmartDraw, SurveyMonkey, Twitter, ZenDesk and more.
Trello has many collaboration tools to help you manage your projects and a number of ingenious features to make sure it's easy to use.
The basic version is free, while the business class version with more features is available for $ 9,99 per user per month.
8. Pocket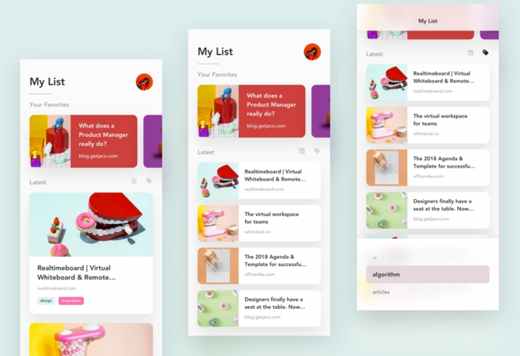 This elegant app keeps track of everything you find on the web.
Can store content for offline viewing
Save directly from a variety of sources
The free version has ads
Pocket serves as a central storage space to hold articles, videos and other content for easy viewing later. It's not just about links, because with Pocket you can download content for offline consumption - and if your choices are interesting, you can also send them to another user's Pocket or share them directly via social media.
Saving is easier than you expect. Pocket isn't just a browser-based service - you can save directly from Twitter, Flipboard, Pulse, and 1.500 other apps.
The free version of Pocket works fine, but the Premium it goes further by making annoying ads go away and making your content a permanent asset. The price is 39,99 euros per year.
9. LastPass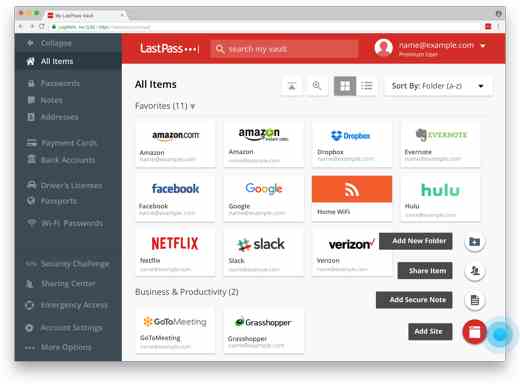 The best password manager.
Simple solution to a complex problem
Recall passwords on all your devices
Form filling and other extras
LastPass is one of the best password managers around. It can quickly generate safe and secure passwords, then save them in an encrypted vault. Your latest passwords are instantly available on all your devices, so whatever you are using, LastPass will allow you to log in automatically with a simple tap.
This is just the beginning. LastPass allows much more, for example you can automatically enter payment and shipping details in an online store or include simple and secure sharing of passwords with other services, without having to send credentials in an insecure text file.
The apps for Android, iOS, Windows e Mac they combine with a number of browser add-ons to make sure you can use LastPass on almost any device. All the basics are available for free, but the plan Premium adds multi-factor options, more versatile password sharing, 1GB of encrypted cloud storage, and more, for $ 2,67 a month for one year.
There is also a new family option to manage all family passwords in one place. The new option LastPass Family 3,56 euros per month is available.
10. Join.Me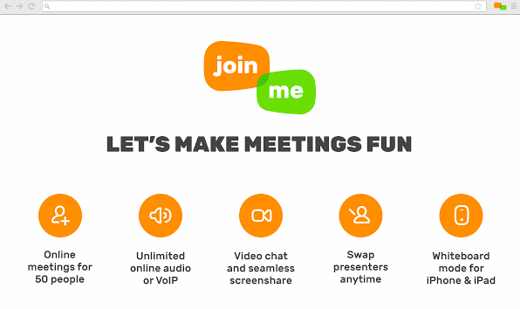 The best app to easily organize meetings
Nothing needs to be installed
Meetings can be recorded
Screen sharing and other smart features
There are many ways to organize a virtual meeting, but sometimes the process can be more complicated than you think. Participants may need to use the same software, for example, or all be registered for the same service, and even then you won't always get the functionality you need.
The attention of Join.me ease of use makes it easy to get started. Anyone can host a meeting in one or two clicks or join by entering a code into their web browser, without having to download or install anything.
Meetings can be scheduled and recorded, audio support allows attendees to call or use their device's microphone and speakers, and it's easy to broadcast and share your screen to present ideas and collaborate with others.
You can take advantage of plug-ins that allow you to schedule and start meetings directly from Office or Chrome, and iOS and Android apps that guarantee you can join meetings wherever you are.
You can create a Custom join.me URL for free but to take advantage of the various features, prices start at 9 euros per month for meetings of up to 5 people and 17 euros per month for an account For Comes with multiple attendees, webcam streaming, recording and cloud storage. The $ 24 / month business plan allows for larger volumes and extra security features.
Other programs for working from home
Here are other useful tools for smart working to complete your virtual office and work with both Windows 10 and Mac.
buffer is a powerful social media management tool to create, plan and track the performance of all your social media posts. You can set different posting dates and times for each of your Facebook, Twitter, Instagram, LinkedIn, Pinterest, and other accounts. Buffer can be used for free for a single user with 3 social accounts half, increases up to $ 12 per month for 8 accounts and up to 100 scheduled posts, with more expensive tiers for larger management volumes.
Slack is an important communication platform for team collaboration and numerous existing tools for productivity or project management. It was a true pioneer in terms of looks, design and functionality.
Monday.com offers group communications and collaboration for working on projects. The interface is clean and simple, but there are many features that make it elegant and easy to use. Integrations include Slack, Dropbox, Google Drive, and Excel. Pricing starts at $ 25 per month for 5 users and increases based on the number of features or the number of users required.
Discord it may seem more like a chat app for gamers, but it's a surprisingly powerful tool that allows for texting, voice calling, and video conferencing. It is also free. Both mobile and desktop versions are available, and while it doesn't seem like a professional tool, it allows for easy, simple, and inexpensive video conferencing with people around the world, without having to invest in expensive hardware with subscription plans.
Zoho Cliq is a group communication platform for collaboration and business productivity, it also includes video conferencing as a feature in its free version. It integrates with other Zoho products, but also with Mailchimp, Zendesk, Trello e dropbox. The paid unlimited version includes some extra features and is available for around $ 3 per month.