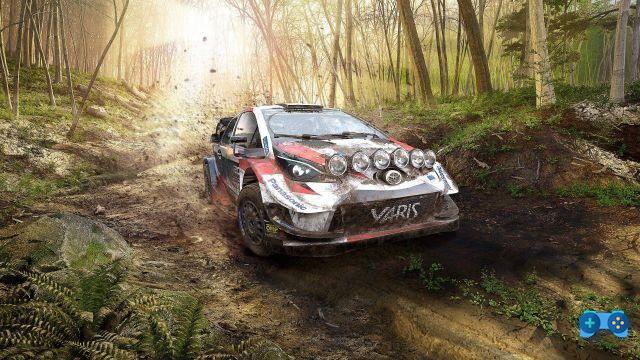 Tested Version: Nintendo Switch
The series WRC has earned an excellent reputation in recent years for providing (together with DIRT, here the DIRT 5 review) the most detailed representation of the rally. After being presented for PS4 and PS5, NACON e Kt racing they finally made it available on Nintendo Switch, along with all additional content, WRC 9. While playing it on a next-generation console offers the best overall experience, WRC 9 su Nintendo Switch, it's not that bad.
Races for all tastes
WRC 9 officially provides a videogame representation of the FIA World Rally Championship "Technically" based on the 2020 championship. Obviously, due to the Covid-19 pandemic, the events have been canceled and therefore also the gaming experience has undergone slight changes. The 2020 season was suspended after only 3 rounds, finding herself stuck for six months in some sort of limbo. At the resumption, a couple of rallies in Italy and Estonia were added that were not scheduled in the official calendar (a bit like what happened for Formula 1, here our review of F1 2020) and therefore not present in this game, until to reach the conclusion of the championship after only seven races, on 6 December last year.
A normal 13-round season is available in the game. The main changes concern a series of circuits: Australia, Catalonia, Chile and Corsica, have been removed and in their place have been inserted: Japan, New Zealand and Kenya which were already planned for this season as well as the special stages of Finland and the Rally. Portuguese as a post-launch DLC. In addition, you can participate in different categories of circuits that offer various ways to experience high octane racing. Over 50 official teams (along with their official livery) and let's not forget the 15 legendary cars available too. There are some classic cars, such as the Corolla (available via DLC), Xsara and Focus.
The game mode is simple and not very dissimilar from its predecessor; is present career mode, where you can check your offices, team, hire or fire team members, various aspects of your car and plan the next calendar. In this WRC it is as demanding as it is right, as it is necessary to do several calculations to manage everything and it must be said in a more than professional way. Some players will be grateful for this, mainly for achieving a level of realism associated with managing a well-respected world rally team. Perhaps the slightly more boring side is having to decide where to put skills on the huge skill tree to grow your performance. Obviously the season mode where it is possible to bypass the organizational aspect and throw yourself headlong into the races.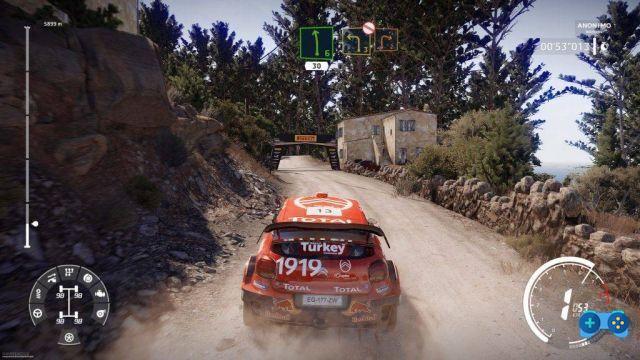 Also available multiplayer component. Specifically, weekly challenges where you can compete to climb the online rankings by getting the best time in special limited-time events, such as the one Club.
WRC 9 on the Switch looks less impressive than on other platforms, which isn't entirely unexpected
Obviously this is a converted game for Switch don't expect jaw-breaking graphics. It took some technical sacrifices to bring WRC 9, as well as many others (e.g. The Witcher 3: Wild Hunt) to the Switch. Said this, NACON and KT Racing preferred to give more weight to performance rather than overall graphics.
The hardware of switch it limits (and not a little) the graphic rendering that otherwise would have been impressive. The cars are somewhat boxy in terms of design, while the landscapes are flatter and more bare than the version PlayStation. You can notice obvious shortcomings that on the whole do not give too much trouble. But in circuits like the Finnish one, the removal of some trees could make you turn up your nose a bit. The general lighting is not bad.
Much more annoying is the game's constant struggle to keep up with the environment. Some shadows do not appear on the track until they are a few meters in front of us (and ultimately turn out to be too jagged), drawing themselves as we go along as if we were chasing some kind of ghost. While some trees have a really headache fading effect. Furthermore, in an era in which we try to speed up loading more and more, those of WRC 9 are almost mammoth.
Fixed several issues compared to WRC 8
Although the differences between WRC 8 and 9 are not huge, the fact that the experience of the new iteration has been further refined and a number of issues have been resolved is worth the price of the ticket alone.
The irregular "skip" the car made before reaching the starting line, or some "missing text" error on reports received after an event, or those hideous splashes of water that were shown on the screen before the car actually touched the water are a thing of the past. Also, the most important thing is that the stages are all playable at constant 30 fps.
Also, there is one greater depth field in WRC 9. It might not seem relevant, but we assure you that especially on Switch, where the surrounding environment is far from detailed, with a low resolution, etc. it really adds a lot to the aesthetics, "hiding" more than a few aesthetic imperfections.
Someone talked about photo mode? There is and has all the features that one would expect from such a feature and to be honest it works very well allowing you to indulge in customization.
Controls to be reviewed
Titles like these take a long time to master and manage the commands WRC 9 unfortunately it is not the best since they are extremely sensitive. You have to spend some time getting in tune with your car. If you play it using the Joy-Con the experience is nothing short of terrible, if you play using the Pro Controller, improves and not a little.
Fortunately the commands can be safely changed in the settings, always if you find the right combination. Something that the writer has not yet managed to fully calibrate!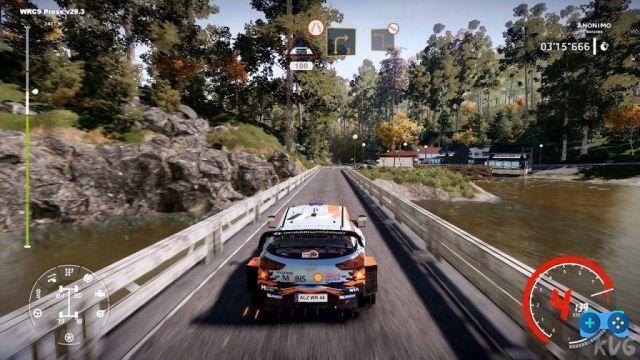 Final Comment
Calculating that the Switch is still "obsolete" when compared with the new consoles, WRC 9 itself performs quite well. The commands are difficult to manage and we advise against using the Joy-Con except in handheld mode; the graphics obviously are what Switch can offer us and we cannot blame the developer who still managed to bring a more than enough conversion on the hardware of the great N. For the rest, fun is guaranteed whether you decide to face a season complete WRC or dedicate yourself more to the management and financial aspect of your team.