Did you notice that when you plug the USB stick into your PC port, a message appears that you need to format it? When confirming, you get the message that it is impossible to format USB stick? If you are unable to format or even less to recover the data contained in it, it is time to run for cover. Like? Keep reading this guide because you will find out how to recover a damaged USB stick.
If you are having trouble recovering your flash drive data, it is not even visible in Disk management, then it is very likely that the drive is broken, if the drive is shown in the window instead Disk management, then you can recover your data, the important thing is that they are not overwritten.
There are many data recovery programs that allow formatting and recovery of the contents of an unrecognized USB stick, the best is definitely EaseUS Partition Master Free.
The features of EaseUS Partition Master Free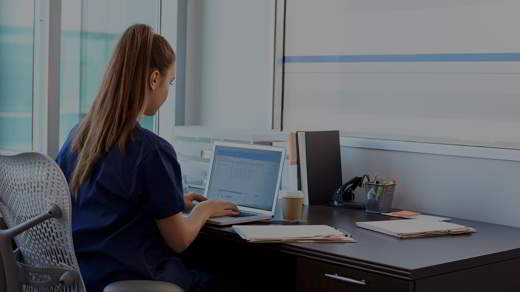 EaseUS Partition Master is partition management software for Windows that enables the cloning of disks and partitions, recovery of lost partitions,merge partitions, control partitions,elimination and masking partitions, cultural, di label of the partition and much more.
The partition of this partition management software improves disk performance by speeding up your PC. Furthermore, in the event that the partition move or resize procedure should be interrupted due to a hardware problem or other, its security feature will allow you to automatically restore the partition table of your hard disk to its previous state.
With EaseUS Partition Master you can transfer the operating system to a new SSD / HDD configuring a Windows PC-based environment as you wish. Formatting will check the disk for errors and prepare it for use.
There is no shortage of others management tools to improve disk performance, and which are: alignment 4K on SSD, tool optimization of the disc (fix boot issues, disk defragmentation, extension of dico C, etc.), creation bootable discs to Windows recovery, command line support for managing disks or partitions.
Unable to format USB stick: how to fix

If you got the message Unable to format USB stick and want to fix the problem, first check that the stick is not write protected and has not been infected with a virus.
Alternatively you can download EaseUS Partition Master Free from the official website and then install it on your computer. After clicking on the button Free download, starts the installation of the file epm.exe downloaded.
Click on it twice and after selecting the Spanish language, press the button OK to continue. Press the buttons in sequence NEXT, Accept e NEXT, come on end to complete the installation process.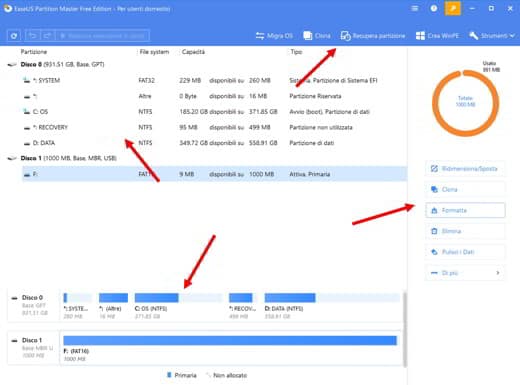 When starting EaseUS Partition Master you will notice how intuitive the interface is. It is divided into three main parts:
Command bar with buttons for Migrate OS, Recover Partition, Create WinPE, and Tools (Optimization, Recovery and Backup).
In part Central the list of installed disks. By selecting one of the disks you can choose which function to apply.
In the right column the list of commands to be applied to each selected disk and which are: Resize / Move, Change Label, Check Surface, Explorer, Properties.
Down: detailed information of the selected unit.
To solve the problem of unable to read a USB stick you have to insert the USB key or pendrive into the USB port of your PC and wait for it to be detected by the operating system.
1. The moment you see it appear on the main screen of EASEUS Partition Master, select it and click in the right column on Format.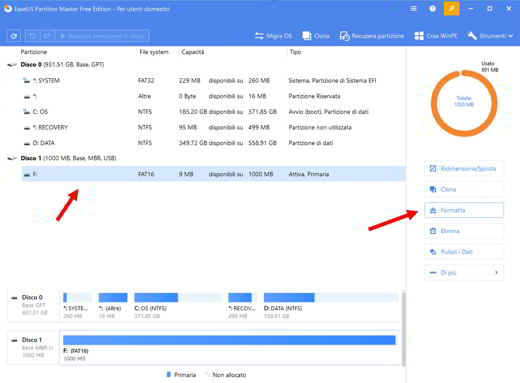 2. Select the file system type from: FAT/FAT32, NTFS, EXT2/EXT3. If the USB stick is larger than 4GB just choose FAT32, NTFS o EXT2/EXT3, if it is less than 4GB select: FAT, FAT32, NTFS o EXT2/EXT3.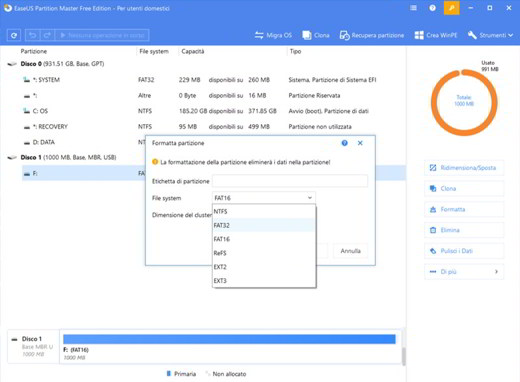 3. Then select the cluster size in the drop-down menu and press on OK to apply formatting. The cluster size represents the smallest amount of disk space that can be used to hold a file.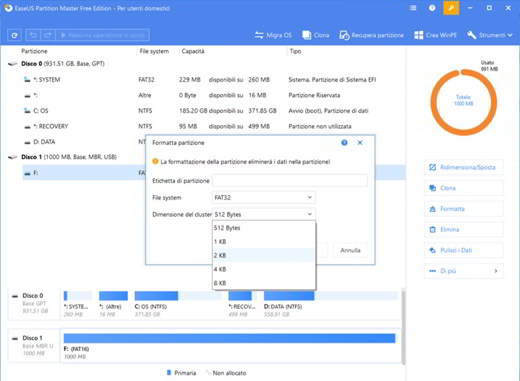 4. Go back to the main screen and click on Perform operation, and that's it.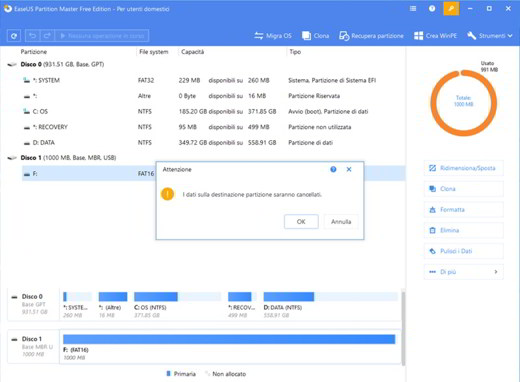 Another solution to format USB stick with Windows 10

Retrieving a USB key is also possible through the section Windows 10 Computer Management. Start Run pressing the buttons WIN + R and type the command compmgmt.msc then press on OK.
In the Archiving, select Disk management. Find the USB stick you can't format. If there are other partitions on the USB stick, delete them all.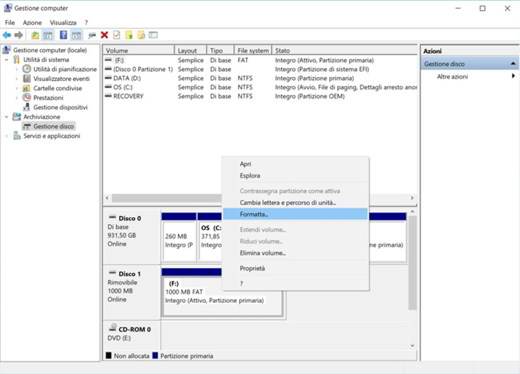 Then click with the right mouse button on the USB stickin Management disco, and in the menu that appears choose the item Format. Select NTFS file system if the device is larger than 4GB, otherwise FAT32.
This type of recovery does not allow the use of many other features made available by EaseUS Partition Master Free.
Conclusions
EaseUS Partition Master Free is one of the best software for what concerns the management of partitions on the Windows operating system, both for what concerns your PC and for any other data storage media (USB, HDD, SSD). In addition to being easy to use, it offers many features that not only make it reliable but usable by all users, even the less experienced.
The graphical interface has been improved and moreover it is in Spanish. The free version allows you to manage your disk in the best way, but if you need to manage large files and convert MBR partitions to GPT or other, I suggest you take a look at the other proposed versions:
Pro Version (34,95 euros), with single license for 1 PC. Allows dynamic volume management, 4K alignment, increase SSD performance, restore partition, find and restore deleted or lost partitions, clone disks and partitions, clone an entire disk, resize, move, clone, create, format, delete volumes on dynamic disks.
Server version (149 euros), with single license for 1 server. Allows dynamic volume management, 4K alignment, increase SSD performance, restore partition, find and restore deleted or lost partitions, clone disks and partitions, clone an entire disk, resize, move, clone, create, format, delete volumes on dynamic disks.
Unlimited version (370 euros) with unlimited license for multiple PCs / servers. It offers the same functionality as previous subscriptions with the addition of the Repair of RAID-5 Volumes.
EaseUS also offers a trial period of 30 days to test the full potential of the software.