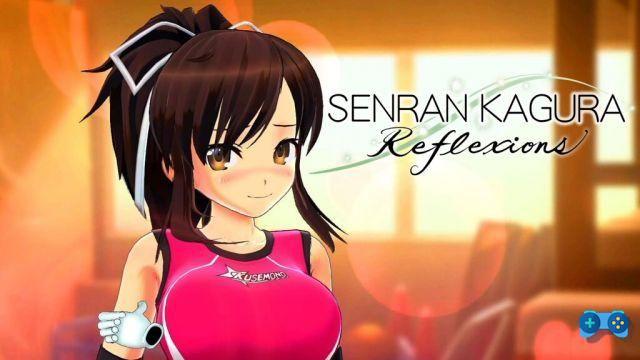 First title in the series for Nintendo Switch.
The Senran Kagura Series, after invading the Japanese land, also broke into the West and brought with it in its infinite versions the adventures of the busty kunoichi protagonists.
In this case it is not one of the canonical chapters of the series, in fact like Bon Appétit! it is a spin-off and like the other already mentioned it does not lack eccentricity.
Plot, if you can call it that ...
The game starts with the young Asuka waiting for us, she explains to us that she feels strange, as if her heart is missing something and what to do to help her? I know that many will already have the answer in mind ... "fire", we will have to feel it in every part of the body.
gameplay
Initially the kunoichi will give us her hands, from this point we will be able to admire the incredible work done by Nintendo with the famous HD Rumble, in fact when you touch the right points of the girl's hands, a cloud will appear that will lead to a fantasy of the protagonist, taken directly from typical Japanese "ecchi" situations.
In fact, we will be able to see Asuka impersonate a heroine of a fantasy video game, an inviting human gift box, a little sister in search of attention and an idol.
Once catapulted into these fantasies, the iconic "little hands" that only true fans of the series remember will appear, during this interlude we will have to commit ourselves to giving relief to the young kunoichi, touching her, stroking her and slapping her left and right.
We can also kick off the voyeuristic passions, turning the protagonist in every angle, or for no apparent reason, we can splash Asuka with jets of water (please don't ask me why).
How will we know if what we do is to your liking? To tell you the truth, I didn't understand it either, but by insisting a little, we will arrive at the final massage, we can use both our hands and other tools (manual massager, brush and vibrator), for some of these the movements with the Joy-Con are a mix of frustration and embarrassment.
In Senran Kagura Reflexions the main objective (yes there is one) is to obtain as many fragments of Asuka's heart as possible, you will be able to succeed in the enterprise by concluding the phases of palpation and massage of the protagonist.
Once the heart of the kunoichi is completed, you will be able to see the final cutscene, which will explain to us why Asuka behaves like this.
Other modes
Yes, there are three other game modes, better defined as mini-games, here are what they are:
Dress-Up: in this mode, we will be able to customize Asuka in every smallest detail, from the hair color to the many accessories that our protagonist can wear;
Mini-Reflexology: Similar in all respects to the main mode, except that you can touch the young Asuka inside the school, here you can unleash your inner "Japanese pervert" and act as you please, there will be no consequences;
Diorama: this mode instead will give you the opportunity to recreate a real photographic set, where you can decide from poses to clothes.
Audio and Video Section
Despite the simplicity of the title in question, the animations are very similar to those of the major games on PS4, it is certain that the preponderance of textual phases allows for greater graphic detail.
The audio instead collects some of the most iconic music of the series, we still recommend headphones, the neighbors hearing some noises could get strange ideas ...
DLC, all the other Ninja are coming
In Japan, the DLCs that include Yumi, Murasaki, Ryona and Yomi have already been released, the price to continue playing with them will be around 10 euros.
Senran Kagura Reflexions
For
- Senran Kagura's soul is not distorted
- Not high price
- Good artistic sector
Cons
- Total absence of weft
- Poor and meaningless gameplay
Summary
Senran Kagura Reflexions is a title with a marked Japanese mentality, which finds little outlet in our land. If we then put the total absence of plot and gameplay without rhyme or reason, we soon understand that it is a mere "filler" using anime terms, waiting for the main game (Burst Re: Newal). I only have one word left to conclude this rece: OPPAI !!!
gameplay
Graphics
Sonoro
Longevity
Final judgement