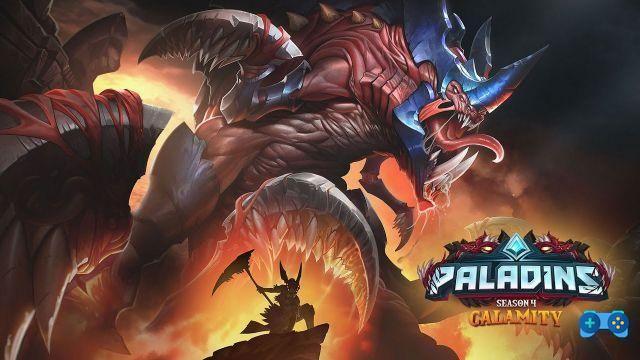 As promised by Hi-Rez Studios, the fourth season of Paladins (titled "Calamity") is available for download on all platforms and adds Yagorath, the new character which was unveiled last month. Along with the new character, the 2021 Season Pass, which sees the addition of new aesthetic objects.
Speaking of Yagorath, it must be said that probably is the largest in size among the Paladins champions and brings with it an absolutely unique style of play. Being the only one among the champions of Paladins a not have a horse, Yagorath has two possible stances in play: the "fixed" and "mobile" form. In fixed form it cannot move in any direction, but it can fire acid in any direction it wants. For those who have played Overwatch, it will suffice to know that the feeling of Yagorath in this form is similar to that of Bastion.
Conversely, when in "mobile form", Yagorath will move inexorably like a deadly wheel on the map and can damage enemies simply by ramming them or sprinkling acid along its path. Returning to Overwatch, this state will no doubt remember the special ability of Junkrat.
Yagorath will have at his disposal three talents to choose from before the game starts. The first is an acid boost that boosts speed by 20% and increases damage by Caustic Spray at 48 and that of Acid Pools at 40. The second talent, Sight Begets Strength, grants allies within range of Primal Vision 100 health and boosts movement speed by 15%. Unnatural Persistence, the third talent, heals by 25 points every quarter of a second while pausing on a goal and for the first second after leaving the goal. The longer you keep it, the more the effect increases.
Paladins: content of the 2021 Season Pass
With regard to the 2021 Season Pass, Hi-Rez Studios revealed two new unique skins: the Limited Soul Stealer Fury and the mount Golden Gryphon. In addition to the two aesthetic pieces mentioned above, you will receive exclusive rare skins, uncommon skins, emotes, MVP poses and instant access talents for all new champions joining the squad in 2021 (including Season 4 Yagorath). Furthermore the Season Pass gives 1500 crystals purchase e 10% more crystals every time you buy them from the store.
Paladins is one free-to-play first person shooter based on heroes and is available for PS4, Xbox One, Xbox Series X / S, Nintendo Switch e PC. More information can be found on the Official site.