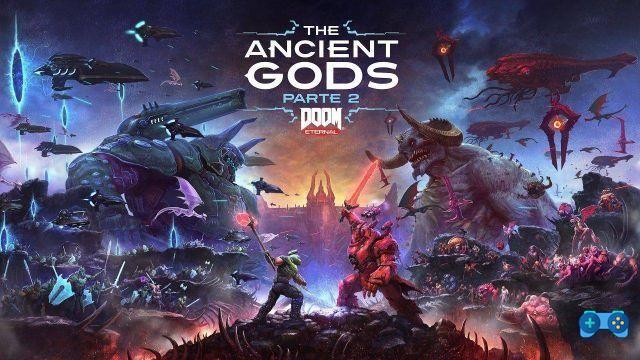 The Ancient Gods Part 2, the epic conclusion of the DOOM Slayer as well as the second expansion of the award-winning campaign DOOM Eternal the 18 March on PC, Xbox One, Playstation 4 and Stadia. Enjoy the conclusion of the Slayer adventure that began in DOOM (2016); his crusade against Hell will reach an epilogue of incredible magnitude and epochal consequences.
You have opposed the gods and awakened an ancient evil. Now you must assemble the armies of the Sentinels, besiege the last bastion of Hell, breach the fortified walls and face the Dark Lord himself. The stake is the soul of the universe.

New worlds
Take on the armies of hell in places never seen before. Explore the ruins of ancient Sentinel settlements, the cosmic wonders of the Spear of the World and the overgrown ruins of a terrestrial city that hide a mysterious portal, and reach Immora, the last stronghold of the Dark Lord defended by gigantic walls and advanced technologies.

New challenges
Get ready to battle deadly new variants of demons, including the all-powerful Armored Baron, the vigorous Stone imp, poisonous cursed predator and Howler zombie, which empowers nearby enemies when killed.

The Ancient Gods Part 2 is included in the Year 1 Pass and the DOOM Eternal Deluxe Edition. It will also be available as a separate purchase. Here is the review of Part 1.
Doom Eternal is available for PS4, Xbox One, PC, Nintendo Switch and Google Stadia.