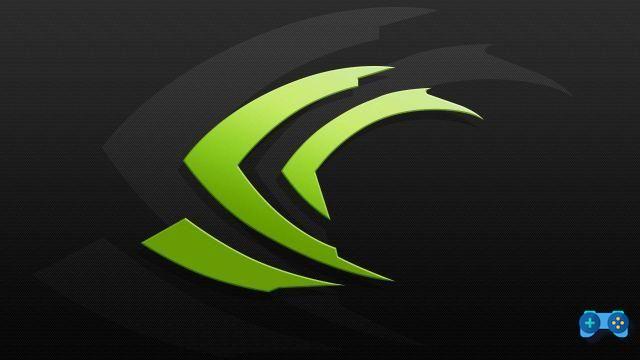 Nvidia just announced the release of the new Game Ready drivers. These drivers, in addition to being important because they introduce NVIDIA Reflex support for Rainbow Six Siege and many other games (more details in the release below), are equally important for users of Ryzen Zen 3 (5000 series) processors because they introduce the Resizable features BAR also on NVIDIA cards.
Resizable BAR is a PCI Express interface feature that allows the CPU to use the entire memory frame buffer of the GPU more efficiently. As you move through a world in a game, the GPU memory (VRAM) constantly transfers textures, shaders, and geometry through many small CPU-to-GPU transfers. With the ever-increasing size of the game textures, this translates into a large number of transfers as until now it was not possible to use the entire memory frame buffer, and it was necessary to "fragment the transfers". Using Resizable BAR, resources can instead be requested as needed and sent in full and if multiple requests are made, transfers can occur simultaneously.
All this translates into an increase, sometimes even considerable, in gaming performance.
In order to enable the new feature, in addition to having a compatible Ryzen processor, the latest BIOS for your motherbard and the latest updated GPU drivers, you also need a firmware update of your NVIDIA 3000 series graphics card which can be downloaded here.
If you need help with the installation, we invite you to join our telegram channel, or ask for help on our Facebook group.
For all other details on the new drivers, please refer to the press release below:
NVIDIA's new Game Ready Driver adds NVIDIA Reflex support for Rainbow Six Siege, reducing system latency by up to 30%
NVIDIA continues to work hard to provide significant updates for GeForce GPU owners and this week it will be NVIDIA's new Game Ready driver to bring some exciting news, especially for all fans of Square Enix's title, Outriders, and Tom Clancy's Rainbow Six: Siege.
Tom Clancy's Rainbow Six Siege, the super popular tactical first-person shooter video game, has received a patch that adds support for NVIDIA Reflex, a technology that reduces system latency for millions of GeForce players. Simply download and install the new driver and patch to allow GeForce gamers who are passionate about Tom Clancy's Rainbow Six: Siege to activate NVIDIA Reflex and enjoy up to 30% lower system latency for faster shooting, more enemy detection. simple and greater competitiveness.
Additionally, the driver will allow GeForce gamers to be ready for the arrival of NVIDIA's DLSS in Outriders when the game launches on April 1st, giving them the ability to maximize image quality settings.
Is your Rainbow Six: Siege team playing GeForce RTX GPUs? They just got better!
The addition of Reflex is essentially a free upgrade for a huge number of GeForce gamers. System latency (often referred to as "input lag") is a major factor affecting the responsiveness of any type of game. And, when playing esports, low system latency can increase competitiveness.
Being a split second delay when you pull the trigger makes the difference between winning or losing, therefore, reducing system latency can prove to be a huge benefit for Rainbow Six Siege players. Thanks to NVIDIA Reflex, system latency is significantly reduced - up to 30% in the Vulkan version of the game.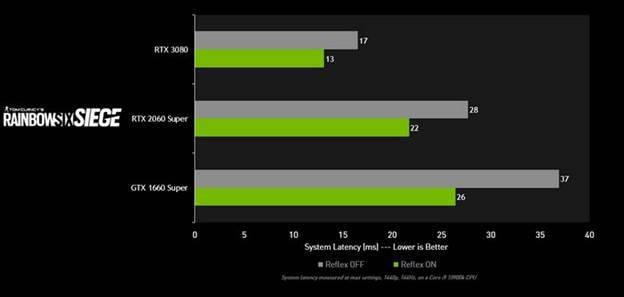 With the addition of Tom Clancy's Rainbow Six Siege, 7 of the 10 most popular shooters are now available with NVIDIA Reflex support.
In almost all sports - golf, racing, football, etc. - the right equipment can be decisive for competitors in reaching their maximum potential. The same goes for esports - better GPUs, displays and peripherals can help you respond faster and more accurately to opponents.
NVIDIA Reflex provides a free upgrade for almost all GeForce gamers by reducing latency and improving responsiveness of GTX 10 series GPUs and the latest GPUs for Vulkan games. In fact, the benefits of reducing latency are typically higher for low-end hardware.
Increase your graphics settings in Outriders, thanks to NVIDIA's DLSS!
Outriders is a single-player or cooperative role-playing shooter that launches on April 1st, but GeForce players are ready and waiting to begin the gaming experience. By installing our new Game Ready driver, Outriders' performance will be optimized; in addition, the driver also supports NVIDIA's DLSS which will support the game, greatly increasing performance.
Other outstanding features
What we have just told you is just the tip of the update iceberg. NVIDIA's latest Game Ready driver also includes:
Optimizations and improvements for new games, including:
DIRT 5's - ray tracing update
Evil Genius 2: World Domination
KINGDOM HEARTS Series
Resizable BAR on all GeForce RTX Series 30 desktop graphics cards
Beta support for virtualization on GeForce GPUs
5 new G-SYNC compatible gaming monitors including:
Asus XG16A
Dell S2522HG
LG 7GP850 / 27GP83B
LG 32GP850 / 32GP83B
Xiaomi Mi 245 HF1
15 new optimal game settings profiles through GeForce Experience's one-click feature, including:

Aron's Adventure
Balan wonderworld
Blizzard Arcade Collection
Creeper World 4
Evil Genius 2: World Domination
KINGDOM HEARTS HD 1.5 + 2.5 ReMIX
KINGDOM HEARTS HD 2.8 Final Chapter Prologue
KINGDOM HEARTS III + Re Mind (DLC)
Last Cloudia
Mr. Prepper
Old School RuneScape
Or up!
Outriders
Persona 5 Strikers
The Fabled Woods
Related Links:
Game Ready Driver for Outriders on GeForce.com: https://www.nvidia.com/en-us/geforce/news/outriders-game-ready-driver
Tom Clancy's Rainbow Six: Siege gets Reflex on GeForce.com https://www.nvidia.com/en-us/geforce/news/rainbow-six-siege-reflex-out-now
Tom Clancy's Rainbow Six: Siege Reflex video on YouTube: