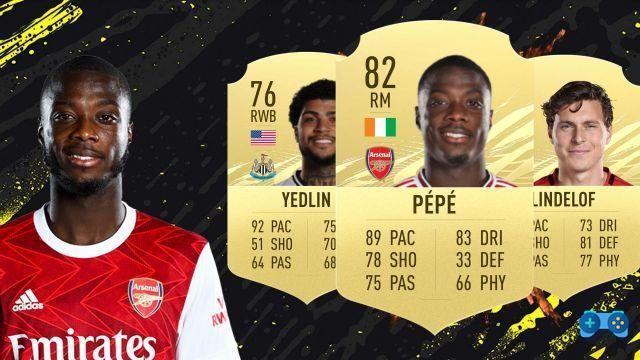 By now FIFA 21 has been available for several days. Those who cannot yet afford (except by using FIFA Points) the best players available on the market, can rely on an effective and economical solution. We are talking about the so-called bugged players. That is to say those players who sometimes have (sometimes not) good characteristics, a relatively low overall, a low price but very high performance, sometimes even superior to the most famous players. Have these players on your team FUT Ultimate Team (in this case the most buggy of the Premier League) can often make the difference between a sound defeat or a sweet victory, so we have decided to list some of these with their prices.
We remind you that you can find us on: Instagram, Facebook, Telegram e Twitch - (if you want to subscribe).
It might interest you:
How to recognize a Walkout
Advice on buying and selling
The best Ones to Watch (OTW) to bet on
The cheapest Serie A players to start
The cheapest La Liga players to start
How to start earning credits with the Web App and the Companion App
The cheapest Premier League players to start
The cheapest Bundesliga players to start
The best team in La Liga for 100.000 credits
The best team in Serie A for 100.000 credits
Eight economic "beasts" absolutely to buy
The best team in the Premier League for 100.000 credits
The most buggy players in the Bundesliga
The strongest Premier League / Ligue 1 / La Liga hybrid team for 200.000 credits
The strongest team in Serie A
Please note: - next to each player you will find the relative purchase price. The one on the left refers to the PS4 version, the one on the right, the Xbox One version!
Please note: The price is subject to change.
Goalkeeper
Let's start with the goalkeeper. Mendy (OV 79) of Chelsea, at least on paper, it doesn't look exceptional. It has only one value 80+. But thanks to his height (a whopping 197 cm) he is one of those unpredictable players. Between the posts it can make a real difference. The cost? 550 / 550 credits.
Alternative: areola (OV 82) of Fulham. Three values ​​above 80. He may really be the most buggy player in the BPL. Cost: 1.900 / 2.300 credits.
Left backs
Van Aanholt (OV 77) of Crystal Palace. Definitely more offensive than defensive. He can boast a nice 86 of speed and a decent dribbling. Cost: 1.100 / 1.100 credits.
Alternative: Konstantinos Tsimikas (OV 76) of Liverpool. He has the same speed as Aanholt but a bigger physique, which with the right chemistry style can really make him a tough opponent even for the strongest striker in the game. Cost: 850 / 950 credits. Practically given as a gift
Central defenders
Robin Koch (OV 76) of Leeds United. It excels in nothing except for its ridiculous price to say the least: 650/700 creditthe. He has a decent body and defense. Mason Holgate (OV 77) ofEverton. Slightly more handsome than Koch, with his 77 defense. Its price? 750 / 600 credits.
Alternatives. Victor Lindelof (OV 80) of Manchester United. Not exceptional speed, 72 but excellent defense, 81. Its higher price than the previous two DCs but still within reach: 2.200 / 2.800 credits. Fikayo tomori (OV 76) of Chelsea. Fast defender, 80 speed but in terms of defense and physique it does not differ particularly from the first two recommended. Price: 3.000 / 3.200 credits.
One of the buggies par excellence is Nathan Aké. The Chelsea center-back has only an OV of 76 but is incredibly strong. The price, 5.900 / 4.400 credits make him incredibly appetizing for anyone looking for a great central defender.
Right backs
Deandre Yedlin (OV 76) of Newcastle Utd. A very fast full-back (he has 92), good dribbling for a defender (75) and a decent body (70). The price is too tempting not to give it a chance: 900 / 850 credits. Alternatively, even if it has pretty much the same stats, Ryan Fredericks (OV 76), player of the West Ham. Slightly higher price, 1000/1200 credits.
Midfielders
Marvelous nakamba (OV 75) ofAston Villa. It doesn't excel in any specific area but overall it's a good CDC. The price is low: 450 / 600 credits. André-Franck Zambo Anguissa (OV 77) of Fulham. Really great stats for the price you could buy it at, 750 / 800 credits. In particular, he has a physique of 82, which makes him difficult to move.
Alex Oxlade-Chamberlain (OV 79) of Liverpool. Having become CC for a few years now, it has stats that could make it a real nightmare for opposing defenses: 80 speed, 83 dribbling and a decent 78 passing. Don't be fooled by the other stats, good Alex is a must have CC. Price: 1.000 / 1.200 credits.
Alternatives: Jean-Philippe Gbamin (OV 78) ofEverton. Another CDC, quite fast and with a good physique. Gedson fernandes (OV 758) of the Spurs. Price 1100 / 1200 credits. Mario lemina (OV 77) of Fulham. The former Juventus has decent stats that make him a well-rounded player. Low price: 500 / 550 credits.
In case you want to use the COC in this team of the most buggy of the Premier League, we recommend: James Maddison (OV 81) of Leicester City. Price: 1400/2300 credits e Miguel Almirón (OV 81) of Leicester City. The latter is priced at 900 / 1.000 credits. They differ slightly, the first net of a not particularly exciting speed, he can boast a dribbling of 82 and a pass of 84. Excellent for serving the attackers launched towards the net. The second, on the other hand, is a COC that focuses a lot on speed, 89 and on a still good dribbling, 80.
Right Wings
Indisputable choice: Takumi Minamino (OV 77) of Liverpool. Price: 950/1000. Burning sprint and good dribbling make him an excellent player to use both as a starter and as a super sub.
Alternative: Nicolas Pepè (OV 82) ofArsenal, price 4.600 / 4.800 credits.
To these is added: Adama Traore. A force of nature. It is cheap: 1.600 / 1.600 credits but it will drive your opponents mad. Don't be fooled by the 66 shot, Adama is a sniper. Ballon d'Or for this year's BPL buggy.
Left Wings
Diogo Jota (OV 80) of Liverpool. Left wing of quality, he does not focus on speed (83) but thanks to good dribbling (84) and good values ​​in: passing, physique and shooting he can really be the extra weapon. Price: 3.400 / 4.500 credits.
Alternative: If you are looking for more speed we recommend instead Daniel podence (OV 78) of Watford. Very fast and with an intoxicating dribbling. Price: 2.900 / 3.400 credits. Allan Saint-Maximin, now drastically dropped in price, is the most valid alternative if you do not want to spend a fortune on other players in the same role. Cost: 5.900 / 4.600 credits.
Forwards
Finally, let's move on to the hot pot, the most buggy strikers in the Premier League. Ollie watkins (OV 76) ofAston Villa. Slightly flawed in shooting but has a nice 4 * weak foot. Price: 700 / 750 credits.
Alternative: Dominic Calvert-Lewin (OV 79) ofEverton. Fast at the right point and physically good enough to make him a real thorn in the side for the opposing rearguard. Price: 1.200 / 1.600 credits. Michail Antonio (OV 78) of West Ham. Good Michael must never be missing from a BPL. 85 speed and 84 physique make it a real bomber. Price: 2.000 / 3.000 credits. Rodrigo it has an Overall superior to the previous ones, but it is comparable to a real top player. He scores from every position and has an incredible shot. There is no defense that holds up. Cost: 1.300 / 1500 credits.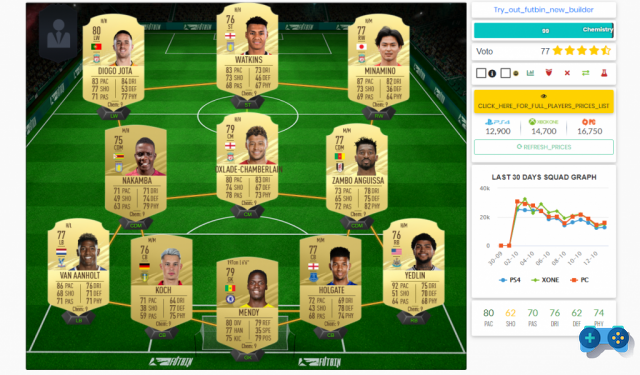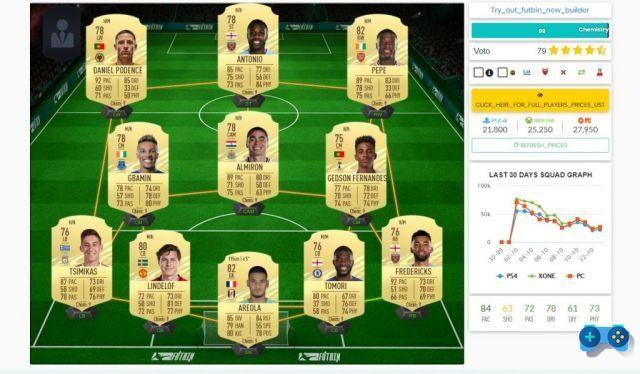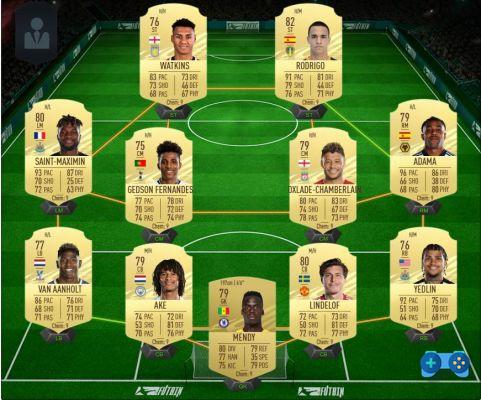 That's it for the more buggy players in the Premier League