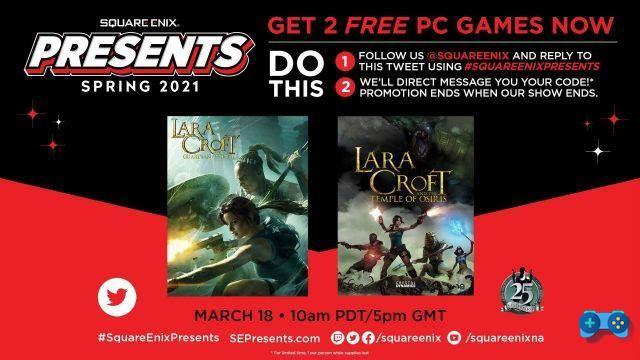 Today, as we have reported, there will be the event in live streaming Square Enix Presents. It will be presented by the voice actor Matthew Mercer, conductor of Critical role, who also participated in the dubbing of some titles, including Final Fantasy Type-0.
Surely there will be announcements and waiting for the event it will make you happy to know that the Japanese software house has initiated a rather interesting initiative to celebrate the quarter century of his heroine: Lara Croft. Indeed, it will be possible to receive two titles of the famous Tomb Raider saga for free: Lara Croft and the Temple of Osiris e Lara Croft and the Guardian of Light, published in 2014 and 2010 respectively.
Of course, these are not the latest games dedicated to the saga but a gift (or rather two) is still a gift.
To get them, just follow the official account: @SquareEnix and reply to the tweet with the hashtag: #SquareEnixPresents
We remind you that the Square Enix Presents event will be held at 18 today.
GET 2 FREE @TombRaider PC GAMES NOW

? Follow us @SquareEnix
? Reply to this Tweet with #SquareEnixPresents

Do the above, like magic, we'll send you a code for both games to your DM. That's it, go go go! pic.twitter.com/9DsdzhhWt5
- Square Enix (@SquareEnix) March 17, 2021