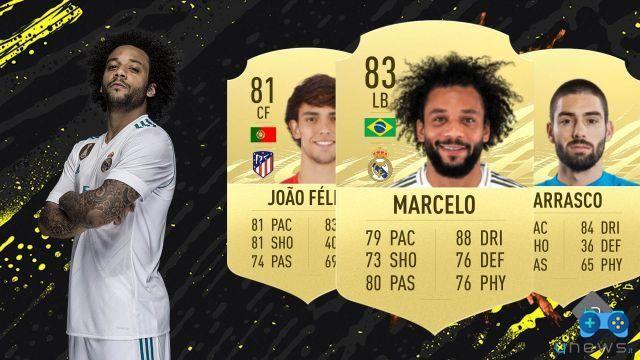 Among the best leagues to aim for in FUT- Ultimate Team mode di FIFA 21, there is the Liga. A championship that perhaps has lost a few "ninety" pieces but which remains very attractive for all FIFA fans.
If you are looking to build the best training in the Spanish league, with a budget of just over 100K, you are in the right place. In fact, we have selected the best squad achievable with this budget, to be precise 95.350 credits if you play on PS4 and 77.950 if you play on Xbox One. We remind you that the price of the players will change as the days and weeks go by.
Please note: - next to each player of the Liga team you will find the relative purchase price. The one on the left refers to the PS4 version, the one on the right, the Xbox One version!
It might interest you:
How to recognize a Walkout
Advice on buying and selling
The best Ones to Watch (OTW) to bet on
The cheapest Serie A players to start
The cheapest La Liga players to start
How to start earning credits with the Web App and the Companion App
The cheapest Premier League players to start
The cheapest Bundesliga players to start
The best team in the Premier League for 100.000 credits
Eight economic "beasts" absolutely to buy
The best team in the Premier League for 100.000 credits
How to make a lot of credits with flipping
The most buggy players in the Bundesliga
The strongest Premier League / Ligue 1 / La Liga hybrid team for 200.000 credits
The strongest team in Serie A
Formation: 4-2-3-1
Goalkeepers:
Aitor (OVR 83) - 1.700 / 1800 credits. Good goalkeeper with three values ​​80 +
Defenders:
Marcelo (OVR 83) TS - 3.200 / 4.000 credits - the Real Madrid full-back received a reduction in the overall overall. However, it can boast excellent statistics, especially defensive and well 5 * skills and 4 * weak foot. Recommended again to increase speed or Spine if you prefer defensive stats.
Nacho fernandez (OVR 80) DC - 3.600 / 2.900 credits. Great for getting along with Marcelo. He has excellent defensive and physical attributes. With Ancora or Ombra it becomes a real wall.
Mario Hermoso (OVR 80) DC - 4.900 / 3.200 credits. Good defender, not very different from Fernandez except for a slower speed.
Sergi Roberto (OVR 83) TD - 2.400 / 2.900 credits. Right-back purely defensive but also discreet in offensive maneuvers.
Midfielders:
Thomas Partey (OVR 84) CDC - 27.000 / 23.000 credits - The former Atletico Madrid "beast" moved to Arsenal a few days ago. However, its card is still widespread in the Spanish market, so it remains a very valid option. It can boast as many as four 80+ features. Defensively a wall, thanks to the defense of 82 and the physical 85. Also good in proposition as he has dribbling and passing equal to 81.
Yannick Carrasco (OVR 82) COC - 4.300 / 2.800 credits. After the Chinese interlude, Carrasco returned to Atletico Madrid. He's not a real midfielder but in that position he can make a difference. Recommended!
Marcos Llorente (OVR 82) COC - 16.750 / 9.500 credits. Another Atletico Madrid player. Technical and defensively skilled, do you need more?
Saul (OVR 84) COC - 4.000 / 4.600 credits. Low speed, but stats like a real killer midfielder.
Sergio Busquets (OVR 87) CDC - 14.500 / 15.750 credits. The good Sergio has a speed that is ridiculous to say the least, 42, but if assisted by good defenders (such as those we have recommended), he can easily assert himself in midfield, especially in the defensive phase.
Alternative as COC: Fekir - 6800 / 4900 credits. One of the most used players as a super sub in FIFA. Certainly with more natural characteristics to fill that role than Carrasco.
CDC alternative: Casemiro - 28.000 / 30.000 credits. Great alternative to Partey who moved to England. He has 86 defensive and 91 physique, a small "bedside table" difficult to counter. The realization phase is discreet, 73 shooting.
Forwards:
Joao felix (OVR 81) ATT - 13.000 / 7.500 credits. A real goal machine. 5 * skills and 4 * weak foot. Joao is definitely the perfect striker for La Liga.
Alternative: Williams. It costs a little more, 23.500 / 15.000 credits but it has a monstrous speed to say the least.
With Joao Felix at the helm and a solid five-man lineup in midfield, this La Liga squad is a fantastic option for those who like to build an attack with short, quick passes. Carrasco and Llorente are fast, Saul and Busquets are slow and Partey is somewhere in between. But together, they create a perfect alchemy enough to make the team in question incredibly versatile and, with some world-class defenders in the back, this La Liga team, when in the right hands, can truly work wonders.