The best Microsoft Office alternatives for home and office. Here is a selection of the best free programs that can replace Office in all respects.
Microsoft Office remains the most popular productivity suite for documents, spreadsheets, presentations and more, but if you're looking for valid free alternative to Microsoft Office, then I suggest you get comfortable and continue reading this guide.
The best Microsoft Office alternatives for home and office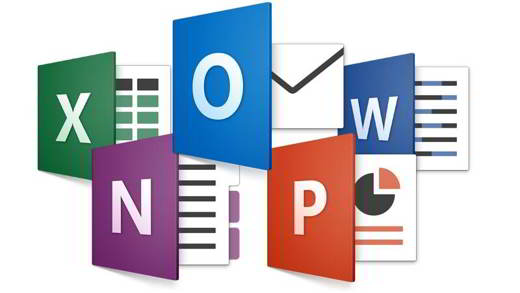 Often and willingly, the licensing rates for office alternative software to Office are competitive and in some cases even free. However, paying less, or nothing, does not necessarily mean that the software is of inferior quality, as the open source community can testify.
You may find problems with sharing documents between different office suite platforms, which could be a serious problem. A specific example concerns the saving of a document in .doc or .docx format in a free platform such as open Office which may not retain its formatting when loaded into Microsoft Word, although the file type shouldn't be an issue.
This is why when choosing the best Microsoft Office alternative, you need to be certain of any shortcomings that might limit your use of the software, especially if you need to share or collaborate on documents with other users who have one or more different office suites.
If you're using the office alternative as standalone software, there shouldn't be any such problems, but it's something to be aware of if you end up switching to a different software suite.
Said this, the best alternatives to Microsoft Office for home and office they are generally powerful programs with full functionality and file sharing problems with other platforms. Here we will show their strengths and weaknesses.
1. FreeOffice (Windows, Linux, Android)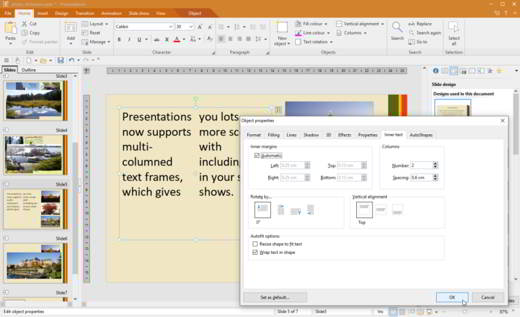 The best alternative to Microsoft Office.
For
Interface very similar to that of Microsoft Office
Touchscreen compatibility
Cons
FreeOffice is a simple and free alternative to Microsoft Office. This is a complete office suite that can be used free of charge both at home and in the workplace. It was developed by the company SoftMaker and it works with both Windows, Linux and with Android.
It has an interface very similar to Office and is compatible with all Microsoft Word, Excel and PowerPoint formats. This means that you can not only view but also save files in DOCX, XLSX e Pptx. It also supports older formats such as: PPT and XLS.
The new interface is very similar to that of Microsoft Office and in addition gives the possibility to work with modern or classic menus and toolbars. For those users who have touchscreen PCs, you can use the touch mode with larger icons. This mode is available in both the latest version of FreeOffice and the classic menu-based interface.
To download FreeOffice you must first register an account on the official website.
2. LibreOffice (Windows, macOS, Linux, Android)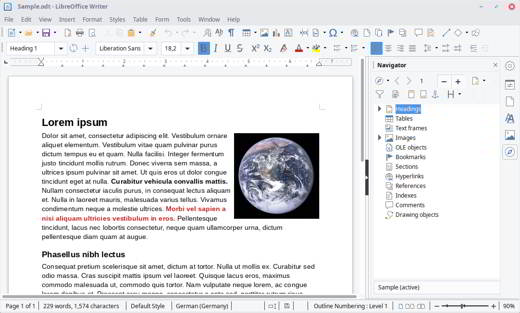 A light and flexible suite.
For
Open source
Cross-platform
Cons
Some compatibility issues
LibreOffice is the fruit of The Document Foundation who separated from OpenOffice in 2010. The suite is free and open source. It consists of a word processor, spreadsheet and presentation software, and is available in 110 languages.
LibreOffice uses the format ODF (OpenDocument), but it also supports a range of other format types such as those used in Microsoft Office. LibreOffice is the default suite for most distros Linux and is also available for use on Windows e MacOS. There is also a LibreOffice viewer for Android.
As with most open source software, all of your technical support is online, but because it's easy to use support will rarely be needed. The platform also offers the option to export your files in PDF format.
You can add extra features to LibreOffice via extensions from its website. These include extra templates for documents.
Although it has even smaller download sizes than Microsoft Office, LibreOffice weighs 228 MB, so it's still a large enough suite to install.
One of the biggest criticisms leveled with this software is that if you create a document within its word processor and open it in a Word document, you may have problems with fonts and formatting.
3. WPS Office (Windows, Linux, Android, iOS)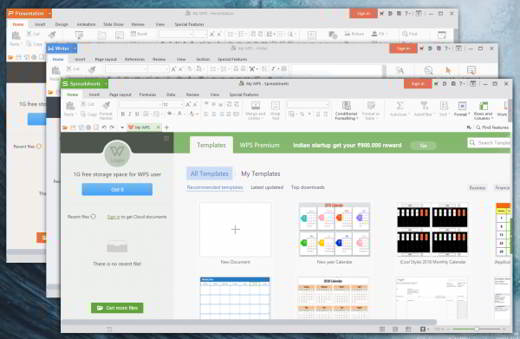 It is free but with advanced features for subscribers.
For
Generous free tier
Multilingual support
Cons
WPS Office was released in 2016 by the Chinese software developer Kingsoft. It is an office suite available for Windows, Linux, Android and iOS. The suite is in English, French, German, Spanish, Portuguese, Polish and Russian.
It offers a free tier and a premium tier. The free tier allows you to use Writer, Presentation e Spreadsheets, which are alternatives to the Microsoft Office suite, which it looks a lot like. WPS offers a too PDF to Word converter, fast and easy to use. It supports bulk export and can also split PDF files if needed.
The suite offers 1 GB of free cloud storage for iOS and PC users, but this service is not yet available for Android.
The "Premium" tier costs $ 29,99 per year and allows the user to connect up to 9 devices simultaneously. It also eliminates all those annoying advertisements that are commonplace in the free version.
WPS does not allow users to collaborate on the same document both in tracking changes and in inserting comments. Furthermore, the interface is rather slow when it comes to loading documents.
Linux users have said that not all fonts are included automatically and that they need to be installed separately, while Android users have repeatedly begged developers to make the app lighter.
4. iWork (macOS, iOS)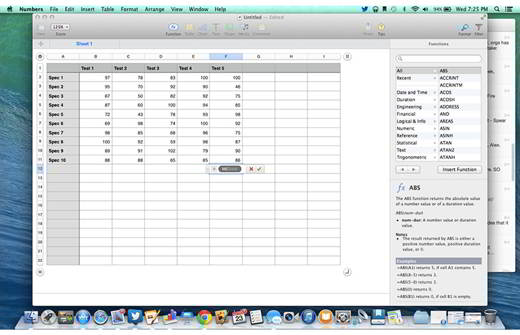 An excellent office suite, free and easy to use.
For
Cons
iWork is Apple's alternative to Microsoft Office. Is composed by Pages, Keynote e Numbers. These are basically equivalent to Word, Power point ed Excel. It's macOS exclusive for a local installation, but there are cloud versions that can be enjoyed by users of other platforms.
iWork it is much lighter than MS Office and fits most users. There are many features in MS Office, by experts, that most users don't even know exist, that's why a simple interface with tabs and features, like iWork, could make it much easier for the newbie.
iWork is free and can be downloaded from the App Store on your Mac. There are three separate apps, each for word processing, preparing presentations, and creating spreadsheets. Numbers, Apple's spreadsheet alternative, offers a blank canvas to get you started instead of the famous grid on the Excel spreadsheet. It eliminates that feeling of being a ledger and is very easy to use for adding images, tables and charts.
The word processor, Pages, it is very intuitive and is perfect for simple documents without all those options existing in MS Word. Pages also allows users to collaborate on their work and has now added a feature that it supports EPUB, which can be created and shared on iBooks if you see fit.
The presentation app, Keynote, the best alternative to Power point by online users as it is easy to use. Create beautiful presentations without the hassle of associating them with PowerPoint.
MS Office may not be able to open documents created in iWork, but all iWork applications can export files to other formats compatible with other suites.
5. Calligra (Windows, macOS, Linux, Android)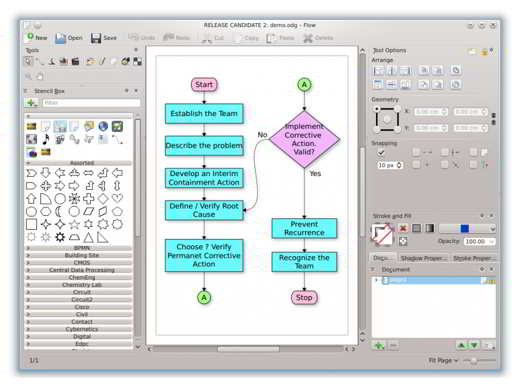 A free office suite with some excellent advanced features.
For
Software open source gratuito
Mind-Mapping and project management tools
Cons
Compatibility issues with MS Office
The suite Calligra was initially released in October 2000 as part of KOffice. It is an office suite developed by KDE as well as being suitable for graphic design. It is available on Linux, MacOS, Windows e Android.
Calligra is a free and open source software suite and can be downloaded directly from the official Internet page or the KDE download page. It is completely different from LibreOffice.
While LibreOffice has the familiar MS Office look, Calligra does not. Many of the usable function tabs are set on the right side of the screen and not on the top like MS Office and other office suites. This means that the page you are editing does not take up the entire screen.
One of the extra features that sets Calligra apart is that it offers a mind-mapping tool and project management. Usually all of this has an additional cost in the other suites.
Calligra allows you to read formats DOCX e DOX but you cannot edit them. This could lead to difficulties if your contacts send you Microsoft Office documents, so ask them to use a different format, such as ODT (Open Document Text).
6. OfficeSuite (Windows, Android, iOS)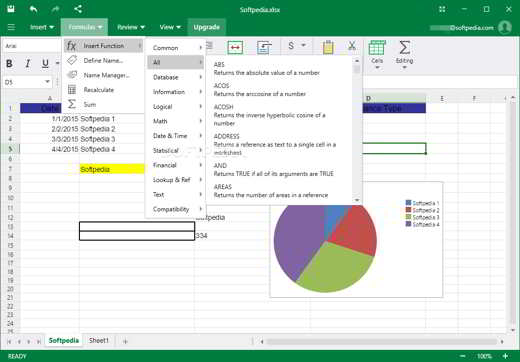 It has some excellent editing tools for those willing to pay.
For
Allows synchronization between devices
Free
Cons
OfficeSuite is an application developed by MobiSystems and is available for Android, iOS e Windows. Devices made by Amazon, Toshiba, Sony and Alcatel come with OfficeSuite pre-installed. The Android app was named one of the best apps for business.
You can sync your devices using your account OfficeSuite and only one license is required.
It has several levels to choose from:
The level "Base"Is free and allows users to view and edit Word, Excel and PowerPoint documents. The suite has full compatibility with most formats such as ODT, RTF, CSV, DOC and ZIP. The free tier also allows users to view PDF documents and offers cloud support through services like Dropbox, OneDrive, and Google Drive.
The level "Staff"Enables the suite on a desktop, a tablet and a phone. This level costs $ 29,99. It has all the free tier it can offer along with the ability to track changes, export PDFs to other editable formats, and advanced PDF features, such as digital signatures and passwords.
The level "Group"From $ 49,99 per year, allows you to use OfficeSuite on five desktops, five tablets and 5 phones.
The level "Business"Offers up to 100 licenses for $ 3,99 per user per month.
OfficeSuite has received a lot of praise online, but has also been criticized for pushing users to purchase premium subscriptions.
7. Polaris Office (Windows, macOS, Android, iOS)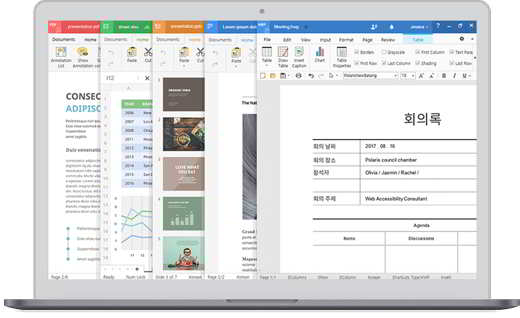 Use the Polaris arsenal of tools to edit and create multiple file types.
For
Excellent free level
Multiplatform
Cons
Polaris Office was developed by Intraware and was initially released in March 2014. It is a free office suite available for Android, iOS, Windows and macOS. It appears to be a popular suite among businesses and is also used by Amazon and Samsung.
While the free version is very generous, there is an enterprise version that you can upgrade to. For information on costs, a "Purchase requisition formWhich can be found on its official website.
With this powerful suite you can edit several file formats, including PPT, XLS, DOCX e HWP. As your account syncs between your devices, you will be able to edit and create files wherever you are. All your data will be protected by AWS (Amazon Web Services).
With the latest edition of Polaris it is now possible to convert and edit PDF documents. Users can also convert voice and image files into documents if needed. The suite supports multiple languages ​​such as French, German, Korean, English and Russian.
The only real criticism about Polaris is that while the free edition offers a wealth of features, the advertisements can be a little distracting at times.
8. OnlyOffice (Windows, macOS, Linux, Android, iOS)
A useful range of features for users who don't need extensive documentation.
For
Free and open source
Great free version
Cons
only Office is an open source office suite developed by Ascensio Systems SIA. It is available in over 22 languages ​​and boasts Oracle as one of its major customers.
The completely free version, known as "Community Edition", Is particularly suitable for small businesses and allows up to 20 connections at the same time. This suite not only offers the usual features like word processing or spreadsheets, but is very useful in relation to order fulfillment and sales documentation.
The handy calendar function allows the user to keep up to date with personal and work-related activities, as well as keep an eye on deadlines. Third party integration is also supported. You can create your mailboxes with the "Mail".
As with other office suites, there is the ability to create and edit documents, spreadsheets and presentations. Users can collaborate on projects and comment on files if needed.
Users have reported that the support is difficult to contact and that the online chat used to provide assistance is not easy to find.
9. WordPerfect (Windows)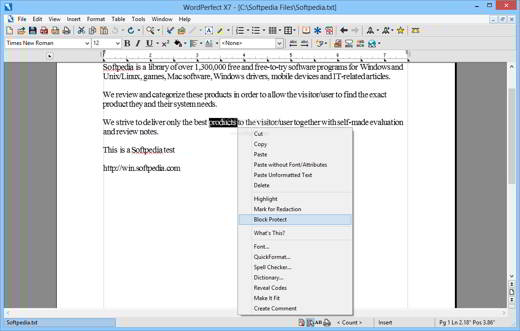 WordPerfect proves that there is no school like old school.
For
Free trial version
Compatible with MS Office
Cons
The user interface is cluttered
Expensive
WordPerfect was developed by Corel about 40 years ago and is only available on Windows. It was most popular in the 80s where it was known for its DOS and Microsoft Windows versions. It was soon eclipsed by Microsoft Office upon release.
It is an all-in-one office suite. The standard edition costs $ 432 for the full version. It offers its own word processor, spreadsheet program, and slideshow creator. The latest version now includes improved photo editing and management. WordPerfect offers a free trial version that you can download from the main site.
Like other suites, it can save files in many formats, such as DOCX, PDF e HTML. Common file extensions for WordPerfect files are Wpd. It also offers ebook publishing and macro management.
The PDF function allows users the ability to edit and fill out forms via PDF, as well as change the appearance of the form, eg. font color. WordPerfect supports opening multiple documents at the same time.
Online reviews have criticized the user interface saying that it is not easy to use and can cause problems with fonts. Sometimes it is also necessary to delve into the manual to solve some problems.
10. OpenOffice (Windows, macOS, Linux, Android, iOS)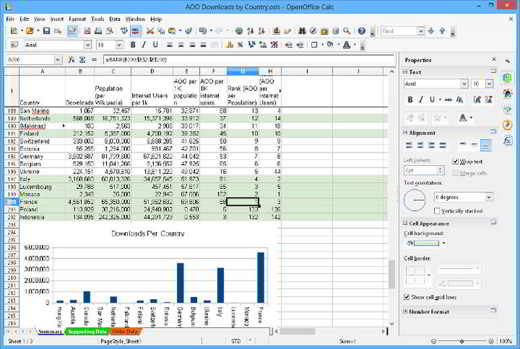 An easy to use and reliable productivity suite.
For
Consistent performance
Free and easy to use
Cons
Rudimentary presentation templates
OpenOffice (AOO) is an open source office suite available on all platforms. With over 20 years of development behind it, the suite delivers consistent all-round performance.
Come LibreOffice, OpenOffice use the format Open Document (ODF). It can view and edit a large number of other file types, especially MS Office files. OpenOffice cannot save or edit documents using the XML open to you. DOCX. However, you can open these files and save them in a different format.
As this is an open source suite, anyone with the know-how can suggest improvements or fix any bugs. As with other open source applications, it has a large online community who is always willing to lend a hand to other users.
The formula tool, math, has the basic functionality needed to calculate equations, and is not for advanced users. OpenOffice has the ability to create basic presentations via Impress, but there are very few design templates compared to PowerPoint.
Click here to download Open Office for Android. To download it on iOS devices, the app is called instead Office 700.
Other Microsoft Office alternatives to consider
Here are other free office applications for word processing, spreadsheets and presentations.
G Suite by Google Cloud is a free office platform from Google. The G Suite still doesn't have the reputation for office applications that Microsoft Office does, yet there are some really cool ones. Eg, Google Docs in G Suite allows for group collaboration on documents, a feature that usually comes at a premium price from Microsoft. Plus, G Suite apps save everything to the cloud using G Drive, so your documents can be easily synced between any device. G Suite works as a web application rather than downloaded software, meaning it's accessible from any device, giving you a cross-platform advantage. There are professional and business upgrade options from the basic platform, available for $ 5 per month for the Professional edition, up to the one for business users for the price of $ 10.
Microsoft Teams is a free office suite from Microsoft, offering basic versions of Word, Excel, Powerpoint and OneNote from the Office 365 suite. Everything is done online from the Microsoft cloud, Sky Drive, with a maximum of 2 GB of storage per user. Surprisingly, there are also collaboration options available, so don't think you need the premium Office 365 suite for business use. Unsurprisingly, however, Microsoft wants to push users to upgrade to Office 365, which is available at $ 5 per user per month for the Business Essentials package and $ 12,50 for the Business Premium package and features.
Zoho Office is another office suite worth considering as a Microsoft Office alternative. Zoho Office is a fairly competent software suite that includes word processing like Zoho Writer, spreadsheets like Zoho Sheets, and presentations through Zoho Show. All applications run online through the cloud, and collaboration options are also available. The pricing is free for individuals and small teams of up to 25 people, though Standard and Premium Business upgrades are available starting at less than $ 5 per user per month.