Bethesda has gone to great lengths to make a range of videogame gadgets inspired by its most famous games, perfect as Christmas gifts. Let's see what they consist of, dividing the offer according to the "needs of the demanding gamer".
For the die-hard Doom collector
DOOM Helmet Collector's Bundle (DOOM CLASSIC HELMET - COLLECTOR'S PACK) - 139.99 €
The first UAC portal to hell opened in 1993.
The demons swarmed the labyrinthine corridors of Phobos, moon of Mars. And, on that occasion, the players took down imp, pinky and barons for the first time. Two decades later, DOOM's music, level design, multiplayer deathmatches, mods and other innovations still hold a special place in the hearts of players. This special series of collectibles will revive the glorious beginnings of the destroyer of hell.
This set, limited to 20.000 pieces worldwide, contains:
Doom Classic wearable helmet
Doom Floppy Disc Pin
Doom Classic cover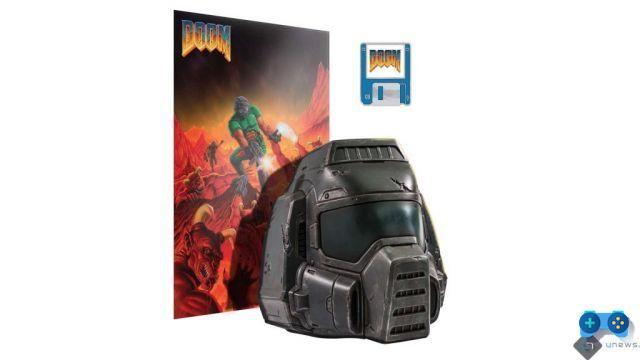 To fight thirst with Bethesda ...
Fallout Replica 'Nuka Cola Mini Bottles' Series 2 Blind Box (FALLOUT - "NUKA-COLA MINI BOTTLES" SERIES 2 REPLICA SURPRISE PACKAGE) - 9.99 €
Exploring the Wasteland makes you thirsty!
Luckily, Nuka-Cola has so many flavors. The collection can be inaugurated with 5 different Nuka-Cola mini bottles (including Nuka Cherry, Nuka Mix, Nuka Orange, Nuka Grape and Nuka Quartz). A surprise bottle in each package. Each bottle is approximately 10,5cm tall and is made of plastic. Manufactured by Development Plus Inc.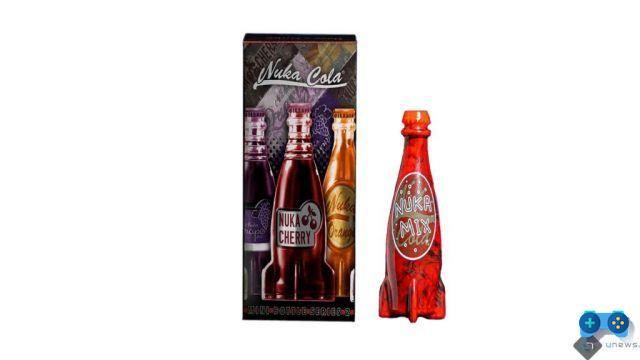 For Skyrim fans
The Elder Scrolls V: Skyrim statue of 'Alduin' McFarlane - 39.99 €
Alduin, the famous dragon known as "the devourer of the world" is now available in a deluxe scale action figure, produced by McFarlane Toys. The statue represents Alduin in flight with a gigantic wingspan of approximately 38 cm (14.9 ″ inches) mounted on a decorative base.
For the Bethesda wardrobe
DOOM "Classic Logo" T-Shirt (DOOM - "CLASSIC LOGO" T-SHIRT - 19.99 €
Few video game logos are as well known as DOOM, the first person shooter par excellence, forerunner of an entire genre of games. High quality screen printing, 100% non-shrink cotton (the fabric retains its shape even after several washes). Produced by Gaya Entertainment.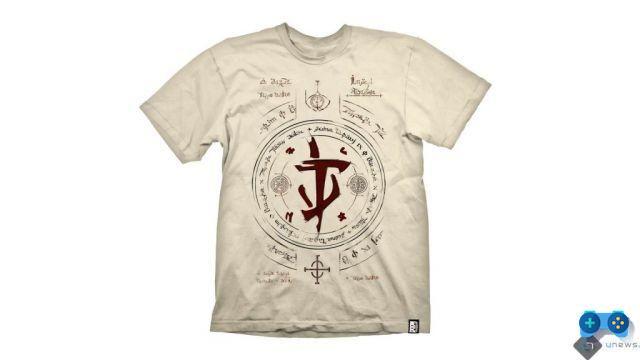 For the collector who loves "cute and deadly" together ...
DOOM Figure: "DOOM Marine" 9 "w / Sound (DOOM - ACTION FIGURE" DOOM GUY "23 CM WITH SOUNDS) - 39.99 €
Previously known as the game's collectible, this adorable one DOOM Marine of 23 cm he came to life and is equipped with movable arms, just like his virtual alter ego. By pressing his chest, you can feel the start of the famous E1M1 theme! Produced by Gamingheads.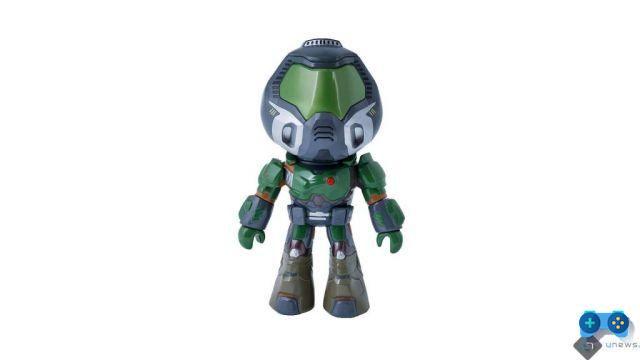 For those who want to keep their salary safe from demons ...
DOOM Wallet 'Logo' (DOOM - "LOGO" WALLET - 9.99 €
DOOM's Logo Wallet is a premium quality product made from black faux leather and features a receipt divider, separate coin compartment, eight card slots and a window compartment. Produced by Gaya Entertainment.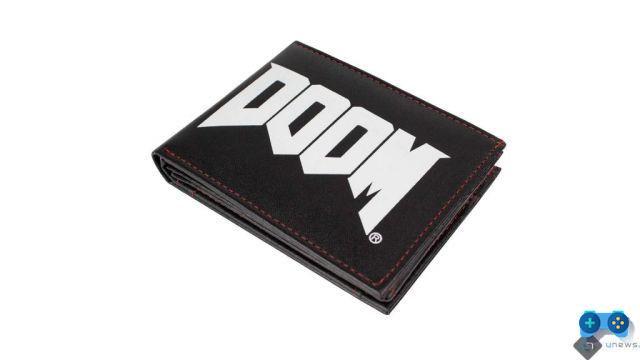 Zombies + DOOM = Zombie DOOM Slayer
DOOM Statue 'Zombie DOOM Slayer' (DOOM - "DOOM SLAYER ZOMBIE" STATUE) - 79.99 €
By joining the DOOM Slayers Club, exclusive access was gained Zombie skin for the DOOM Slayer. Now you can evolve on the theme by adding the Zombie statue of the DOOM Slayer to your collection, thanks to this work of artificial resin about 20 centimeters high! The DOOM Slayer has been masterfully remodeled and hand painted to reproduce the game's counterpart, and is limited to 2.000 units worldwide! Only available in Bethesda stores. The image is from pre-production and the final product is subject to change.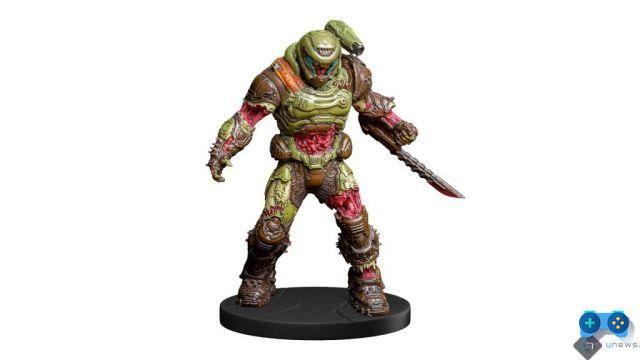 For Wolfenstein fans
Wolfenstein 2 Snapback 'Terror Billy' (WOLFENSTEIN 2 - "TERROR-BILLY" CAP - 24.99 €
BJ Blazkowicz's jacket from "Wolfenstein 2 - The New ColossusHas become a classic. Here is the right opportunity to make your mark even with the hat made in the same two-tone style as the jacket and with an embroidered patch on the front. 100% cotton, adjustable size. Produced by Gaya Entertainment.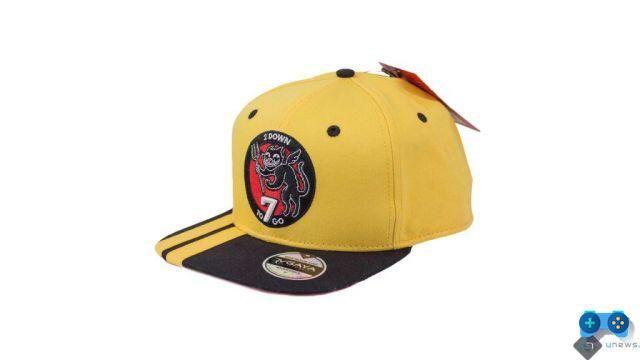 Something for the house
Skyrim WoodArts 'Aereal' 3D Print (SKYRIM - "DRAGON'S BLOOD" WOODARTS 3D PRINT) - 58.48 €
Tamriel's most experienced warriors inhabit, or rather dwelt, in Skyrim. Unfortunately, the age of the Dragonborn is long over - but there is a glimmer of hope on the horizon. This elegant wooden decoration shows the playable Dovahkiin of the famous RPG "The Elder Scrolls: Skyrim".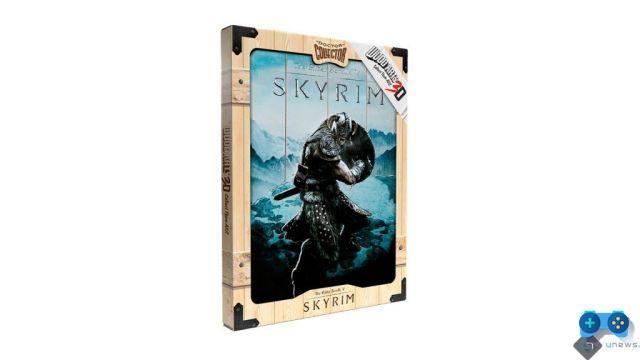 A small ... but pissed off tomato by Bethesda
DOOM Eternal statue 'Mini Cacodemon' - 29.99 €
The terrifying hell plant is back! But this time there is no danger, because we are talking about a Doom Eternal In-Game Collectible, which entered our world through the dimensional portal. What kind of monsters we would be to deprive ourselves of these delightful and detailed items! Beware though, some don't even make it here!
The figurine is in polyresin, about 7.6cm high and perfectly matches the other statues of the series.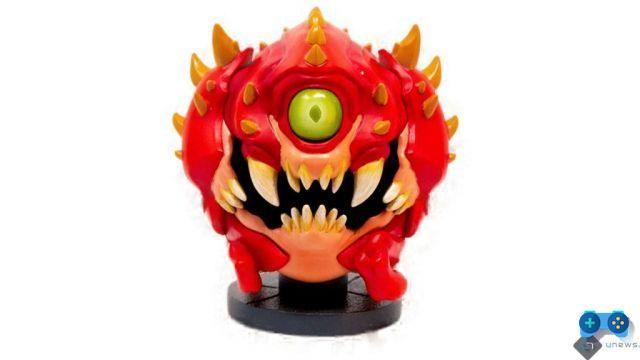 Further offers on gadgets and products can be found on official site of the Bethesda Store. Learn more about the games Bethesda, are instead available from Bethesda official site.