AMD RADEON VEGA FRONTIER Edition is finally among us
It has already been dubbed the fastest graphics card in the world, at least as regards the development of machine learning and artificial intelligence applications, but the arrival on the market of AMD RADEON VEGA FRONTIER EDITION, after the information released at Computex 2017, it is also important because it offers us a preview of what will be some of the features of the new family of graphics cards based on architecture VEGA that from now to next year will invade the market, with particular reference to those RX VEGA that promise to revolutionize the gaming GPU market.
Le AMD Radeon Vega Frontier Edition are already available at some authorized dealers at a price that is around $ 999 and that could go up to $ 1499 for the liquid-cooled version arriving in the third quarter in 2017.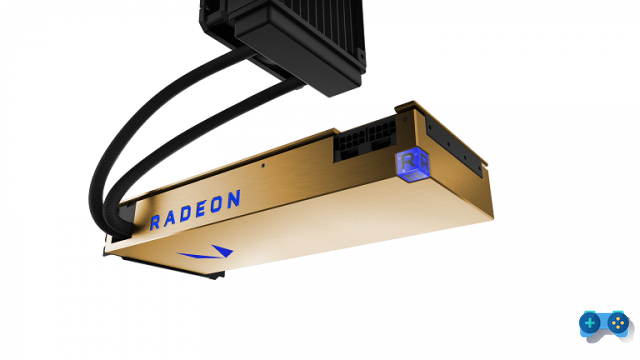 These are obviously professional graphics cards dedicated to developers, graphics professionals and content creators in the VR field, but as demonstrated by the recent tests carried out by PCWorld USA, capable of excellent performance even in the gaming field, even without optimized drivers; which gives us hope for the RX versions of Vega expressly dedicated to gaming.
Waiting to try it for yourself, we invite you to read the press release below for more details on the new AMD Vega Frontier edition.
AMD announces the availability of the world's fastest GPU for machine learning development and handling large graphics workloads, the Radeon Vega Frontier Edition, available starting today.
Designed to support computer engineers, game designers and graphics professionals, Radeon Vega Frontier Edition allows users to tackle massive datasets with ease and scores a 33% performance increase over the competition in the DeepBench benchmark, calculated via the performance measurement in basic operations involved in the formation of deep neural networks.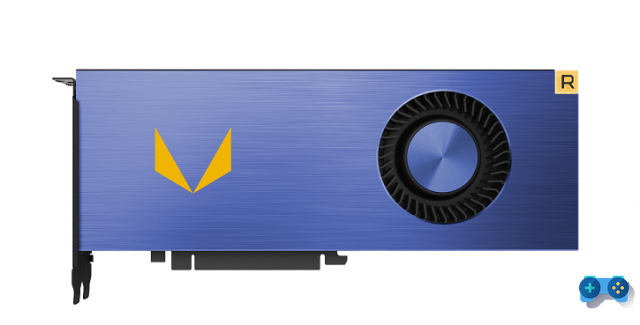 The first graphics card on the market with AMD's "Vega" GPU architecture, Radeon Vega Frontier Edition combined with the power of Radeon Pro software allows creatives and developers to explore new frontiers in their respective fields:
Unprecedented performance and TCO in machine learning, along with AMD's open source and fully scalable ROCm software platform. Developers can now use the power of the "Vega" architecture to develop learning algorithms on the Radeon Vega Frontier Edition faster than any other GPU on the market, and then deploy it on servers equipped with Radeon Instinct accelerators.
Advanced photo rendering performance to obtain ever larger and more complex models as well as to implement real-time visualization and physical rendering. Featuring Radeon ProRender, AMD's powerful rendering engine that enables creative professionals to produce stunningly photorealistic images, Radeon Vega Frontier Edition enables professionals to render objects up to 172 percent faster than a competing video card equivalent [ii ]. Thanks to its graphics power and exceptional multi-GPU scalability, using two Radeon Vega Frontier Edition [iii] GPUs you can achieve a speed increase of 91%.
Faster game design and workflows thanks to the GPU optimized for each stage of the game developer workflow, from asset creation to playtesting to performance optimization. With the Radeon Pro Settings user interface, users can switch between "Radeon Pro Mode" and "Gaming Mode" to switch between animation applications such as Autodesk Maya and performance optimizations with free and open source tools made available as part of the AMD's GPUOpen initiative.
Creation of innovative content in the VR field, in order to provide the necessary performance at all stages for the creation of VR content, from the initial design phase to the final VR experience. Radeon Vega Frontier Edition is AMD's fastest graphics card for VR content creation, capable of achieving the highest possible score in the SteamVR benchmark, marking an increase of up to 21% over the Radeon Pro multi-GPU solution Duo [iv]. Additionally, when used with Radeon Loom, developers can bring real-time high-resolution video up to 8K x 4K.
Radeon Vega Frontier Edition graphics cards are available from resellers, in select regions, starting today with a SEP of $ 999 for the air-cooled edition. The liquid-cooled version is expected to hit the market in Q3 with a SEP of $ 1499. You can find more information at this link.
Following the release of the beta version of the Radeon ProRender for Blender and add-on Radeon ProRender for SOLIDWORKS earlier this year, the first production releases are available for download here. AMD is also releasing a beta version of its Radeon ProRender Game Engine Importer, a tool that allows you to easily import geometric creations, using Radeon ProRender, from applications like SOLIDWORKS directly into Unreal Engine and then view them in VR. You can find more information on the Blog at this link.
For the best experience in computing (ROCm) and for the management of workflows related to professional graphics, you can download here the latest drivers