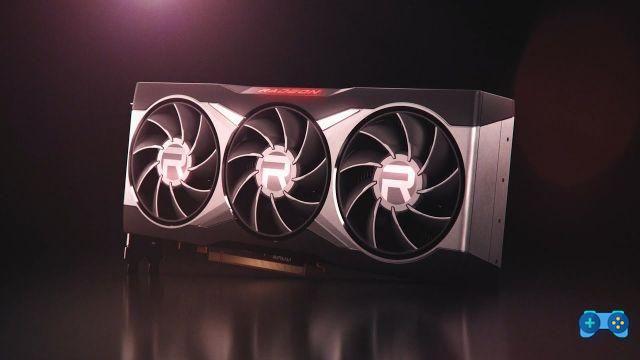 AMD will officially introduce the series graphics card family RX 6000 il 28 October, precisely for this reason the leaks that have been appearing online for a few days are becoming more and more interesting and probably more realistic than what we will see arrive on the market in a few weeks.
The latest leak concerns an alleged one photo of the PCB of the AMD Radeon RX 6000 "Big Navi" which would reveal some really interesting features. In this article, in addition to talking to you about this latest leak, we will try and collect all the information that has appeared so far to try to have a complete identikit of the Team Red GPU range, which will challenge NVIDIA and its RTX 3000.
Is this the PCB of the Radeon 6000?
The image was posted by Twitter user EB-18 and shows what the PCB of an AMD Radeon RX 6000 "Big Navi GPU" should look like. From the image it is possible to glimpse the dual 8-pin power connector, 16 power phases, a door USB Type C VirtualLink and, looking at the memory scheme, it is possible to deduce what the GPU will have a 256-bit bus. Keep in mind, however, that since this is an engineering sample, the final version may be at least partially different from what you can see today.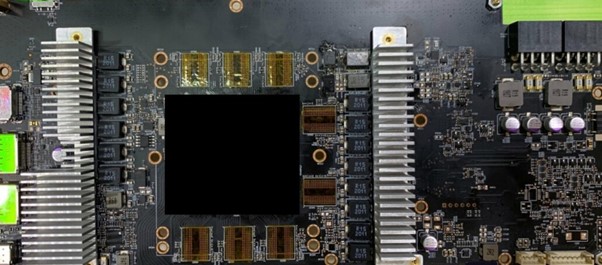 What does this photo tell us?
In the photo, the graphics processor has been darkened, probably not to make it clear which GPU model it is. However, the 16 power supply phases, the double 8-pin connector and the VRMs cooled by two large aluminum heatsinks (whose shape is certainly not final) make us think that this is the flagship of the Radeon 6000 family, most likely the 6800 XT. or XTX.
The board is equipped with at least four display outputs which include two DisplayPorts, a single HDMI port and a connector USB Type-C VirtualLink, a last detail that had already appeared in a few leaks some time ago and that was attributable, in fact, to the top of the range version.
The interesting thing is that the card in question has one switch for the BIOS at the top of the PCB. Of course it could be a feature present only in this engineering sample, intended for example for AMD partners to test custom BIOS and clocks. But it could also be a standard feature of the new RADEON GPUs, with a bios intended to offer maximum performance for games and content and a more conservative bios to use to have a more economical and silent card.
From the photo above you can see that there are 8 memory points around the GPU GDDR6 which tells us that the bus interface of this card is 256 bit. The other previously leaked Radeon PCB image showed no GDDR6 module on the back, which should indicate that the GPU will use denser DRAM modules instead of having memory on the back as well.
Outstanding performance
For its Radeon 6000 GPUs, AMD had already launched an incredible teaser during the launch event of the 5000 series processors based on Zen 3 architecture, showing the frame rate achieved by an unspecified version of Big Navi with three AAA titles, Borderlands 3, Call of Duty: Modern Warfare and Gears of War 5, at 4K resolution. In these titles, the card in question performed on the same level or only slightly behind the performance of an Nvidia 3080.

Now, according to the new leak, things would be even more interesting.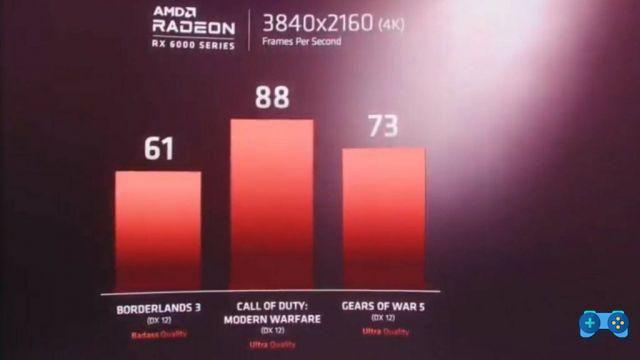 According to a leak published by CapFrameX, AMD's Big Navi "Navi 21" GPU would in fact have obtained a score of 11.500 points in the 3DMark Firestrike Ultra benchmark. There are no details to clarify the SKU (model) of Big Navi that would have totaled this score, but if you take as true the rumors that they want BigNavi 21 divided into three models, XL, XT, XTX, this could be the score scored by the top-of-the-range CPU, or the XTX.
Firestrike Ultra

Big Navi: 11500
RTX 3080: 10600
- CapFrameX (@CapFrameX) October 22, 2020
Regardless of which SKU in question actually is, the score in question represents a increase of about 8,5% compared to the score scored by GeForce RTX 3080 which, we remember it is the real flagship of NVIDIA for the gaming world, considering that the 3090 is intended for creators and streamers.
This is a frankly exceptional score and, if AMD can provide a good availability of these cards on the market (unlike the problems that NVIDIA has had) and above all it will offer its product at a competitive price, it will probably be a real one. HIT.
AMD Radeon RX 6800 XT with Navi 21 XT & Radeon RX 6800 with Navi 21 XL GPU
The Radeon RX 6800 range will be split into two RDNA 2 based graphics cards, the Navi 6800 "Big Navi" based Radeon RX 21 XT and the Radeon RX 6800. The Radeon RX 6800 XT will ship with the Navi 21 XT GPU which is a reduced SKU with 72 compute units or 4608 SP. The card will also be equipped with 16 GB of GDDR6 memory with a 256-bit bus interface, a total bandwidth of 512 GB / s and 2015 MHz base clock speed and 2250 MHz of boost. This Navi 21 XT card may have TBP up to 320W for reference models and 355W for variants customized by AIB manufacturers.
The AMD Radeon RX 6800 graphics card will have an even smaller Navi 21 "Big Navi" GPU with 64 4096 stream processor compute units. The card will have the same VRAM configuration of 16 GB of GDDR6 memory, a 256-bit bus interface but rumored to be set to a memory clock slightly below 14 Gbps which will provide a net bandwidth of 448 GB / s. .
The GPU will feature a clock speed of 1815 MHz and a boost clock of 2105 MHz in the reference model. The Radeon RX 6800 with Navi 21 XL GPU could have a base clocked 290W TBP.
AMD Radeon RX 6000 Series "RDNA 2" Graphics Card Lineup:
| Graphics Card | AMD Radeon RX 6700 | AMD Radeon RX 6700 XT | AMD Radeon RX 6800 | AMD Radeon RX 6800 XT | AMD Radeon RX 6900 XT |
| --- | --- | --- | --- | --- | --- |
| But by the full GPU acceleration tech | Ships 22 (XL?) | Ships 22 (XT?) | Ships 21 XL | Ships 21 XT | Ships 21 XTX |
| Process Node | 7nm | 7nm | 7nm | 7nm | 7nm |
| Compute Units | TBA | 40 | 64 | 72 | 80 |
| Stream Processors | TBA | 2560 | 4096 | 4608 | 5120 |
| TMUs / ROPs | TBA | TBA | TBA | TBA | TBA |
| Base Clock | TBA | TBA | TBA | TBA | TBA |
| Game Clock | TBA | TBA | 1815 MHz | 2015 MHz | 2040 MHz |
| Boost Clock | TBA | TBA | 2105 MHz | 2250 MHz | 2330 MHz |
| Memory Size | 12 GB GDDR6 | 12 GB GDDR6 | 16 GB GDDR6 | 16 GB GDDR6 | 16 GB GDDR6 |
| Memory Bus | 192-bit | 192-bit | 256-bit | 256-bit | 256-bit |
| Memory Clock | 14 Gbps? | 16 Gbps? | 14 Gbps | 16 Gbps | 16 Gbps |
| Bandwidth | 320 GB / s | 384 GB / s | 448 GB / s | 512 GB / s | 512 GB / s |
| TDP | TBA | TBA | 290W TBP? | 320W TBP? | > 320W TBP? |
| Price | TBA | TBA | TBA | TBA | TBA |
AMD Radeon RX 6800 Series With Triple-Fan Cooling Solution
A "classic" design
Regarding the design of the cooling system, AMD has opted for a "classic" design, although very different from its previous models, all of the blower type. The Radeon RX 6000 Series will be equipped with a triple axial fan system with a large aluminum heat sink covering the entire PCB.
The card has an LED-lit Radeon logo on the front and a large cutout at the top to allow fans to expel hot air. This design is very reminiscent of the Founders Edition heatsink of the NVIDIA GeForce RTX 20 series.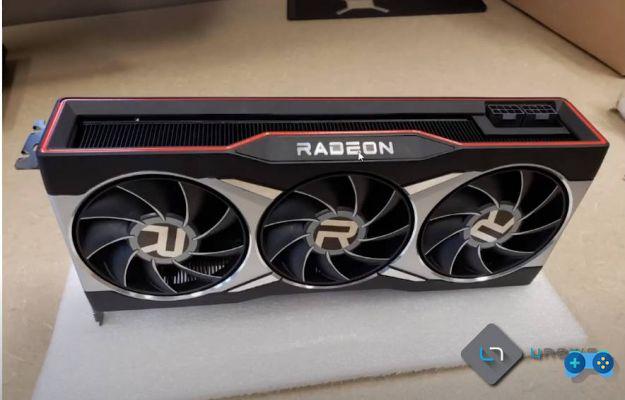 On the back, the Radeons will feature an aluminum backplate which should help further dissipate the heat from the card and on which the retention bracket for the card radiator is visible.
Overall, the card will occupy 2 slots, like the RTX 3080 Founders Edition, while the RTX 3090 occupies three slots.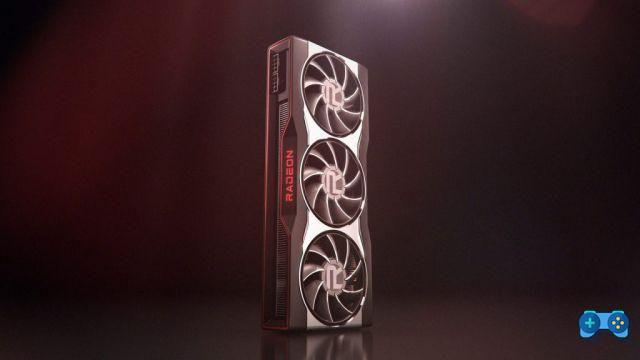 Waiting now is the best choice
The end of 2020 is sure to be an interesting time for all hardware enthusiasts and PC gamers who are looking forward to updating their machine with the best hardware on the market. Between the NVIDIA solutions, which have already demonstrated exceptional performance at low prices, and this first information on AMD cards, we are sure that we will see some good ones. If you still haven't been able to find your RTX 30000 even through our guide to where to buy at the best price, our advice is to wait for the presentation of the new AMDs and then decide calmly.
Source: Wccftech.com