Back online, but armed with guns and lightsabers
This period at Bandai is not just that of Dragon Ball's big comeback on consoles and PC (with Dragon Ball FighterZ) but the opportunity to celebrate the first five years of Sword Art Online. The anime is now famous and very popular even in Europe and at least once a year an episode arrives on all platforms.
2018 is no exception, but things went partially differently: Sword Art Online Fatal Bullet marks an important change of hands. It was in fact edited for the first time by Dimps (the guys from Dragon Ball Xenoverse, just to name one) with the significant task of making it graphically more appealing for players.
In our reviews of the series Sword Art Online we have always reported what had now become a too dated graphic and technical sector, and finally it seems that Bandai has decided to remedy the lack: why did the video game not deserve to be as beautiful to look at as the anime? The arrival of Unreal Engine 4 has (partially) brought the series back on track also from this point of view.
Bye bye, Kirito
Once in a while in Sword Art Online Fatal Bullet we can forget about Kirito, and we will immediately explain why. The title is placed, from a narrative point of view, after the events of Sword Art Online Hollow Realization: this means that the boy and his crowd of suitors have already thrown the World Seed into the net, giving life to other virtual worlds.
Just Fatal Bullett is set in one of them, and we will have to realize from the beginning, through a sufficiently complex editor, our alter ego. Which, for the record, and as practically always in Bandai Namco titles, will remain silent from the start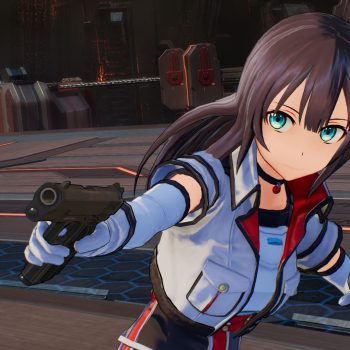 at the end of the game. Together with the protagonist, the large numbers of supporting actors are also completely new individuals, never seen before.
As you may have guessed, changing the set of our heroes' adventures also means leaving behind places that we had now come to know quite well, in their strengths and weaknesses. Alfheim Online is therefore a distant memory, as are its medieval settings and lush dungeon-filled forests.
The new setting is instead an MMORPG, which leads to drastically change even the support weapons: no longer swords, sabers and daggers but firearms such as pistols and rifles. There is also no shortage of lightsabers. A change of course, in short, rather flashy, able to make its effects felt even in the gameplay.
The plot of Sword Art Online, at this turn, it seemed particularly subdued to us, and not just because Kirito is missing as the main protagonist. His absence, too, could have been an additional stimulus to inventiveness. Probably it was decided not to deviate too much from the narrative line of the second season of the anime, which occasionally peeps out in Fatal Bullett: in any case, the narrative manages to become a minimum compelling only starting from the middle, when in short, an accomplice the poor overall duration is already about to end.
For the record, we also report that yes, Kirito is absent and only acts as a supporting actor, but once the second run is unlocked it is possible to impersonate it in a separate mode, with a rather short duration. An additional content that has been added weight to the production to entice even the most skeptical fans to purchase?

Innovative, but a bit confusing
Sword Art Online Fatal Bullet is a title that manages to mix two atypical mechanics together, the RPG and the TPS. In human terms, it's about the fusion of third-person RPG and shooter. True, the system is not always inaccurate, it would have needed some tweaking, but overall it works effectively and gives very hectic and rewarding sessions (even short ones). After all, let's face it, it was also time for the swords to step aside in Sword Art Online in general, to propose something more interesting, at least innovative.
The aiming system, unfortunately, works automatically: you can then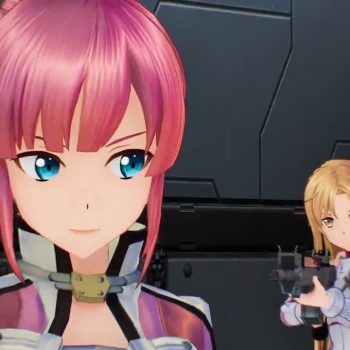 imagine that from time to time it goes a little by his own blow, preventing us from hitting with the same effectiveness as one directed by us. The confusion is increased by the number of enemies deployed by the AI ​​in the field: they are certainly not few, and in many situations they have given us a hard time, although the difficulty of the Bandai Namco title certainly does not point upwards.
All the weapons supplied by the protagonist, including accessories and small customizable details, they can be purchased, modified and updated at any time at the shops present within the title. Enhancing the weapons, starting from a very precise moment of the plot, becomes essential to be able to continue in a dignified way, without dying too often.
More beautiful, more online
We come to at least a couple of positive points worthy of consideration for Sword Art Online Fatal Bullet. First of all the technical sector: the update entrusted by Bandai to Dimps has had its effects. Polygonal models, textures and a glance in the scenarios (even close together) have undergone a significant improvement. Of course, it does not mean that everything is fine and that it cannot be improved anyway, but the direction we have taken seemed to us to be the right one.
The idea of ​​introducing e is also good take advantage of an online multiplayer sector within the title. At the moment not everything has started working yet, but the possibility of creating lobbies for four players at the same time has been anticipated, thus allowing them to participate in various secondary missions and raids. We will see in the coming months if bandai will play well even this card, on which they could rest, if you think about it, all upcoming Sword Art Online productions.
Final Comment
Sword Art Online Fatal Bullet up to now is the chapter of the series that has dared the most, and by virtue of part of its results certainly deserves to be encouraged. The absence of a protagonist taken by weight from the animated series allows the enjoyment and identification even for those who have never heard of the series, without losing great connections with it. The innovative game system and online support have their reasons, in a game economy that focuses on the frenzy of fighting - at the price of some compromise.