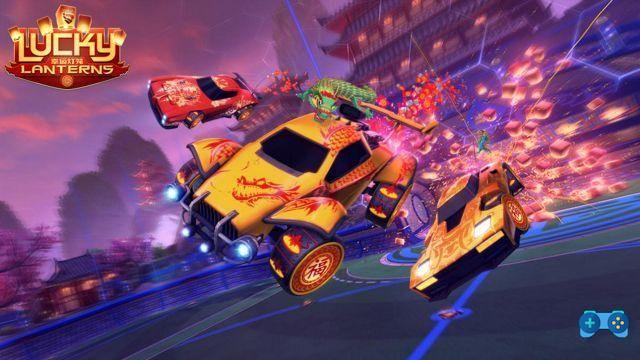 Lucky Lanterns: this is the name of the thematic event with which Rocket League celebrates the Chinese New Year and the entrance of the Lunar New Year. The year of the Ox.
Rocket League introduces a multitude of new content and cosmetic items for players to celebrate the beginning of the new Lunar Year 2021. From today until the end of February. Announced yesterday by Psyonix, the brand new event dedicated to Chinese New Year 2021 officially takes the name of "Lucky Lanterns" and brings with it one great variety of aesthetic and collectible items, Together with two new limited-time modes. And there is also a new thematic arena, dedicated to the Year of the Ox. The trailer below shows some relevant details.
The new modalities introduced for a limited time by the event Lucky Lanterns will 2v2 Heatseeker e 3v3 Super Cube. The first is already online and will remain so until the February 22, when it will be replaced by the second. The longtime players of Rocket League they will find the way familiar Super Cube, which marks the return of the "cubic mode", already shown in the original Rocket League, in 2015. This mode alters the parameters of the "Mutators" and calls into question the shape of the ball. There you will find yourself playing a game where the ball is cubic and exhibits extraordinary elastic and dynamic properties.
In addition to the new modes, the Chinese New Year event of Rocket League adds Forbidden Temple. A new arena designed specially for the year of the Ox. As for cosmetic items, challenges can be completed to unlock some of the items added specifically for the event Lucky Lanterns. Among these we remember: Lucky Cat, Ozzy Ox Toppers, Lantern Lift, Cherry Blossom Boosts, Temple Guardian Player Banner and others. For those looking for something really special, the Online shop will be able to exhibit truly elegant objects, specific to the year of the Ox.
Rocket League is available for PS4, PS5, Xbox One, Xbox Series X / S e PC.