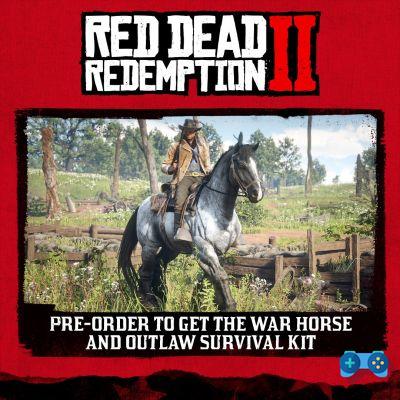 Unleash the cowboy in you.
With a long news that you can consult at this address for more details, Rockstar Games has just revealed the contents of the special editions of the highly anticipated Red Dead Redemption 2 in addition to the bonuses that can be obtained by pre-ordering the game.
All Red Dead Redemption 2 pre-orders will include an exclusive battle horse and Outlaw Survival Kit, which will offer several useful items to start the adventure. In addition to these two bonuses, players who pre-order the digital version of the game on PlayStation Store and XBOX Store will also receive extra money and a map of Treasure which will give Arthur other interesting resources.
To get digital pre-order bonuses, you need to pre-order the title by 31 July 2018.
Furthermore, Those who pre-order one of the three editions of the game digitally will also get GTA $ bonuses that will be credited to your GTA Online account:
Red Dead Redemption 2: Standard Edition Digital Preorder: GTA $ 500.000
Red Dead Redemption 2: Special Edition Digital Preorder: GTA $ 1.000.000
Red Dead Redemption 2: Ultimate Edition Digital Preorder: GTA $ 2.000.000
Red Dead Redemption 2: Special Edition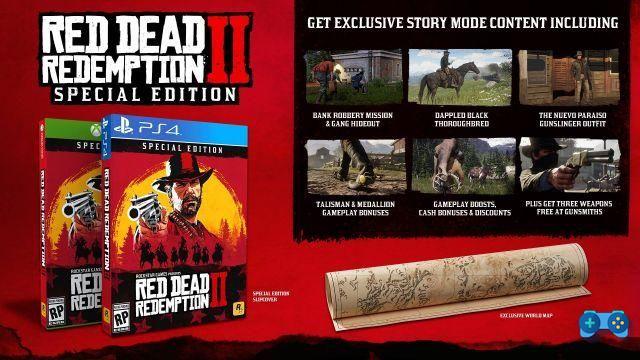 La special Edition of the game will include the following content:
An exclusive mission and a gang to defeat in story mode
A thoroughbred racing horse
A talisman and a bonus medallion for Arthur
Extra cash, in-game upgrades and discounts
The exclusive dress "Pistolero di Nuevo Paraiso"
Three additional free weapons
Red Dead Redemption 2: Ultimate Edition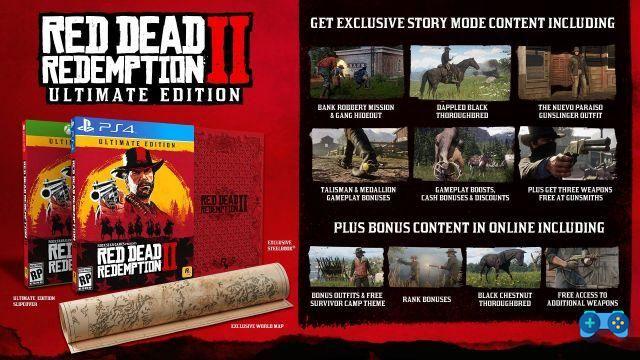 La Ultimate Edition of the game will include all the content included in the Special Edition plus other additional bonuses for online multiplayer:
Two exclusive dresses
An exclusive horse
Free access to the "Survivor" theme for your camp
Free access to three additional weapons, the same as in Story mode
Bonus for quickly leveling up, up to level 25.
Red Dead Redemption 2: Collector's Box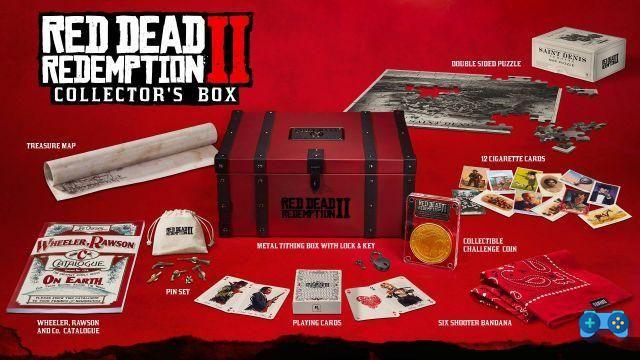 La Collector's Box of Read Dead Redemption 2, available exclusively at select retailers and on the Rockstar Warehouse, offers a curated assortment of goodies contained within an exclusive metal case (the game is sold separately):
Metal case with key and padlock
Collector's coin
Double-sided puzzle
bandana
Paper treasure map
Brooches set
Playing cards
Wheeler, Rawson & Co. Catalog
12 cigarette papers
Pre-orders for special editions are officially open. We remember that Red Dead Redemption 2 will debut on PlayStation 4 and XBOX One on October 26, 2018, while nothing is known about a PC version yet.