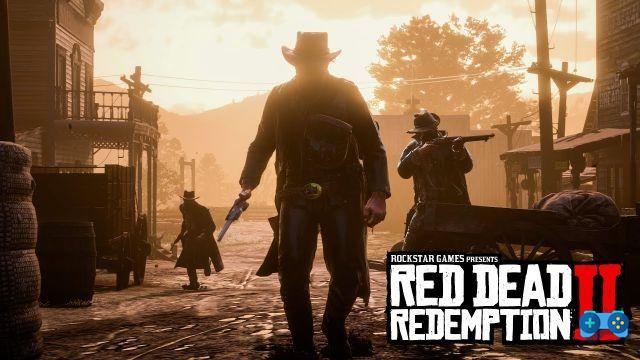 Our guide to Red Dead Redemption 2 trophies / achievements.
Welcome to ours trophy / achievement guide di Red Dead Redemption 2, short description follows.
Release Date: 26 October 2018
Estimated difficulty: 6/10
Approximate time to completion: about 300 hours
Total trophies: 52 (1 3 4 44)
Hidden trophies: 12
Offline trophies: 35
Online trophies: 17
Trophies related to history: 10
Trophies related to collectibles: 1
Does difficulty affect trophies? No, no selectable difficulty
Minimum runs: 1
The Xbox One version contains 51 Achievements for a total of 1000
The game requires several hours of play to be 100% completed, so we recommend that you follow this roadmap below to optimize the achievement of trophies / achievements. For the Xbox One version the achievements are the same as the PS4 counterpart, with the exception of the platinum trophy.
Before we start, we remind you that if you need more help you can take a look at all the guides on Red Dead Redemption 2 that we have prepared for you:
Guide to the best food
Where to find all the tombs
How to increase honor level and unlock bonus mission in chapter 6
Where to find all the dinosaur bones
How to Cheat at Poker
Where to find all the cigarette stickers without having to search for them on the game map
How to get the best wild horse
The best weapons and where to find all the unique and rare weapons
Guide to legendary fish
Where to find all the legendary animals
Given the hours required to obtain platinum / 1000, we recommend that you follow the following roadmap:
Roadmap for obtaining trophies / objectives
Step 1 - Missing Trophies, Optional Story Missions, Honor Level Up, Gold Medals, Challenges
The first step is to play the story (108 missions in total). During the campaign you will have to pay attention to the 4 missing trophies.
I help you io (Complete all optional story missions that affect Honor level): Some optional missions are easy to miss. Refer to the description of the trophy "I'll help you"For a complete list in chronological order of the required missions. Keep an eye on the list as you play. Pay particular attention to the Chapter 6 mission, 'Do Not Seek Absolution', as it requires an honor level of 4 out of 8, so try to play from the start in order to gain honor.
Who finds a friend ... (Complete an activity with a companion in each camp): For this trophy you will have to complete a random escort mission in the camps in Chapters 2, 3, 4. Refer to the description of the trophy for all available events.
Give to the poor (Pour $ 250 into the camp fund box): The camp fund box will disappear after Chapter 4, so you'll need to get the trophy before finishing the aforementioned chapter.
Delivery man(Deliver 5 items requested by camp companions): Like the other activities that can be done in the camp, it is necessary to obtain the trophy between Chapters 2 - 4. Refer to the description of the trophy for all requests for available items and how to satisfy them.
If you have mistakenly performed dishonorable actions, immediately reload your last save. To check your honor level, press the down arrow key. The gauge will need to reach at least half to have access to all optional missions. In the upper right corner you will see a white cowboy hat when you earn honor points and a red bandit hat when you perform dishonorable deeds.
Also, try to rob 4 farm owners as soon as possible (trophy "Robberies and burglaries"). The first possibility is after the start of chapter 2. There are limited farms and some are tied to accompanying activities, while others may become unavailable if you kill their owners by mistake. There are also some must-have weapons to keep an eye out for. Fortunately, you will need 48 of the 62 weapons for platinum, so you won't have a problem if you don't collect them all.
As you complete story-related missions, try to earn gold medals to reduce the number of playthroughs. It will be easier to get them in the main game, because by replaying the different chapters you will not have tonics and you can only use the basic weapons. You can also start completing challenges. There are 9 of them (each has 10 tasks, so 90 in total). They are all required to complete the game 100%. You can keep track of them from the Pause Menu> Progress> Challenges.
Save often. If you have lost something or received dishonor points, you can retrace your steps without starting a new game all over again.
Finally, a brief mention about "Skilled skinner"And"Zoologist"(Skin and study each animal): in Chapter 5 there is an island that will not be possible to visit at other times in the game, in which there are animals not present elsewhere. Fortunately, they are not required for trophies. You will only need the animals on the main map. So if you missed the animals in Chapter 5, you can still unlock the related trophies.
Step 2 - Complete the game 100%
Once the story is over, you have to complete the game 100%. Most of the time it will take you to find the more than 200 collectibles and 90 challenges. You can track your progress in the Pause Menu> Progress> Full Completion.
Step 3 - All animals
Interestingly, only 100 of 50 animals are required to complete 178%. So even if you have "completed" the game, you still have 128 animals left to study and skin.
Step 4 - Online
Online trophies are simple and you will get them without too much effort by aiming for level 50. The only precaution is to save money from the beginning to create a permanent Posse ($ 200), to fill 5 stables with horses ($ 1.700) and to purchase 5 camp upgrades ($ 250). In total, you'll need $ 2.150 to get these three trophies, so don't waste your money on useless stuff. You will spend more time earning money in multiplayer than in the single player campaign.
Red Dead Redemption 2 - Trophy / Achievement Guide

Legend of the West

Legend of the West
Complete all other trophies to become the Legend of the West and get the trophy.

Back in the mud


Complete Chapter 1.
Trophy linked to history, impossible to miss.

It's just a scratch


Complete Enter, Pursued by a Memory.
Trophy linked to history, impossible to miss.

Towards greener pastures


Complete Chapter 2.
Trophy linked to history, impossible to miss.

Ancient disagreements


Complete Chapter 3.
Trophy linked to history, impossible to miss.

castaway


Complete Chapter 4.
Trophy linked to history, impossible to miss.

Traitors are not allowed


Complete Chapter 5.
Trophy linked to history, impossible to miss.

Good the third


Complete Goodbye, Dear Friend.
Trophy linked to history, impossible to miss.

Redemption


Complete Red Dead Redemption.
Trophy linked to history, impossible to miss. It will be unlocked at the end of Chapter 6, when the Epilogue begins.

A new beginning


Complete A New Jerusalem.
Trophy linked to history, impossible to miss.

Endless summer


Complete the Epilogue.
Trophy linked to history, impossible to miss.

I'll help you

Complete all optional story missions that affect Honor level.
Missing trophy
This trophy requires you to perform ALL optional missions in one match! This includes debt collection missions. Debt collection are missions not necessary for the advancement of the story, therefore easily missed. Some of them are marked with yellow main mission markers, others with white foreign mission markers. The difference is that the optional missions will be added to the mission log of the pause menu.
After the completion of the story some of these missions can be replayed, but this will not unlock the trophy. To get it you will have to complete the optional missions during your normal game.
The most important part of this trophy is to play honorably from the start and try to reach honor level 4 out of 8 in chapter 6. This is because the mission "Don't Seek Absolution" requires an equal honor level. to 4 to be played. The best way to raise the honor level is to catch bounties and catch fish and then drop them into the water. In chapter 6 the honor obtained will be increased by 50%.
Below we will list all the optional missions required:
CHAPTER 2:
Snake Oil, Strong and Genuine - Sheriff Valentine's office
Loan of Money and Other Sins - Strauss (camp, divided into 3 parts)
Pouring Oil - Marston (camp, divided into 4 parts)
We Loved Once and It Was True - read the letter in Arthur's tent (divided into 3 parts)
CHAPTER 3:
The Course of True Love - Rhodes (divided into 3 parts)
Loan of Money and Other Sins - Strauss (camp)
CHAPTER 4:
As Brothers and Sisters - Saint Denis - you must have a high level of honor
The Love of a Father and Other Dreams - read the letter in Arthur's room (divided into 2 parts)
Help a Brother - Saint Denis - you must have a high level of honor
Loan of Money and Other Sins - Strauss (camp)
CHAPTER 6:
Archeology for Novices - Wapiti Indian Reservation - agree to help Monroe during this mission to activate another one needed for this trophy.
Don't Seek Absolution - Annesburg - you will need to have a high level of honor (split into 2 parts)
Honor Among Thieves - Wapiti Indian Reservation - only available if you have agreed to help Monroe during Archeology for Novices
Loan of Money and Other Sins - Strauss (camp, divided into 2 parts)
Miss Sadie Adler, Widow - Sadie (camp, divided into 2 parts)
Men and Angels - Church of Saint Denis (divided into 2 parts)
The Course of True Love - read the letter in Arthur's tent (divided into 2 parts)

Best in the West

Complete the game 100%.
To get 100% completion in Red Dead Redemption 2, you don't necessarily have to do everything in the game, rather there is a list in the game that you need to complete in order to get to 100% completion. Below is a list of things you will need to do to get 100% completion:
Missions and Events:
Complete all Story Missions
Complete 10 Foreign Missions
Collect 5 bounties
Get 25 random encounters
End up in an ambush by a rival gang
Complete all gang hideouts
Collectibles:
Find a point of interest
Find 9 tombs
Collect a complete set of cigarette cards
Collect 30 Dinosaur Bones
Catch 13 legendary fish
Complete all exotic tasks
Find 10 rock carvings
Complete all hunting requests
Complete a treasure hunt
Collect 20 Dream Catchers
Compendium:
Studying 50 Animals
Collect 10 pieces of equipment
Catch 10 species of fish
Discover 6 gangs
Discover 10 horse farms
Collect 20 types of plants
Collect 48 weapons
Player:
Reach the maximum in Health, Stamina and Dead Eye
Re-add affinity level 4 to the horse
Complete all challenges
Various:
Find 5 huts
Kill 5 legendary animals
Play 4 board games
Interact with 5 special characters
Take a bath
Watch a show
Visit a theater
Create 6 objects from different categories
Complete 4 Robberies (Stagecoach Robbery, House Robbery, Store Robbery, Train Robbery)
Gold rush

Get 70 gold medals on main story missions.
Red Dead Redemption 2 has a total of 104 gold medals available. We recommend that you get them in a single playthrough, since using the replay function you will not be able to use tonics and will have basic weapons. Below we show you a video that indicates the requirements for all the gold medals in the game:
Who finds a friend ...

Complete an activity with a companion in each camp.
In chapters 2, 3 and 4 there will be numerous events in the camps that you can complete. For the trophy, you will need to complete only one in each chapter / camp. Activities such as hunting, fishing and robbery will be marked on the map, while board games require someone to be seated at the table and you to join them. Some missions will only be available at certain times during the day. If some activities do not appear on the map, keep looking in the camps and check the map to not lose them before ending the chapter.
Below is a list of activities available in each chapter:
Chapter 2:
Robbery - Javier
Hunt - Charles
Table Games - Poker, Dominoes and Knife Game
Chapter 3:
Robbery - Bill and Sean
Fishing - Javier and Kieran
Board games - Dominoes and Knife Game
Chapter 4:
Robbery - Micah, Lenny and Uncle
Hunt - Pearson

Passionate about hobbies

Play all the minigames.
There are 4 minigames available: Knife Game, Blackjack, Dominoes and Poker.
For the trophy it will only be necessary to start playing for a moment, it will not be necessary to win. You don't even have to finish a game. After sitting down to play you can get up and leave. You can keep track of the minigames from the Pause Menu> Progress> Totate Completion> Board Games. Below is a video showing where to find all the minigames:

Robberies and burglaries

Collect loot from at least 4 homes during a home robbery.
There are a total of 7 farms but only 4 are needed for the trophy, so you will have the freedom to choose which ones to do or not. The latest will be made available in Chapter 6. You can start looting them as early as Chapter 2, and we recommend that you do so as soon as possible, as later in the game, some owners and farm dwellers may not be present, which means they won't be there. you can interrogate them for clues, or you may have killed them and complicate matters further. Make sure you raid EVERYTHING. Below is a video with all the locations for the trophy and how to get it:

Artificial intelligence

Find out what happened to Marko Dragic.
Marko Dragic is a stranger who will start giving you missions at the beginning of chapter 4. You can find him for the first time in the great lake of St. Denis, to the left of the stable, during the day. His first mission involves piloting a prototype submarine around the lake.
The second part of the mission is in the far north of New Hanover.
The third and final part of the mission will take place a few days later, but it will not be a white circle with Dragic's initials. Climb up to Doverhill where the second part was and when you get close to the house you should see a gun icon, indicating that there is new equipment to be procured. Enter the house, collect your upgraded lantern and you will unlock this trophy. Here is an explanatory video about the trophy and how to unlock it:

Take to the rich

Get $ 250 by robbing or rummaging around.
Be sure to always loot corpses throughout the story. Some of the main mission objectives may have over $ 100 with them. The average enemy has only a few cents, sometimes a few dollars. It will take a while, but you will unlock the trophy later in the story. Just remember to always loot corpses.

Give to the poor

Pour $ 250 into the camp fund box.
Missing trophy
You will only have a donation box in your camp during Chapters 2, 3 and 4. Getting $ 250 is pretty straightforward, as some story missions can earn over $ 1.000. To unlock the trophy you will have to donate $ 250, even diluted several times. You can also donate valuable items in the tithing boxes, which will also contribute to the $ 250 mark. Donations from other gang members don't count, you have to make the donations yourself. After Chapter 4 the donation box will no longer be present, making it impossible for you to get the trophy. Make sure you unlock it as soon as possible.

Spend and spread

Spend a total of $ 5.000 in stores.
First of all, you will need to accumulate $ 5.000 (you will automatically receive 20.000 by completing the story). At this point, create a manual save. Spend your money in any type of shop (stables and gunsmiths are the most expensive). Once the trophy is unlocked, reload the manual save you created earlier to get your money back.

Extreme personality

Reach minimum or maximum Honor level.
This trophy cannot be unlocked until you have completed Chapter 5. Since there isn't much to affect honor in this chapter, your best chance will be in Chapter 6 or after completing the main story (from note that in Chapter 6 you will get 50% more or less honor, depending on your actions). You can check your honor by pressing the D-pad down. Honor affects prices in stores and how people behave towards you. If you want to unlock all the clothes, you will have to maintain a high level of honor, as you will unlock optional missions. Capturing and releasing fish into the water will add honor to your character.

A stranger from the West

Complete 10 quest lines received from a stranger.
Missions of strangers are indicated by white question marks. Once you have tracked down the strangers and talked to them, they will entrust you with a mission that will often extend into several parts and chapters. There are 26 strangers in total, but only 22 of them count for the trophy. Below we attach a map created by Powerpyx and a list in order of appearances of strangers: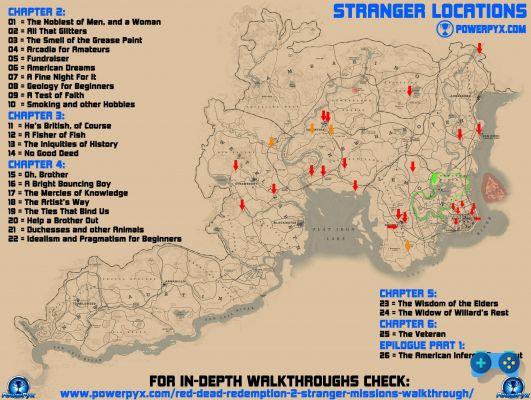 CHAPTER 2:
A Fine Night For It - an old man in Bayou will ask you to check out the Night Folk (you will need to have met them first); they will be gray spots on the minimap with scary voices, lights etc ...
A Test of Faith - A woman in the Heartlands needs help finding 30 dinosaur bones.
American Dreams - a killer beheaded three corpses and left pieces of a map in their heads. Find all three map pieces to find it. Look for the X on your map when you are in the indicated areas to help you find the corpses. One is near Braitwaite Manor, one is near Valentine and one is near Wallace Station. The killer is located south of Valentine.
Arcadia for Amateurs - a man near Strawberry wants help taking wildlife photos.
Geology for Beginners - a man near Ichigo wants help finding 10 portraits carved in the rock.
Smoking and Other Hobbies - a man in the Heartlands wants the cigarette cards, all 144.
The Noblest of Men, and a Woman - a Valentine man will ask you to take pictures of famous gunslingers. This side mission will grant you unique weapons that will also help you in obtaining the trophy Best in the West.
The Smell of Grease Paint - a show booth at the Van Horn Trading Post needs you to find its missing members.
CHAPTER 3:
A Fisher of Fish - a man near Flatneck station wants you to catch all 13 legendary fish. You will have to start this mission to make the legendary fish appear. Capturing them is useful for obtaining some trophies.
He's British, of Course - a destroyed circus caravan needs help finding its missing animals. This mission is great to do because it gives you the opportunity to create the Lion's Paw Trinket, which increases the XP you will earn for your stamina.
No Good Deed - a Rhodes man wants you to recover his medicine wagon.
The Iniquities of History - a Rhodes man wants you to sneak into his expropriated house and recover his valuables.
CHAPTER 4:
A Bright Bouncing Boy - refer to Artificial intelligence.
Duchesses and Other Animals - a man outside Saint Denis wants exotic plants and bird feathers.
Idealism and Pragmatism for Beginners - the mayor of Saint Denis needs your diplomatic skills. You will need to have received a letter from him at the post office first, so be sure to check the post office icon from time to time.
Oh, Brother - two brothers do stupid things to try to impress a woman. You will need to find these individuals to advance the mission. They will always be referred to as a ? on the map.
The Artist's Way - an artist in Saint Denis needs your help to avoid problems.
The Mercies of Knowledge - an inventor from Saint Denis wants help building and testing his electric chair.
The Ties That Bind Us - two prisoners need help to stay out of jail. Be sure to burn the posters that they will ask you to find in the first part to advance their quest. They too will show up on the map with a ?.
CHAPTER 5:
The Wisdom of the Elders - helping a man close to Van Horn will unravel a strange mystery of a nearby town. This quest can only be started and ended in Chapter 5.
CHAPTER 6:
The Veteran - in Grizzlies East, where Veteran Homestead is on the great lake, a veteran needs your help.
EPILOGUE:
The American Inferno, Burnt Out - halfway between Strawberry and Blackwater you will find a familiar author.

Sought after

Survive 3 days with a $ 250 bounty on your head in all states.
There are five states in the game: Ambarino, New Hanover, Lemoyne, West Elizabeth, and New Austin.
For this trophy, you will need to accumulate a bounty of $ 250 in each of the states at the same time and survive for three days. This will need to be done as soon as possible during the epilogue, as you won't have access to New Austin until then. It is best to do this after maximizing the honor level because attempting to unlock this trophy will surely lower it. The easiest way to rack up a bounty is to kill civilians and law enforcement. This could take some time and could be a bit frustrating as there aren't many civilians in some locations. If you prefer a less violent approach, you can always try to steal chariots or horses, raise the wanted level and repeat.
When you reach a high enough bounty level in a state, the bounty hunters will start hunting you. You will recognize them by the red skull icon on the map. They will generally attempt to block roads along the way and will start chasing you if you get close to them. When you see them, you can either fight them or try to take a detour. Taking detours is the safest choice. Surviving on a $ 250 bounty in any state is easier than it sounds, as bounty hunters won't catch you in safe places. Just go to your house and sleep until three days have passed.

Collector item

Complete one of the Collectors Quest Series.
There are four collector quest series that count for this trophy: 144 cigarette figurines, 30 dinosaur bones, 10 rock sculptures, exotic items. To unlock the trophy you will only need to complete one of the four. Rock sculptures are the fastest to complete. For 100%, however, you will need to complete them all. Below is a video showing how to find the 10 rock sculptures:

A minute of silence


Find the graves of all your fallen comrades.
The tombs can only be found after finishing the story. There are 9 in total. They can be found in any order and are also required for 100% completion. We attach a video showing the position of all the thunderheads:

Delivery man

Deliver 5 items requested by camp companions.
Missing trophy
This trophy must be unlocked before finishing Chapter 4.
At each campsite, camp members will randomly ask you to find items for them. These items can be anything from herbs to animal skins, money to unique items like books or collectible cards. Camp members tend to make their requests during the day and will approach you for it. If you already have the item in your inventory (herbs, money, etc.), you can simply deliver it right away without leaving and re-entering the camp. But for unique items (e.g. Abigail's thimble, found by looting enemies), you won't be able to find them until explicitly requested. There are over 20 requests in the game but you only have to fulfill five for this trophy.

This too is art


Find a permanent home for the stuffed squirrel.
This trophy can only be unlocked once the game is completed by completing the various hunting requests found in the stations. Given the complexity of the trophy, we attach an explanatory video:

Self-sufficient

Create 30 different objects in Story mode.
While in the desert, hold the triangle button for a few seconds and then press square to access the crafting menu. You will also be able to camp via the item wheel, rest and craft items there. You will get some recipes automatically as you progress through the story, others can be purchased and others will be available after hunting some animals to be able to cook them. Once you have created 30 items you will unlock the trophy.

Skilled skinner

Skin one of each animal species in Story mode.
See the trophy Zoologist

Zoologist

Study one of every animal species in all states in Story Mode.
There are 178 animals in the game.
You can keep track of those studied via the Pause Menu> Progress> Compendium> Animals.
You will have to study them all. Use the binoculars to observe them when you are close enough and press R1 to study them. Then kill them and skin them for the trophy Skilled skinner. Below is a video showing where to find the animals scattered throughout the game:

It was THIS big!

Catch a fish that is at least 16 lb (7,3 kg).
You will unlock this trophy automatically as you try to catch all 13 legendary fish. Follow the video below to find them easily:

Armed to the teeth

Upgrade every component of a sidearm or long weapon.
Go to any gunsmith. Watch it with L2, press and hold square, select "customize". At this point, choose a weapon> Components> Change Components. The basic revolver has 4 customizable components: grip, barrel length, barrel rifling and sights. Here is an explanatory video:

He looked like a teddy bear to me

Survive 18 bear attacks in Story mode, killing the bear each time.
In the wilderness, if you meet a bear, let yourself be grabbed. Then press the button quickly circle to escape before it can kill you instantly. While on the ground you will have a short amount of time to shoot the bear. You will have to kill him on this occasion. Always let yourself be grabbed by the bear, free yourself from its grip, kill it before getting up. Bears can appear in different places, but their generation happens randomly. Remember to have a powerful weapon with you before attempting this trophy. Below is a video on how to unlock it:

Trusted steed

Reach the maximum bond level with a horse.
You can check the bond level with your horse from the Pause Menu> Horse> Bond. Reaching bond level 4 will unlock the trophy. Here are the ways you can improve your bond with the steed:
Feed the horse (get on the saddle, stand still and choose an object for your horse from the object wheel).
Press R3 to caress the horse and calm it while it is agitated.
Brush the horse when it is dirty (dismount from horse, look at it with L2 and press the D-pad to the right to brush it).
Ride with your horse without emptying its core of resistance.
If you use the same horse most of the time in the story, this trophy will naturally unlock. Just don't let your horse die. If you lose it, go to the stables and retrieve it. It will take a few hours to reach the maximum bond level.

Evasion

Red Dead Online: Complete the introduction.
This is the first online trophy you will earn. It will be unlocked after completing the first co-op mission "Honor Among Horse Thieves" and returning to the camp. A guy named Cripps will wait for you at the camp and start a cutscene, after which you will unlock the trophy. By doing so you will also have access to the other multiplayer modes. Impossible to miss it because it is necessary if you want to continue obtaining the remaining trophies online.
The first series

Red Dead Online: Take part in a series.
Once the online tutorial is finished, at any time you can open the Pause Menu and in the online subsection, take part in a series. There are three types of matches available, you will unlock the trophy after finishing a match, not just for participating in it.

Mercenary

Red Dead Online: Accept 10 Free Roam missions from characters around the world.
In online mode, you will find Free Roam missions on the map marked with an orange icon. Mainly they will be located in the city. Complete 10 missions to unlock the trophy.

Busy

Red Dead Online: Play 5 Free Roam events.
While playing in Free Roam mode, you will occasionally see a notification in the upper left of the screen indicating a Free Roam event. Notifications for this mode will have purple text. To take part in the event, you must accept the invitation before it begins and is no longer available. Try to accept quickly, as sometimes these events will start quickly. You will have two ways to accept these invitations:
When the invitation appears on the screen, press and hold the key to open the game options and access the invitation menu. From there select the Free Roam event to participate. If you were in the middle of other activities and didn't notice the invitation right away, you can press the D-pad on the left to view a list of invitations.
As with the series, you must participate and finish the event in order for it to count towards the trophy. Please note that you will only receive notifications in Free Roam. You will not get invitations if you participate in PVP, races, foreign missions or story missions. The frequency of the invitations is totally random.

Packed with buckles

Red Dead Online: Get 5 Gold Buckles from Rewards.
Buckles are rewards that you will get while playing, and that can bring you a lot of experience. They will be essential to help you reach level 50 as fast as possible, as you will receive 500 XP for each of them.
Each challenge corresponds to a buckle, and includes several online activities (fighting / hunting / selling / etc). There are 463 challenges in total. The simplest buckles to obtain are the following:
Selling an item in three types of stores
Earn 100 gold nuggets (some can be earned in history)
Killing a bird with an arrow (can be done with automira and dead eye)
Taste 20 herbs
Achieve maximum honor (also earned as you progress through the story)
Get the maximum bond with the horse
Complete 10 Free Roam missions

A real ace

Red Dead Online: Get the MVP title 3 times (in a round with at least 4 players).
To be MVP, you need to be the player with the best overall performance that will be highlighted at the end of the game. At the end of each match, there will be a short scene showing who was MVP. Generally speaking, the highest scoring player usually gets the MVP title, but there are some exceptions; for example, in the capture modes, even if you are not the first in the standings, but have made more captures than others, you could be considered MVP. Plus, you don't necessarily have to be part of the winning team. The important thing is that there are at least four players in the game. You will have a better chance of being MVP in 16-player games than in 32-player games.

We are on horseback

Red Dead Online: Own 5 horses at the same time.
First you need to unlock 5 stables and then buy 5 horses. One is unlocked from the start, while the other 4 will need to be purchased with cash.
Free first stable
Second stable cost $ 100
Third stall cost $ 150
Fourth stall cost $ 500
Fifth stall cost $ 750
Total for stables $ 1.500.
Next, you will need to purchase horses for the stables. You can buy the 4 cheapest horses, the "Kentucky Saddlers", which cost $ 50 each, for a total of $ 200. The money required to obtain this trophy is therefore $ 1.700.

Who starts well ...

Red Dead Online: Reach Rank 10.
See the trophy Notoriety

Notoriety

Red Dead Online: Reach Rank 50.
Self-explanatory trophy. Play the story online, perform Free Roam missions and participate in other multiplayer modes to reach level 50. 50 XP is required to reach level 175.300. Fortunately there is a glitch that can speed up the level-up process, we show it in the following video:

Everything is lawful

Red Dead Online: Successfully counter a Free Roam mission from another posse.
Trophy easily obtained with two players.
Start a Free Roaming session, then invite a friend to join the session. Each player must create their own posse. Start a mission away from other players on the game server so that they don't interfere. The person who does not have to unlock the trophy will start a delivery mission, when he receives the message "Rival players can thwart your mission", he will communicate it to the person who has to unlock the trophy, let the latter be able to thwart the mission and thus obtain the trophy.
Another simple method is to be a target to be assassinated in Free Roam. If you become a target, stop doing what you are doing, open the map and check where the rival player is coming from (marked red on the map), place a position marker on the opposite side, and start riding in that direction to the time runs out, so the rival's mission will fail and you will unlock the trophy.

All the comforts

Red Dead Online: Purchase 5 Camp Upgrades.
As soon as you unlock the camp, you can make improvements. The cheapest way to do this is to buy flags of different colors, which cost $ 50 each. This means that you will need at least $ 250 to unlock this trophy.

Under outlaw

Red Dead Online: Craft 25 ammo.
To craft ammo you will need a recipe, the first one you get will be available once you reach level 28, and you will need to purchase it. Once you have the recipe, you can build ammo at your camp. For the trophy it is not required to manufacture different types of ammunition, it is enough to create 25 of the same type as well.

Your posse

Red Dead Online: Found a permanent posse.
First of all you will have to complete the online tutorial to unlock the function to create a posse. You will also need $ 200 to establish a permanent posse. To create it, press the D-pad on the left, Posse, square button, found a posse, permanent type. The difference between permanent and temporary posse is that the permanent posse costs $ 200 and acts as a clan. The trophy will unlock once the clan is created, no one needs to be invited.

Master craftsman

Red Dead Online: Craft 20 items (excluding ammo).
The quickest and cheapest way to get this trophy is to cook the meat. This method is indicated because you will not need recipes, money or a certain level. You will only need the weapons that the game will provide you from the start. While exploring the fauna, you will have to hunt some animals. Skin them and collect the animal. Once you have 20 pieces of meat, go to the camp, cook the meat and you will unlock the trophy.

What a mess

Red Dead Online: Sell 20 items to the Butcher.
The items you can sell to butchers are animal parts, skins, meat, feathers, animal carcasses and fish. To get these parts, you will have to kill an animal and skin it; each animal will give you 1 to 5 animal parts, depending on the type of animal and the space available in your inventory. Once you have 20 animal parts, go to a butcher and sell them. Butchers can be found in Valentine, Strawberry, Rhodes, Saint Denis, Blackwater and Tumbleweed. To sell an item, approach a butcher, press R2 to open the interaction menu and then press the right directional pad.

Green thumb

Red Dead Online: Collect 25 plants.
The trophy description is a bit misleading. You will have to collect 25 types of plants, not only herbs, but also mushrooms, berries and flowers count towards obtaining the trophy. To see them more easily you can use the eagle vision by pressing L3 + R3. Doing so will highlight the plants with some blue dust around them.

Unity is strength

Red Dead Online: Complete a Free Roam mission as part of a posse with at least 2 members.
To unlock this trophet you can create a posse or join an existing one. The best option is to make one yourself. Once the tutorial is finished, create a posse. In the same menu, click on "Invite a posse", invite all the players on the server. Go to a Free Roam mission and complete it. If no one joins your posse, you can join a random posse by opening the options menu and selecting it from the Online> Posse submenu.