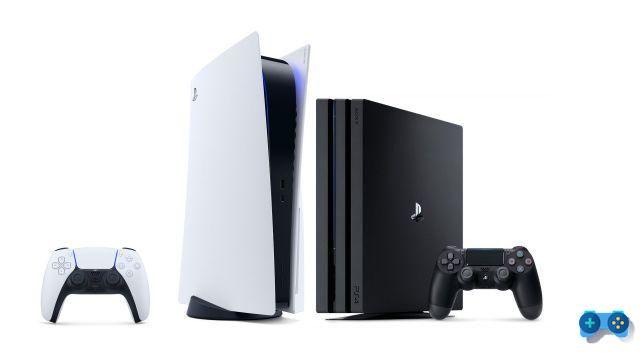 As we know, the new PlayStation 5 is backwards compatible with the vast majority of PlayStation 4 games. But beyond the normal functioning of the title, what improvements can we expect?
Let's find out together.
Will PS4 games work better on PS5?
Sony has confirmed that PS4 games are playable on PS5, which means the PlayStation 5 is backward compatible with PS4. This also means that you will be able to download the games you have purchased from PlayStation Store on PS4 and play them on PS5. But not only. You will also be able to insert physical PS4 discs into the PS5 and play them on the next generation console.
PS4 games will perform better on PS5 thanks to the use of a "mode"boost", However this may cause compatibility issues and may not apply to every single game. Regardless of the presence of a patch, most video games will be able to take advantage of the best PS5 specifications, just as happens, for example, by installing a game from a few years ago on a more powerful and current PC.
These improvements will mainly consist of better support for 4K resolution, with more stable or higher framerates and significantly reduced loading times thanks to the PS5's fast SSD drive.

Here is a series of games that get interesting improvements from simply running on PS5's upgraded hardware.
Days Gone - runs at 60 frames per second in dynamic 4K on PS5, where it is limited to 30 frames per second in 4K upscaled on PS4 Pro.
Genshin impact - runs at 60 frames per second on PS5, compared to 30 frames per second on PS4 Pro.
God of War - In Performance mode the title runs at up to 60 frames per second, while on PS4 Pro it was around 45 frames per second.
Ghost of Tsushima - The game can be played at 60 frames per second on PS5, where it is limited to 30 frames per second on PS4 and PS4 Pro.
Rocket League - Optimized to run at 60 frames per second in checkerboard 4K on PS5 with HDR.
Final Fantasy XV - Optimized to hit 60fps at 4K versus PS1080's 30 and 4fps
Knack 2 - Reaches 4K and 60fps on PS5 versus 4K and 30fps on PS4
Hitman 2 - Receives 60fps per second on PS5 versus 30fps per second on PS4. Also on PS5 the resolution reaches native 1440p.
Dark souls 3 - Receives a significant performance boost compared to PS4. In fact, on PS5, we will have native 4K and granite 60 fps.
Other titles, such as The Last of Us 2, Horizon Zero Down, will soon receive a patch that will improve their performance. Attention, we must not confuse these patches with the "optimized" versions for PS5, that is, updates that developers could release to take advantage of the greater computing capabilities of the PS5. These updates, in addition to unlocking the frame rate, in fact, could offer improved textures, higher resolutions, etc.
In the video below from Digital Foundry colleagues you can find a video showing the PlayStation 5 and Playstation 4 comparison of many games.
If, on the other hand, you want to know which games will be able to achieve performance improvements in the frame rate, this list on reddit provides a list of all the titles that have the frame rate unlocked.
Beware, games like Bloodborne and Rise of the Tomb Raider have a frame rate locked at 30fps at resolutions of 1080p and 4k, respectively. Therefore even running on PS5 hardware they will not perform better than PS4 Pro.
If you want to know everything but everything there is to know about the PlayStation 5, we refer you to this article which contains the answers to the most frequently asked questions about the new Sony console.
If you are still looking for your console, however, we advise you to read this article in which we tell you where to buy PS5 in digital and standard version at the best price, or to join our Telegram group or on our price tracker channel where updates will be published. continue on console availability.