using Telegram you will surely have noticed the infinite number of functions available, these allow you not only to interact better with your acquaintances in private chats, but to communicate quickly and productively even with dedicated groups and pages.
The function has been depopulating in recent months Survey, this is able in a few seconds to make you interact with your followers or with your favorite influencer. We won't bore you with talks about why surveys are extremely useful and how you could make the most of them to boost your brand identity, but in the next few lines we'll take a look at the more practical part, namely how to do a survey on Telegram.
Let's assume that with the new Telegram updates it is very easy to create and disseminate a survey, but in the following paragraphs we will also give you the means to be slightly more daring, using the much-famous Bots of the platform. In this regard, we also invite you to take a look at our article: The best Telegram bots to try now.
Create surveys on Telegram? It has never been so simple!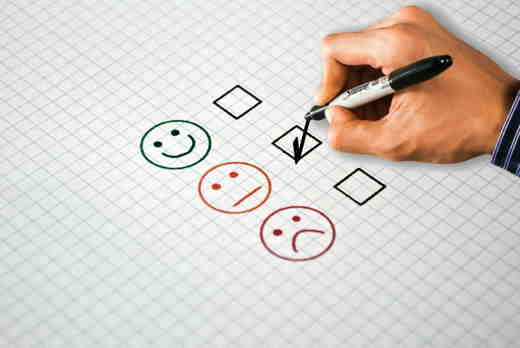 As anticipated, the creation of a survey with Telegram, in its updated version, is a breeze. Follow this process:
starts Telegram for Android or iOS.
Open a group you've created in the past or tap the icon with the three overlapping horizontal lines at the top left and tap on New group.
Check that there are followers in it and once in the chat, tap thepaperclip icon.

A window will open with different options, select Survey.
At this point you are in the section to create a survey:
Top under the heading Poll question, write the question you want to ask your followers and in the options response write down the possible answers. Tapping on Add an option you will increase the number of possible answers. In total you can add 10 options.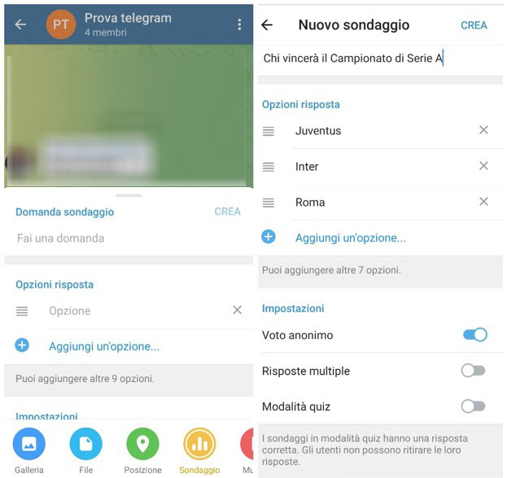 In the dropdown below you will find the section of Settings, this allows you to choose whether to allow your friends to answer, even anonymously, multiple questions at the same time (multiple answers) or use the mode quiz. Once everything is set up, just press on Crea and your survey is ready for everyone to view.
Read also: How to install Telegram
The need for a polling bot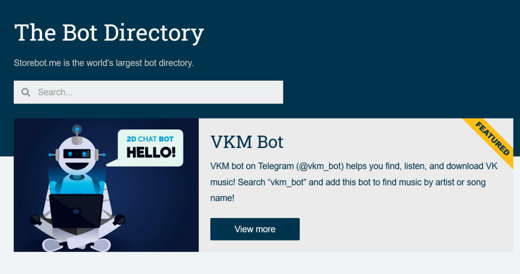 La Poll function It was recently added by Telegram and gives you a way to create effective content, but not all that glitters is gold. In fact, you will immediately realize by trying this function that this is extremely limited, bound to the simple question and answer. To get more advanced results you need to use the Poll bots, extremely efficient and with interesting features.
But what is a Telegram Bot? You've certainly heard of Bots, but maybe you've never trusted fully to prove their potential.
A Bot is nothing more than a Telegram digital user capable of interacting with individuals in channels, groups and single chats. A Bot can help you track a shipment or simply monitor the market and cost of a product.
As for these functions you will find many others for surveys, by going to the Telegram Bot Store site you will have the opportunity to choose and try many for free, both in Spanish and foreign languages ​​if you come from another country.
In the search bar of the Store, all you have to do is type the word Polls, or in English Poll, read reviews and descriptions of companies and consumers. If you are reading this article you probably do not have so much desire to research and experiment with random products, for this reason we would like to recommend you three extremely effective Bots: VoteBot (@vote), Net Promoter Score (@netpsbot) e QuAnBot (@QuAnBot).
If you don't necessarily want to rely on third party sources you can create a survey completely from scratch according to your needs. But that deserves a separate article.
Let's add a Bot on Telegram for polls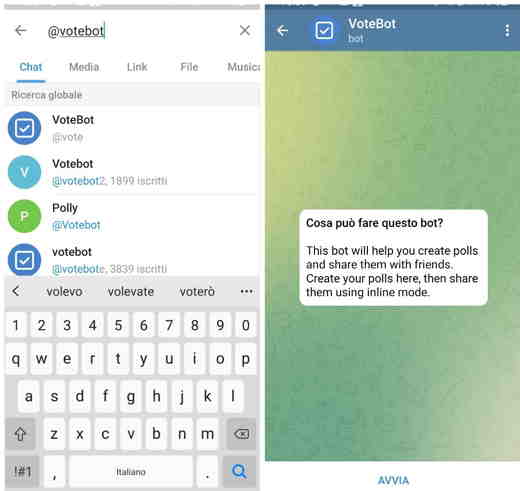 Found your favorite Bot, you need to add it to Telegram in order to use it. If you are using Telegram from a tablet or smartphone, just follow these instructions:
Launch the Telegram app
At the top right, touch the magnifying glass symbol and type in the search field the bot you want to use by prefixing the bot name with the chiocciola (e.g. @VoteBot).
If you have installed Telegram on your personal computer, just click in the field Search at the top left and select the name of the Bot as in the previous case.
As you can imagine the creation process depends on the chosen Bot, in this case we will use as a reference VoteBote to open a survey quickly and easily.
Added the Bot for polls to your Telegram you can click on it and the message will appear starts at the bottom of the screen, by pressing on it you will start its functions. At this point you can choose whether to create a anonymous or public survey and then enter the question.
After asking the question select the paper airplane symbol and Telegram will give you the option to enter the answers. You must do this for all the answers. Finished the answers comes the fundamental part, you have to type the command / done in the chat and the Bot will take charge of your survey.
Your survey is not yet published, however, you need to select the option Publish poll, choose the chat, group or page where to send it and give a name to the survey created.
How to change the vote of a poll on Telegram
Once you have created your beautiful poll for followers to read, you must also give your vote to participate in the community. However, you will have asked yourself if it is possible to change, after voting, the selected answer.
I'm sorry to inform you that once you have chosen a certain answer, you will never be able to go back. You could close and cancel the survey and then create a whole new one with the same question, but it's a strictly personal choice.
How to see who voted Telegram poll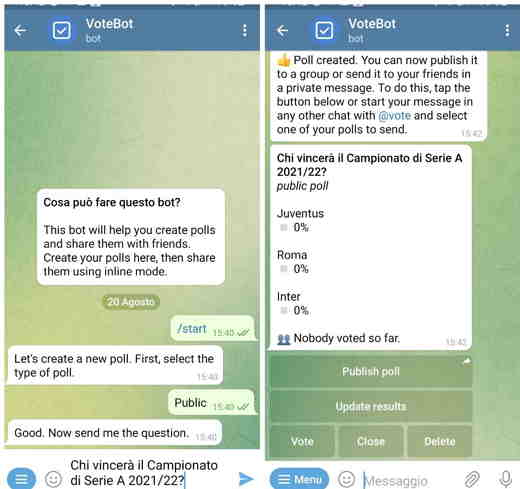 We looked at how to take a survey, but how can you view the responses? If you are using an updated version of Telegram and you have voted too, clicking on the poll will automatically show you the percentages of those who voted.
If you are using VoteBot from the previous example then you can see the poll and views by logging into the Bot chat and selecting Update result.
Read also: The best Telegram groups
Telegram polls with images
This paragraph will most likely disappoint you a lot, unfortunately Telegram in its current version does not allow the introduction of images. You can try some Bots but we recommend that you make the most of your time thinking about level questions and answers rather than images.
How to fix a message on Telegram
When using Telegram it is easy to get lost in the countless activities, groups, channels and bots added to your friends' chats. If you find yourself on a home page full of messages it is very important to fix them within the group or on a page, so as not to create confusion both on PC and smartphone or tablet.
But how can this be done concretely? Let's see the procedure both on PC and on smartphone.
Let's say that you must be group / channel administrator to be able to access these additional modes.
Tablet and smartphone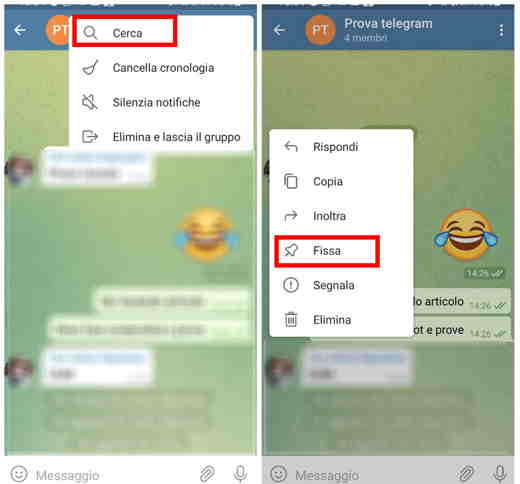 If you published the message a few hours ago and cannot find it, it is better to use the search function.
If you are typing from an operating system Android press on three vertical dots at the top right and select the item Search; on operating systems iOS you have to select the channel and press on magnifying glass.
Android it will be enough for you click on the message twice quickly I will select the voice fixed, Telegram will ask you for confirmation and press again on fixed. With iOS instead you will have to press and hold the message for two seconds and select fixed, and then reconfirm the Telegram message.
PC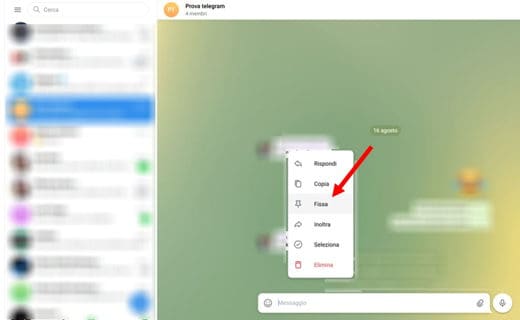 Also in this case the procedure is very simple, check that you are the administrator of the page or group and locate the message or survey you want to fix.
Once you have found the message to be highlighted, all you have to do is click on it with the right mouse button and select the option fixed which will appear after the click, confirm the action and press on fixed in the confirmation window.