Do you want to know how to get unblocked on Telegram if someone blocks you? Here is the guide to get unlocked on one of the most popular platforms.
Among the endless features provided by Telegram there is also that inherent in the blocking of one or more contacts. Maybe you no longer want to text a too insistent user and want to limit them by blocking them permanently or for a few days. Although the lock is very simple to apply, unlocking is certainly less so.
Maybe it is you who have been blocked and you are no longer able to communicate with Telegram friends, but how to get unblocked on Telegram? In the next lines we will try to analyze the dynamics related to this issue, giving you the necessary means to obtain the best results on the traditional Android, iOS and PC operating systems.
We anticipate that there is no solution that will allow you to remove the block from the blocking user's smartphone, but there are some alternatives that you can use to your advantage, let's see which ones.
Guide to get unlocked on one of the hottest platforms of the moment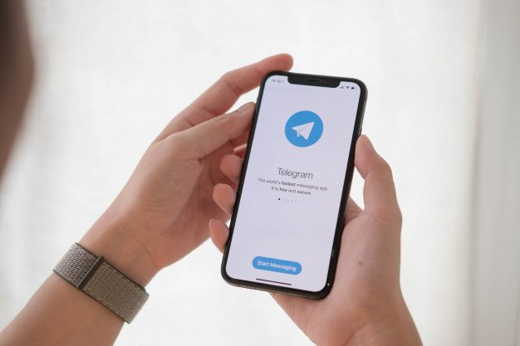 To make the resolution easier for you to consult, we will analyze each type of operating system with which you can interface, in particular: Android, iOS and iPad, PC, MacOS e Web. Such solutions must be applied by the friend or acquaintance once he is convinced to unblock you.
Android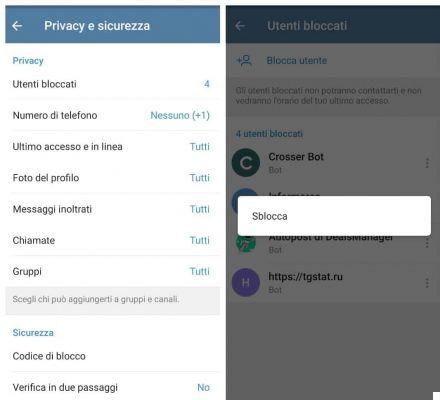 You must first open the application of Telegram for Android or even Telegram X, both follow the same resolution. Press the top left on the three horizontal lines where the window with different sections will appear, we are interested Settings. From Settings select Privacy and security and subsequently users blocked. This last option will show you all blocked users, click on (...) that you will find next to the name to unlock and choose the item Unlock.
iOS
With Apple operating systems, the process is faster. You open Telegram for iOS and select theicona dell'ingranaggio which in the latest version is positioned at the bottom. A window with different sections will open, choose Privacy and security and subsequently users blocked. At this point you will see all the blocked contacts that you can unblock, click on the one concerned and select the item Unlock.
PC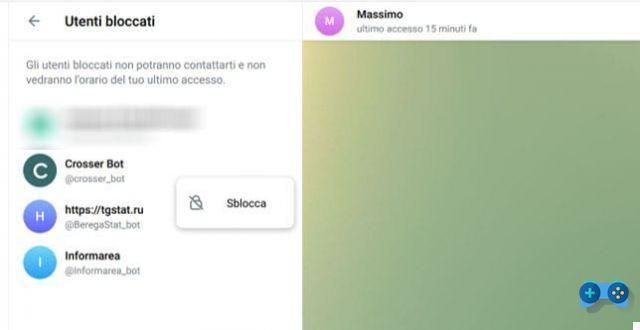 Not everyone is aware of the fact that it is possible to access Telegram and unblock friends also on Computer; this is possible thanks to the Desktop version. Start Telegram Desktop from your Windows and press onicon with the three overlapping horizontal lines selecting respectively: Settings, Privacy and security e Blocked users. Choose the user you want to unblock and click on Unlock.
MacOS
If you have a MacOS you must follow this procedure: start Telegram for macOS from your device, press onicona dell'ingranaggio and select respectively: Settings, Privacy e safety e Blocked users. Choose the voice Modifyaward negative (-) lead next to the name of who you want to unblock; continue by clicking on Done to obtain full unlocking.
In case you downloaded the Telegram Lite, you can follow the same procedure analyzed in the previous paragraph (PC).
Web
Last but not least, the way to unblock a contact on Telegram is to use the browser version of Telegram. Not everyone likes to download the official client and use their favorite browser in order not to affect the performance of the computer too much.
The first step is to go to the official Web Telegram website and log into your account. You can do this with the QR code or with the number di phone, nothing changes in the end result. Once inside your Telegram click on the icon at the top left in the form of three horizontal lines superimposed.
Then select Settings, Privacy and security e Blocked users. Choose the user you want to unblock and click on Unlock.
Read also: How to install Telegram
How to unlock yourself on Telegram
I know this is not good news, but unfortunately it is not possible to unlock yourself on Telegram. As anticipated in the previous lines you will have to be good at convincing the blocker to follow the tutorial to unlock yourself.
How to bypass Telegram block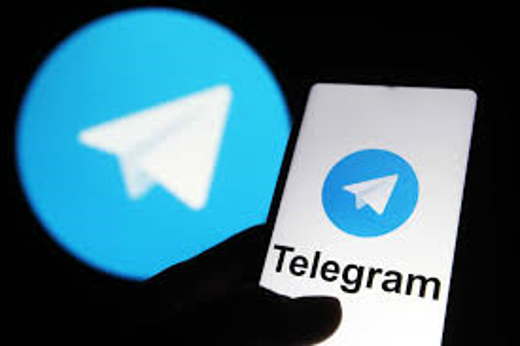 While it is not possible to unlock yourself you can still try to get around the problem. Let's see how to get unlocked on Telegram in an alternative way.
In order for you to bypass the Telegram block you must join a group where you are sure that the user who blocked you is present. Although you will have no way of communicating directly with him you will be able to write indirect messages that imply that he is the recipient. This way you can keep writing to this person and convince him to get you unlocked.
How long does the block on Telegram last
You are surely wondering if Telegram has an internal system that binds the block with a specific time. While it may be an interesting solution, the program does not provide its members with a predefined blocking system.
There is no other solution than to hope that the other person unlocks your profile to continue communicating with us. The duration in this case can be a few days or infinite, it depends on the relationship between the two parties.
Read also: How to delete a contact from Telegram
Who blocked me on Telegram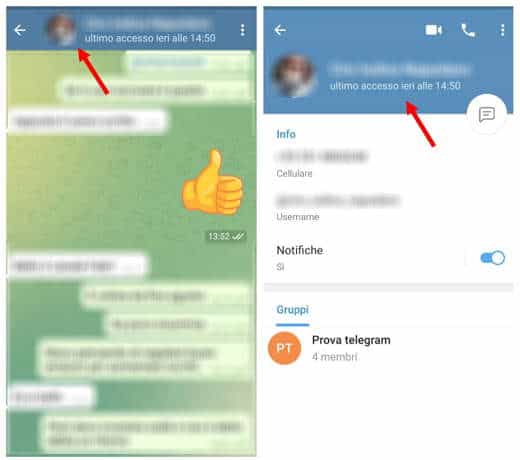 Interesting topic of discussion is the know who could block you on Telegram. Understanding if your friend or acquaintance has blocked you on Telegram is very simple, just check some parameters to identify the block or not in a few seconds. In particular, we can divide two maxi categories: chat e calls.
Chat: access an existing chat with the person you think has blocked you or if you have deleted it, open a new one. At this point have a look at the last access time under the contact name. If you can't see it, you may have been blocked. Try sending a message to that contact e if the two ticks do not show up even hours after sending it, it is very likely that it will be blocked.
Call: if, however, the chat has caused you to have even more doubts you can try the VoIP call function. The moment you initiate a call and cannot communicate or hear sounds, it means that Telegram does not allow you to do so (displaying Connection failed). This condition is a clear sign that the person called has made a block against you.
For further information read also: How to block on Telegram
Find out who blocked you
The solutions analyzed above are the most evident and show what is the mechanism of instant messaging software such as Telegram. But what are the other clues that can help find out who has blocked on the platform so that you can understand how to get unblocked on Telegram?
Clue number one is definitely the sudden disappearance of the profile picture of the blocking user. While there are many possibilities that the image may only be private and not necessarily inherent to the block, if it were to disappear overnight, the odds increase dramatically.
Another important element is the message under the profile picture. Most of the friends write a representative phrase and usually it is visible only to contacts in the address book and not to those blocked. Telegram, in fact, obliges its subscribers to leave a message to identify themselves better, even if this was just a letter or a figure. If you do not see it, the contact may have blocked you or no longer have your number in the address book or on Telegram itself.
Solution that often escapes even the most expert is that of connect to the account of a friend or relative and verify that that number is still present on Telegram and that the functions of: picture profile, State e Last Access are still fully active. In the event that these elements are perfectly active, you can with certainty determine that you have been blocked on Telegram and commit to having yourself unblocked.
Frequently asked questions and answers
But if a person has blocked you in the application you will not see if they are online or not, you will not see when is the last time they connected but it will appear "last time a long time ago".
If you know that this person was connected 2 or 3 days ago but this message is probably because you have been blocked.
11 nov two thousand twenty-one
When you block a contact, they will no longer be able to send you messages (or secret chats) or calls.
They will not be able to add you to groups either.
In addition to this, they will not be able to see your profile picture or your online status (you will always appear as "last time long time ago"?
Unblock on Telegram for Android Log in to Telegram and tap on the 3 vertical stripes icon.
Go to "settings" and then go to Privacy and security/blocked.
9 May two thousand twenty-one
French national soccer team/ goalkeepers
Compilation of frequently asked questions that our users have sent us and that our experts have answered.